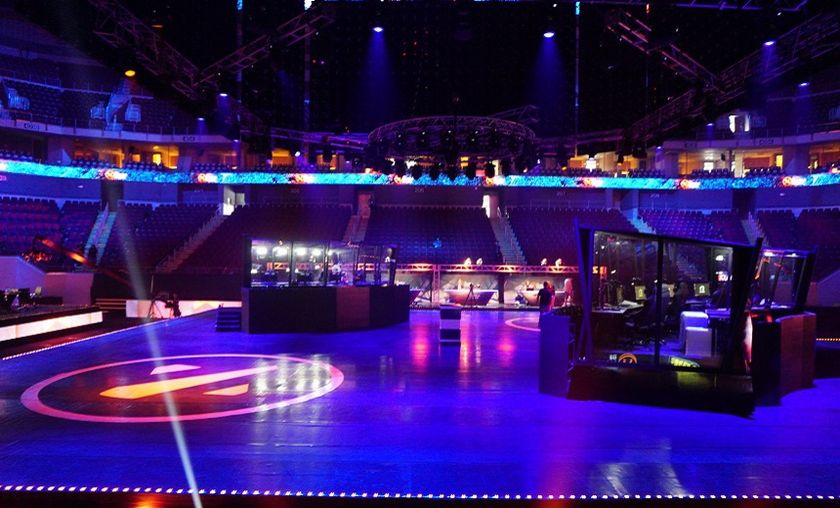 Manila Major: Playoffs Day One Preview
The Manila group stage was as exciting as one could have hope for after the disappointment that was Shanghai. It had upsets, amazing games and top tier production value. One couldn't have asked for a better start to a major. The playoffs start in a few hours, there still isn't a clear favorite but a top tier of teams is starting to emerge.
Upper Bracket
Round 2 - Best of 3
Round 3 - Best of 3
Lower Bracket
Final
Day one starts with MVP.Phoenix vs Team Liquid. The EU team was one of the favorites coming in but their stock has fallen during the group stages. Even though they finished first in their group, Liquid definitely looked vulnerable after dropping games to Alliance and Fnatic; teams that weren't really considered top tier coming in. However, The Kuroky led team faces a different kind of challenge with Phoenix.
MVP's signature early game aggressive style is very different from what Fnatic and Alliance had to offer. Admittedly, Phoenix has not been able to steamroll opponents like they've done in the past. But that style is still capable of decimating opponents, this was evident in their series against Evil Geniuses where MVP.Phoenix won 2-0, finishing the games in 17 and 26 minutes respectively.
These two met in the first round of the upper bracket at Shanghai too, where Liquid took care of buisness. The Euros are undoubtedly the favorites going into this matchup but the MVP aren't far behind. This game is definitely important for both teams, especially for MVP. A win here could give them much needed momentum. In a recent interview, QO went as far as to say "If we can beat Liquid, then we can win the entire tournament." 
The second game will be OG taking on Natus Vincere. This is the first time Na'VI is starting in the upper bracket of a Valve event since TI3. The Ukrainian team's group stage couldn't have gone any better, they went 4-0, andtheir drafts and decision making was always on point even in games that they weren't stomping in. OG's group stage wasn't anything to scoff at either. They did show signs of weakness, but only against Newbee who are definitely way above Natus Vincere's level. 
These two teams met just two weeks ago at the finals of Dreamleague where OG decimated Na'VI in the grand finals. They went 3-0 and none of the games were even close to being competitive. Admittedly, Natus Vincere looks better than they did two weeks ago but the matches they've won at Manila have been against Team Secret and Digital Chaos; teams that aren't really comparable to the likes of OG. Fly and his boys are favorites going in but a good showing from Na'VI in this match could make them a legitimate threat at this event. 
Once these upper bracket games are over, the much awaited best of one elimination games start. This time around, they feature some teams that we aren't used to seeing in the lower bracket; namely Evil Geniuses and Team Secret.
First one up is Wings vs Complexity Gaming. Coming in, both of these teams were seen as teams that had a lot of potential and could break into the upper echelon but they haven't lived up to that promise. Even after considering Complexity's tough group, their performance has been absolutely abysmal; they are yet to win a game.  
Wings Gaming have been facing their own problems, mainly inconsistency. They look dominant in their wins but their losses have really shown their weaknesses. The Chinese squad have picked 31 different heroes in this tournament which is the highest in this event; they show a lot of variation with their drafts and this versatility is a double edged sword for them. Complexity on the other hand have picked just 19 different heroes, they tend to pick heroes that their players are more comfortable with. Neither of these teams have found the right balance between versatility and comfort. 
This match can go either way but based on performances in Manila, Wings do seem to have a leg up on Complexity unless the Americans can somehow get back to their usual selves.  
Next up is Alliance going up against Mineski. Although the Swedes didn't make it to the upper bracket, their performance in the group stage wasn't bad by any stretch of the imagination. They took games off of both Fnatic and Liquid and handedly beat VG.R with an overall record of 4-4 during the group stages. This squad has definitely shown signs of life earlier in the tournament and are capable of making a strong lower bracket run this event.
Mineski has had an average showing so far. The Filipino squad hasn't dazzled anyone with their play but they've definitely shown that they can hang with the best by taking games off EG and MVP. The home crowd could definitely be a factor but it is hard to imagine Alliance being eliminated in the first round by a team that is playing their first match on the main stage of a Valve sponsored event.
The third game of the first round will be between Evil Geniuses and Vici Gaming Reborn. The Chinese squad was invited to Manila after a very impressive lower bracket run to win the Starladder i-League Invitational back in April. But their performance at Manila has been tragic; the Chinese squad is yet to win a game. 
Evil Geniuses haven't been great ever since the Aui/Arteezy change. Manila hasn't been any different either; they have been just average, something we aren't used to seeing from TI5 champions. The American organisation has clearly been a better team at this event than VG.R and will go into that LB match as favorites. 
The final game of the day would be Team Secret vs Team Empire. Secret's last place finish in the group was very surprising even after one considers their recent woes. Most of their problems seem to be related to communication during team fights and farm distribution among cores. It is hard to fix such problems in two days, therefore, it's highly unlikely Secret's is suddenly going to comeback and be a top tier team. 
On the other hand, Team Empire's third place in their group was an over performance. No one expected them to take games off of the likes of OG and Complexity. Their team fight ability in all of their victories was very impressive even when they were fighting in disadvantageous situations. It is hard to call this game; Secret does brings a lot of experience to the table but their team fighting struggles can potentially give Empire a huge advantage. 
The first day of playoffs at the Manila major are going to be really interesting. A number of questions will shortly be answered; Will the underdogs prevail in the upper bracket? Are EG and Secret really going to go out in last place? Will Wings, VG.R or CoL find their long forgotten form? It is impossible to predict what will happen, but no matter what happens, it surely will be exciting.