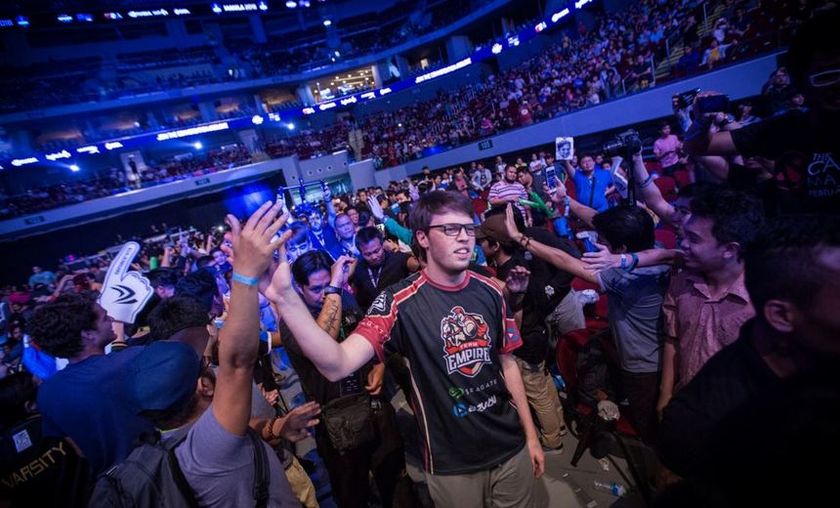 Team Empire ejects Na'Vi from WePlay Dota2 League, Season 3
Team Empire have continued in what has become their signature losers bracket dominance, wiping Na'Vi from the tournament in a powerful 2-0 performance.
Team Empire's new roster continued to assert its dominance over the professional Dota scene, defeating Na'Vi 2-0 in round two of the losers bracket for WePlay Dota2 League, Season 3. Fresh off a commanding performance at ESL One Manila where Empire eliminated Team Secret, many now wonder if Team Empire will be able to continue this powerful performance and secure themselves a place at the Manila Major.
Bans
* This player was a stand-in for this match
Game one kicked off with an unexpected Faceless Void pick for Vasily 'Afterlife'Shishkin running in the Dire safe-lane, supported by Rinat 'KingR' Abdullin on Witch Doctor. Both teams were able to maintain a relatively level position in the match until Empire took a dominant team-fight, leaving none but Danil 'Dendi'' Ishutin's Invoker standing on the side of Radiant. Empire then quickly rotated into the Roshan Pit and secured the Aegis, before moving to Top Lane and ambushing Na'Vi for another 3-0 team-fight and a push down to the mid-tier 3 towers. Dendi was able to push back with a well-placed meteor from his Invoker but Empire simply regrouped and Afterlife finished his Radiance on the Faceless Void.
Empire then took another strong fight in bottom lane, wiping all but one of Na'Vi's players before pushing past the bottom-tier 3s and rotating towards the Radiant mid rax. However, a few well-timed buybacks allowed Na'Vi to deflect the push and catch three of Empire's heroes on the retreat. Na'Vi grasped this opportunity and rushed straight towards to the Rosh pit. Empire, knowing that they had to contest or risk losing momentum in the game, bought back and dashed for the Roshan pit to contest. A perfectly placed ulti from Afterlife's Faceless Void and a 5-0 team wipe was all it took for Na'Vi to concede the match and call GG.
Bans
* This player was a stand-in for this match
Game 2 saw Empire take an even more dominant hold from the very beginning. First blood was drawn before the one-minute mark with Empire going up 4-0 a minute later.  Empire continued to pick Na'Vi apart for the first ten minutes of the game before Na'Vi was finally able to take an even fight in middle-lane twelve minutes into the match. Empire regrouped and took the first Roshan of the match a few minutes later before moving to reengage Na'Vi.
The teams jostled back and forth for map control for the next five minutes, but Empire was again able to take a convincing 5-2 teamfight in bottom lane just as their Aegis was expiring.  However, it was at this point that Na'Vi seemed to find a second wind. They took a 3-1 fight against Empire in the Radiant bottom lane and immediately moved towards Roshan, securing the second Aegis of the match. Na'Vi seemed to be blazing a trail back into the match at this point with another strong 4-1 team-fight in the Dire's top-lane, but it was not meant to be.  Empire was able to slowly turn the fight back against Na'Vi, quickly pushing through middle-lane before rotating to bottom and forcing the GG from Na'Vi.