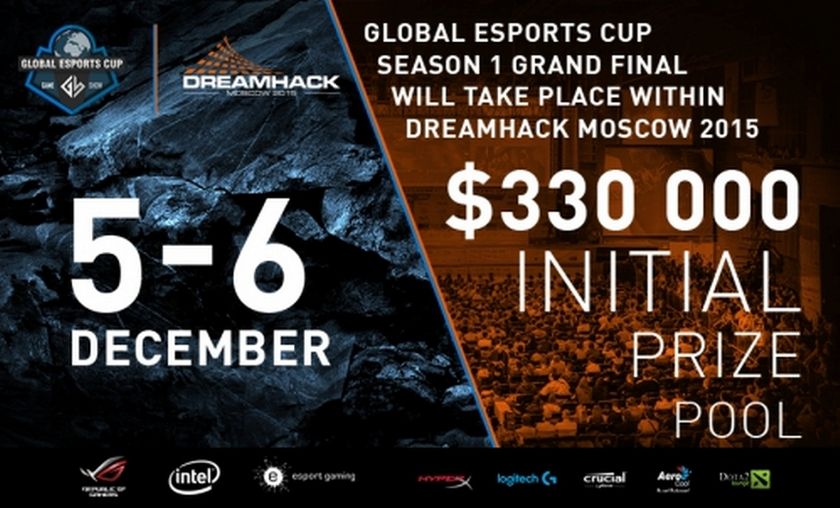 Dreamhack Moscow opens its doors in just a few hours: Upgrade your free tickets now !
One of the most important eSports event in Moscow is about to begin. Dreamhack Moscow is set to start saturday, December 5th at 08:15 CET, 10:15 Moscow time and the entrance is free for everyone who wants to watch the qualified DotA 2 teams competing for the first Global eSport Cup trophy.
Dreamhack Moscow will take place over the course of this weekend ( 5-6 December) at VDNH venue. The First game of the day will start at 10:00 am and it will be between 4 Clover & Lepricon vs MVP.Phoenix followed by the most anticipated match up of the day, Team Empire fighting Vega Squadron in front of their Russian fans.
The format of the Global eSports Cup LAN finals is comprised of a double elimination bracket with best-of-three games, and a  best-of-five grand final.
Upper Bracket
Round 1 - Best of 3
Round 2 - Best of 3
Lower Bracket
Round 1 - Best of 3
Round 2 - Best of 3
Final
Given the fact that the entrance is free you can not miss the chance to see the best korean players at the moment fighting on the big scene of Dreamhack Moscow against some of the best CIS players.
Game Show also prepared a surprise for those who want a little bit more than a random spot in the venue: The free tickets can be upgraded up to three levels as follows:

Black Ticket: it guarantees a seat at the back of the stalls. Price: 1000 rubles
Red Ticket: ensures comfortable seating in the center of the stalls and a souvenir gift bag. Price: 2000 rubles .
Golden Ticket: guarantees a seat on a comfortable sofa in front of the stage and a gift bag with souvenirs. Owners of this category will have the opportunity to visit the Player Lounge for one hour per day.Price: 20,000 rubles.
Details on the ticket upgrade option can be found here.
The Russian and English talent desk for Dreamhack Moscow stays the same as it was for the Vilnius playoffs LAN:
English commentators/analysts:
David 'GoDz'Parker
Chan Litt 'Winter' Bin
 David 'Luminous' Zhang
Mikelorus
GrandisV
Rage
Russian commentators/ analysts.
PGG
Boroda
4ce
Mobster
Inmate
Maelstorm
Versuta
Global eSports Cup official event interviewer: Andrii 'xeo'Lutsenko