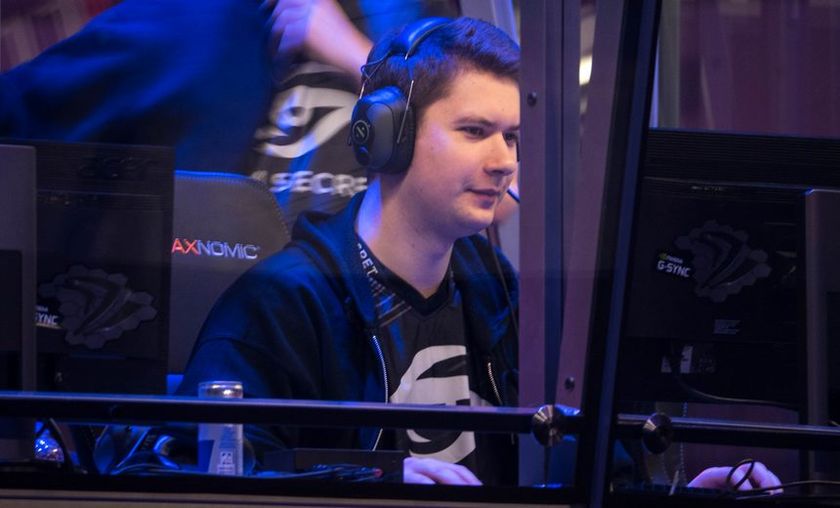 EG vs Team Secret: The upper bracket final lives up to the hype
Team Secret and EG faced off in an intense, closely-fought contest between two of the titans of Western Dota. The upper bracket final delivered some of the best Dota of the entire tournament, with unbelievable plays, great teamfights, and surprise hero picks galore.
Game One
Bans
* This player was a stand-in for this match
The drafts of both teams were slightly unconventional from the start. Both Team Secret and Evil Geniuses picked up heroes that have not seen all that much play in 6.85. On Evil Genius' side, this was an Axe for Saahil 'Universe' Arora. For Team Secret, Aliwi 'w33haaa' Omar showed that he can excel on a hero that isn't Windranger, Meepo, or Shadow Fiend by playing Magnus, a hero normally given to Rasmus 'MiSeRy-' Filipsen.
The early game went well for EG. They managed to get the first blood on Johan 'pieliedie' Astrom. w33haaa failed an early gank on bottom lane, with Syed Sumail 'SumaiL' Hassan and Artour 'Arteezy' Babaev turning and picking up a kill each. This turned in to a poking mid-game, with both teams respecting each other's teamfight capabilities. Two major fights went against Team Secret, one at EG's tier two tower in the midlane and the other at the Roshan pit, allowing EG to pull ahead, even managing to take out an early melee barracks in the mid lane.

LeBron James incoming.
However, as the game wore on, SumaiL's Timbersaw, which had been dominant for most of the game, began to taper off. On the other side, Jacky 'EternalEnvy' Mao rolled up his sleeves, took a deep breath, and bought a Divine Rapier. This additional damage, combined with Cleave from Magnus, allowed EternalEnvy to shred EG's heroes in the lategame. This led Secret to take the game, with EternalEnvy adding an additional Rapier to his inventory before the ancient went down.
Game Two
Bans
* This player was a stand-in for this match
With the Ember Spirit/Magnus combination working so well for them in the first game, Secret were quick to snap up the two heroes early in their draft. EG came far more prepared for the Ember Spirit that EternalEnvy had played phenomenally throughout the tournament up to that point. Peter 'ppd' Dager drafted significantly more lockdown for the elusive Ember Spirit in the form of Beastmaster, Storm Spirit, and Winter Wyvern.
The early game was very passive, with EG only claiming first blood just after the seven minute mark. This favored EG's lineup, as SumaiL and Arteezy were able to keep their names at the top of the net worth graph. With the accelerated farm, SumaiL was able to pick up a well-timed Orchid Malevolence. He used the item well, claiming a string of pick-offs and silencing key heroes in team-fights.
To contrast the solid play from EG, Team Secret made a few small mistakes that may have turned critical moments in the game, most notably MiSery- missing critical Reverse Polarity opportunities. However, they showed signs of life at the 24 minute mark, winning a clean fight near the Roshan pit, which allowed EternalEnvy to claim his Battlefury. They used the momentum from this fight to claim Roshan 4 minutes later.

Clinton, old friend, we seem to have found ourselves in a bit of a pickle.
Despite this, EG looked to push, with Arteezy keeping up with EternalEnvy in farm throughout the mid-game. In one of their pushes whilst Secret still held the Aegis, SumaiL managed to catch out Puppey and the rest of EG followed up. They baited EternalEnvy in and managed to land a Winter's Curse onto MiSery- that led to both himself and EternalEnvy being cleaned up by Arteezy.

Oh, bother.
From here, EG applied constant pressure onto Secret's base. EternalEnvy soon felt that the situation became dire enough that nothing could save the game apart from a desperation Divine Rapier. Unlike game one, this did not turn out well. SumaiL managed to claim the Divine Rapier off of EternalEnvy's dead body soon after it was purchased, and EG used it to destroy Secret's ancient and take the series to a deciding game 3.
Game 3
Bans
* This player was a stand-in for this match
In the final game of the series, Clement 'Puppey' Ivanov showed that he is able to pull out crazy drafts and laning setups. While most teams value Tiny as a safelane carry or mid-laner in combination with Wisp, pieliedie showed in the early laning phase that he works as a jungler, tossing creeps into the midlane to pull the wave into the jungle. This caused SumaiL to miss out on entire waves of experience, allowing w33haaa on his trademark Windranger to gain an early advantage on the mid-lane.
The other lanes went more favourably for EG. Clinton 'Fear' Loomis managed to zone Puppey off of the Radiant safelane, leaving him underleveled going into the midgame. The surprise Huskar pick for EternalEnvy did not have as much early impact as Secret would have liked. While EternalEnvy was able to pick up the first blood, it was only at the six minute mark. Prior to this, the Burning Spears tossed out by Huskar only narrowly missed a couple of kills.
Nevertheless, EternalEnvy managed to find decent early farm and a good timing on his Armlet of Mordiggian. This gave Secret a window where EG were highly afraid of fighting into them. Secret made the most of this window, clearing out all but one of EG's outer towers before the 20-minute mark. With this momentum, Secret were able to take Roshan and sit EternalEnvy on the high-ground on EG's mid lane. However, Secret stayed a little too long, allowing EG to clean up the Aegis and 4 additional heroes on Secret, losing only Arteezy in return.
This fight allowed EG to cut into Secret's gold lead and pick up an Aghanim's Scepter and Gem of True Sight on Universe's Night Stalker. EG cleared the map of Secret's wards and constantly dodged fights. EG felt that if they could get the game to the late-game, they could overpower Secret's more mid-game-orientated line-up.
Secret seemed to realize this as well. At 43 minutes, they turned a small pick-off onto ppd into a quick Roshan, putting the Aegis on EternalEnvy. EternalEnvy spent his entire gold pool to pick up an Assault Cuirass for additional base-sieging capabilities. He then sat on the high-ground as he has done earlier in the game, clearing out the mid barracks while Arteezy fed his life away trying to stop him from doing so. Secret used this chance to rotate bottom and take that barracks as well.
6 minutes later, Secret managed to bait out key cooldowns from EG before beginning another siege on EG's top lane. Once again, they let EternalEnvy set up shop on the high ground whilst w33haaa Focus Fired behind him. When EG moved in to contest, w33haaa landed a critical shackle on Fear, bringing him down before he could lay out his abilities. With one man down, EG were on the run. Secret dove past the barracks, killed Arteezy, and EG GG'ed out. Secret had won.
EG and Secret are two of the best teams in Dota right now, and the upper bracket final showed this once more. While Secret were victorious this time around, the games were on a knife-edge for the majority of the series. The next few days will determine wheteher they will meet again in the grand final. Whatever the result, EG and Secret gave the Frankfurt Major yet another monumental series of exemplary Dota.