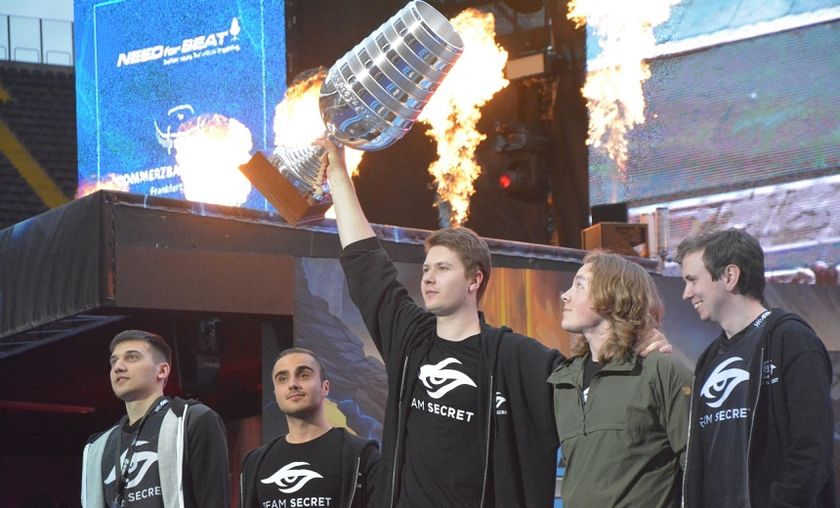 Team Secret beat EG 3-1, win ESL One
Evil Genuises and Team Secret share one of the best rivalries in all of eSports at this moment and this was their most important meeting. ESL One Frankfurt 2015 was the last event before the International and a chance for the teams to establish dominance and become favorites for the International 5. 
Both teams dominated their opponents in the semi finals and it was very hard to call the winner. Even the analyst desk split the descision, although the odds were 2:1 in the favor of Secret but they were not the favorites by any stretch of the imagination. 
Evil Genuises have been playing out of their mind so far into the tournament, SumaiL has become a lot more calculated player. There have been questions surrounding Syed and whether or not he'll be able to sustain his performances and he definitely has. Aui_2000 is becoming on of the best supports in the world. The other three are always very solid and you simply don't see them ununderperforming.
Team Secret on the other hand are the most consistent team right now, coming in they were 3-0 finals winning Red Bull Battlegrounds, the Summit 3 and the MarsTV DotA2 League. They've been rock solid as a team and just seem to win even when the odds are stacked against them. 
Game One : 
Bans
* This player was a stand-in for this match
The first game was one of the best of this year; EG had a slight lead in the draft and it felt like EG had them cornered. But Arteezy's Sven had a lot of space and it became strong. However, Aui_2000 on his Winter Wyvern saved his teammates time and time again. The game featured amazing team fights and some amazing defensive plays by the supports.
The Americans won all the key fights on the back on SumaiL's Leshrac and Fear's Razer. They gained a huge networth lead very fast and just threw bodies at Secret to secure themselves the victory. 
Game Two : 
Bans
* This player was a stand-in for this match
The second game featured an amazing draft by EG's captain Peter 'ppd' Dager. He first picked Leshrac, everyone assumed it was going to be a SumaiL Leshrac but ppd surprised everyone with a fifth pick Storm Spirit. Secret had no counters for the hero, SumaiL had an amazing start as well; picking up four kills by minute four. 
But Team Secret still managed to win fights because of great positioning and itemizations. They mitigated all of Storm's jumps by using Glimmer Capes and saved their team-mates.  Team Secret won a key fight a roshan and EG just gave up, called "GG" 32 minutes in. 
Game Three : 
Bans
* This player was a stand-in for this match
The third game's draft was interesting, EG drafted a cheeky Tinker but Secret came right back at them with a direct counter Anti Mage. The game was close untill 10 minutes, but since EG didn't pressure Arteezy he got a early battlefury and completely took over the game. Secret took a fight inside EG's base and won the game even after multiple buy backs from the Americans. 
Game Four : 
[gamedraft]148526[/gramedraft]
The fourth game was a roller coaster, the lead changed a multiple number of times. Secret had a lead early game but EG came back because of Fear's Anti Mage and some key pick offs. They bulit a big lead and were in control of the game. But Team Secret had other plans and weren't going to let it go to a fifth game. 
Secret then had an amazing fight in front of their tier three towers and got huge amounts of gold. The went on to kill Fear once again and headed for EG's base. EG didn't fight with a complete roster and died one by one. Fear ultimately died back and EG were forced to call "GG". 
Evil Genuises may have lost the series but it was still a good result for them. Their second consecutive second place finish and also their second consecutive lost to Team Secret; with the same score of 1-3. Anyway, the ppd led squad will definitely be one of the best teams at this year's International. 
This is the fourth consecutive title for Team Secret and this one was definitely the most important one. They lost just three games and they beat, their prime rival in the finals three games to one. Team Secret are definitely going to be glad with the result and with this they've become TI favorites and easily the best team in the world.
Round 2 - Best of 3
Round 3 - Best of 5
For more information on ESL One Frankfurt head on over to the coverage hub.
Pictures from the main event : 
---
More content on GosuGamers