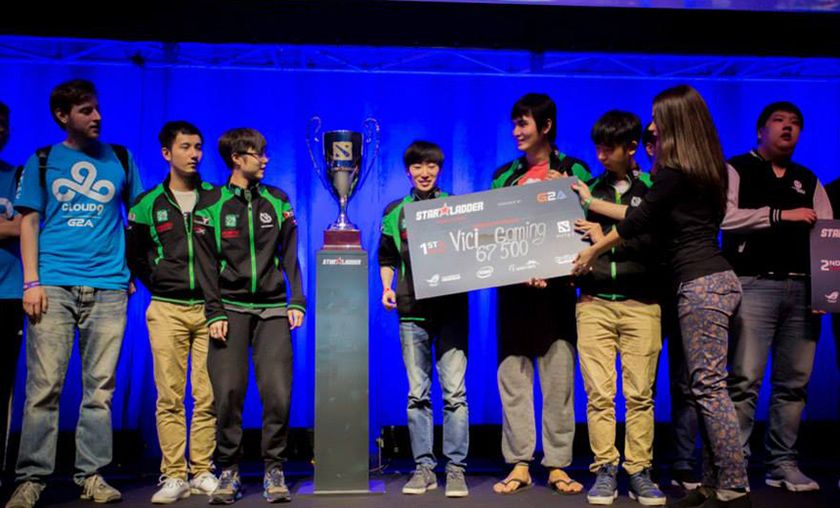 ViCi Gaming declared champion of StarLader XII after 3-1 victory

ViCi Gaming is the new StarLadder champion after an impressive 3-1 victory against iG in the grand finals of the tournament. Through their victory, they have earned the first place prize of $67,500, while iG will have to settle for $30,000.
Schedule for April 26th:
Invictus Gaming vs. Cloud 9: 2-1
ViCi Gaming vs. Invictus Gaming: 3-1
Main Stage - Grand Final - ViCi Gaming vs Invictus Gaming 3-1

GosuBet - ViCi Gaming 75% vs Invictus Gaming 25%
This is what we have been waiting for, the Grand Final of StarLadder XII is about to start. Only yesterday, VG managed to send iG into the Lower Bracket through a 2-1 series, which concluded with a rather one-sided third game. ChuaN and his buddies will now have the chance to avenge themselves and take the crown for themselves in the final battle of the tournament. No matter who wins, one thing is certain - the trophy of StarLadder will, once again, go to China.
Game One ViCi Gaming wins
Bans
* This player was a stand-in for this match
Invictus Gaming selected Quas-Wex Invoker for Ferrari_430, hoping to shut down ViCi Gaming's first pick Storm Spirit (usually played by Super). However, VG went for the solo-mid Phantom Assassin instead, giving Storm Spirit to Hao in the easy lane. Invictus Gaming certainly did not expect the move, as Luo's Magnus was crushed in the lane by Hao, who was given uncontested farm and experience for the entirety of the early game. The bottom lane jeopardy, combined with the pressure applied on BurNing's Troll by iceiceice's Axe, certainly brought iG's demise as they entered the mid-game with zero resources. The Blink Daggers for ChuaN and Luo came way too late, and they did little to stop the rampaging ViCI Gaming from getting a very comfortable 25-minute victory. 
Game Two Invictus Gaming wins
Bans
* This player was a stand-in for this match
ViCi Gaming decided to go for a Phantom Lancer strategy, similar to the one they used yesterday in their third game against iG. It seems that iG were prepared for the pick this time, as they deployed an uncommon Io-Sven combo along with Axe and Puck. The game looked rather grim for VG from the very first minutes, as the laning stage went horribly for iceiceice and his buddies. While Hao did manage to find a reasonable amount of farm (considering he faced Luo's Axe), both Super and iceiceice were crushed during the early game and lacked the early advantage required by the snowball nature of their heroes. On the other hand, BurNing's Sven managed to found an obscene amount of farm, quickly turning into a beast of a carry. Using the ganking potential provided by ChuaN's Io, iG eventually forced their opponent to abandon every lane, stripping them of the ability to cut their losses. Being unable to gank and win any  teamfight, VG could only wait for a big mistake by iG to stage a comeback. Nevertheless, iG slowly but surely pushed every lane, taking their first set of barracks by minute 44. The GG was called shortly after.
Game Three ViCi Gaming wins
Bans
* This player was a stand-in for this match
Showing no signs of regret, VG selected Phantom Lancer once again for Hao. However, their lineup also included a large arsenal of strong ultimates such as Black Hole, Ravage and Death Ward, which provided a scary teamfight potential. Invictus Gaming responded with a Tiny-Io combo, and gambled by not selecting any more carries to back it up. This proved to be a very bad decision for Faith and his team, as Tiny is a rather item-dependent carry prone to early game pressure. VG gaming knew exactly how to deal with the hero, turning the game into yet another stomp, rather uncharacteristic for Invictus Gaming. Making good use of their cooldowns, VG dominated the mid-game teamfights and managed to breach the Radiant base by minute 26. While iG made a valiant attempt to protect their base, they were teamwiped by FY's Black Hole around the 29th minute mark and lost the bottom barracks. From that point, it was evident that iG had lost every hope for a comeback, and the GG was called by Faith. 
Upper Bracket
Round 2 - Best of 3
Round 3 - Best of 3
Lower Bracket
Final
Images of Super and Faith by SLTV
Headline image by SLTV
---
More content on GosuGamers