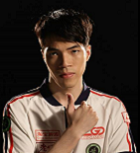 LV.Gaming announced, including former CIS, LGD and Orenda members
Through their official Facebook page, the VG organization announced a new Chinese squad that includes ddc, Inflame, demons, Lin and zyf/YJ. The new team was created in collaboration with LGD and they have already played their first three matches.
While the Chinese reshuffle officially concluded on August 26th, the changes keep coming for the busy Chinese DotA2 scene. Today, a new squad was announced by ViCi Gaming in collaboration with LGD, with the name LV.Gaming. With former members of LGD, CIS and Orenda, the new squad plans to earn a place amongst China's best this season.
The first notable presence of the squad is Leong 'ddc' Fatmeng, one of LGD's long-time members that departed the squad during the Chinese reshuffle. He will be joining his former teammate Xu 'Lin' Ziyang in the new squad. Since ViCi Gaming allegedly purchased CIS.Game, He 'inflame' Yongzheng and Xiao 'Demons' Zuoyi were also available for use in LV.Gaming. The final member of the team is zyf/YJ, the first position player of Orenda Gaming.
LV.Gaming made their debut yesterday with three matches against LGD.CDEC, WDLu5 and DG.cn for the fifth season of Sina Cup. They managed to win all three games. The playoffs of Sina Cup are scheduled to take place this weekend, and LV.Gaming will fight for the $16,200 prizepool.
LV-Gaming roster :
Leong 'ddc' Fatmeng

Xu 'Lin' Ziyang

He 'inflame' Yongzheng

Xiao 'Demons' Zuoyi

zyf/YJ
For more information regarding LV.Gaming, check out VG's Facebook announcement here.