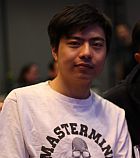 BurNIng and rOtk Retire from Competitive Dota, will enter Casting

Zhilei 'BurNIng' Xu and Fan 'rOtk' Bai have both just announced their retirements from professional DotA on their respective Weibos, within two minutes of each other. They have decided to both become commentators, and will also work to further develop the eSports scene in China. Their collaboration is reminiscent of their friendship playing together in Team DK for three years from 2010 to after The International 2013. With both their retirements, DK and Vici Gaming have both lost their captains, and will definitely look to shake up the transfer market before the deadline on 26 August. 
Translation of BurNIng's long tweet:
 
Today is an important day for me - I have decided to leave the professional circle, and end my professional career. 7 years of Dota, professional play for 6 years, and experiencing so many different patches and changes, I have been very lucky to interact and integrate with the game, and it has also brought me onto the path of professional compeition. Dota has also allowed me endless amounts of prestige and glory, and allowed me to reach target after target. Dreams are fated to be accomplished by the few, and even now there are some results that leave me regretful. When you do not forget your purpose, only then will you get an ending. My entire career, I have only wished to not have any guilt or regrets. 

More importantly, I would like to thank many things. I would like to thank Dota, it brought me onto this amazing stage, and allowed the introverted me to have another way of exhibiting myself. I also wish to thank all of my teammates who had fought together with me, and my opponents who have encouraged my growth. Without all of you, I would not be who I am today. Lastly, I wish to thank all of my friends and fans who have been supporting me: your support has given me courage, your criticisms have allowed me to grow. 

Today my Dota career ends, and I hope this is just a comma and not a period - no matter how much I cannot bear for this day to come, it still has. Just like the question they asked me last year: What is your youth? My answer then was: My youth is Dota. Now, my youth seems to be taken away, together with my retirement, but it will not take away all the shining memories of this part of my life that I keep in my heart. 

After my retirement I will continue within the eSports scene. I intend to stay in DK to train up a new group of players. With my accumulated experience and strategies, I wish to help them to grow. I will also partner rOtk to be a commentator, and will join in at some LAN events. Friends who are interested, please do support us. 
Translation of rOtk's long tweet:
 
After deliberating for a while I have decided to retire from professional competition. After these four to five years of competing, my body is slightly unable to take the stress, and I have also been thinking of taking a break for a while now. The euphoria, success, and dejection I experienced in my three years in DK will become the memories of my youth. I feel like I have grown a lot in the past year in VG - I am better able to take responsibility, and I would like to thank my club management and teammates for their trust in me. You guys will always be the best!

My second son has also finally teamed with me and fought with me for a year, so I no longer have any regrets. Super: as my long time teammate for four to five years, there is nothing much to say between us. It will always be what we said that night over drinks: I will never leave you alone, as long as you are there I will be there. Son, your alcohol limits are really bad, and although we do not really have heart-to-heart talks, but it has been enough. I can only say that I have done my best for most things, there is nothing that I can really do, just wish us happiness in our future, because that is the most important. 

I would also like to thank Dota as a large school hall: I have many other fellow schoolmates, and I wish all of you the best in the future. In the future when anyone asks me, I will say that I have graduated from the Dota Institution, with all my pride!

Although I have only had a year with you, but the five of us from VG will never forget what we have done. The most competitive new player ??? (Fy-) , champion Rubick, what you need is a calm atittude and more experience. Most reponsible fifth position player (Fenrir) , you will always be ?K in my heart - every match we have won has required your selfless contribution. The world's best second position player (Super), the heroes in which you can be considered the best are just way too many. As for the top Morphling in the world Liu J (Sylar), calm and stability has always been your flair, I hope in the future you can be more daring and more aggressive in your play. Senior Hunter, Lao Xiu Mi and Mao18, as well as all the other people in the club, I wish all of you a smooth-sailing future. 

As for all my former teammate, thank all of you for your understanding, and for accommodating my multiple deficiencies. The year I have spent in VG has been very joyful and fulfilling, from the first time we won an international championship to the lows, aand back to our unstoppable streak in TI. Let's not speak more, since any more will just result in tears. 

Be it my enduring trust towards my teammates or my passion for Dota, I am still the same person from back then. After retirement I will partner BurNIng as a commentator, and I will also go to some LAN events to help out as well. Those of you interested, please do come down to support us, and we might even start our own leisure team in the future to keep up the old times. 

There are many other suprises to come, please stay tuned! For example, Hi everyone, we are BB, I am xB (rOtk), I am BurNIng (big B) - will you support the shows we host? We will also do our best to expand competitive gaming, and make eSports popular!

Lastly, I wish to thank all of the fans who have been supporting eSports and competitive gaming all this while: you guys have accompanied me through my professional career, allowed me to be more confident, and also made my career even more exciting. Now that I will have more time after retiring, I will participate in In-Houses more often for fun, so keep fighting!
Source: BurNIng's Weibo and rOtk's Weibo