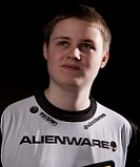 Babyknight enters Dota 2 with MYM
Former StarCraft II pro Jon 'BabyKnight' Andersen enters Dota 2 and joins MeetYourMakers. It will be his first official team in competitive Dota 2. 
After parting ways with two of their players, Meet Your Makers.Dota2 have now acquired former StarCraft II pro Jon 'BabyKnight' Andersen. He joins Marcus 'Ace' Hoelgaard and Christoffer 'Ryze' Winther.The two remaining positions have yet to be filled, but BabyKnight hinted out that it would not be unlikely they acquired two more Danish players.
MYM's Manager Damir 'NeStl3K' Dedic:
The moment Jon announced he would be moving from Starcraft 2 back to Dota, I knew he was a player I wanted to acquire. 13abyKnight is the type of world class player you can use to build a team and a franchise around. Since he joined, I haven't seen anyone work as hard as he has adjusting and improving on his play and it is extremely exciting to watch. We will be doing everything we can as an organization to help build a team to showcase these talents over the next few months. It has been a great partnership for both sides and I hope the fans welcome him along as we begin the next chapter for this squad." (Source: joinDota.com)
BabyKnight is a former DotA and StarCraft II pro and announced his forray into Dota 2 a few months ago. It was rumored before that he would return to MYM as he had been part of their DotA division a few years ago. 
It is another attempt by MeetYourMakers to establish themselves in the DotA/Dota 2 scene again as previous attempts with other rosters have been without much success.