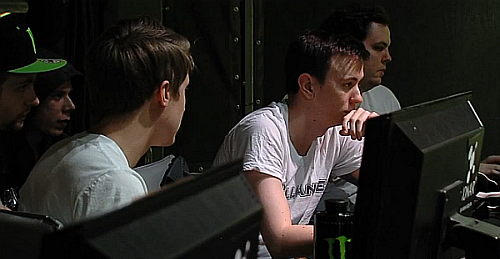 Reinvigorated Alliance take Fragbite Masters
Only a few weeks ago it was a foregone conclusion that Fnatic should come out victorious against their sparring partner, Alliance. But much has changed over the past week as Alliance have found the motivation to once again develop new strategies and try out new heroes, which ended up serving them well as they turned around a first game loss into a 2-1 victory, earning them first place in the tournament and 100,000 SEK (~$15,300). The competition will still entail a third place decider to be played between Power Rangers and Zero Respect, slated for today at 18:00 CET.
In the first game of the finals series Fnatic got their hands on the Tiny and Io combination which they ran once more to near perfection, starting out in mid on the Radiant side before rotating the Invoker in, as Kai 'H4nn1' Hanbueckers was having a rough time on the bottom lane. While H4nn1 did a great job clawing his way back into the game after the switch, the real hero of the first game was Kalle 'Trixi' Saarinen who played a deadly offlane Slark, bringing his trademark aggression to Alliance and chasing them down at every turn. In the end Fnatic took the first game at 32 minutes with a scoreline of 32-10.
For the second game Alliance drafted a heavy pushing lineup with Necrophos, Nature's Prophet and Enchantress leading the way for their early pushing attempts. Fnatic in turn want to fight early and punish Alliance when they tried to take Towers, something which worked out great for them early on, putting them solidly ahead on kills. However a few poor fights turned the numbers around, and as Alliance were able to not just get the greater bounties from the rebuttal kills but also were able to push towers it put them solidly in front on net worth, allowing them to pull away further and further. While Fnatic managed a few decent fights towards the end, it was not enough to do more than halt Alliance's progress for a short while, as they took a convincing 20 minute victory with kills going 27-20 in their favour.
The finals game of the series was by far the closest, with Fnatic picking a tanky brawler lineup against Alliance's teamfight and pushing lineup. While Fnatic seemed to have some initial success on lanes, things soon turned around as Alliance got their ultimates up and were able to start taking teamfights, forcing Fnatic slowly on the defensive as the Swedes shrunk the map for their European counterparts. Still, Fnatic were able to hold on and farm up on their own high ground, getting up the Black King Bars which they needed against not just the Pugna but the Lich Chain Frost and Venomancer Poison Nova which was causing them considerable issues. However, this opening for a turn-around was not capitalized on fully by Fnatic, as Alliance was able to split them up and cause havoc, taking out Fnatic's heroes one by one leading into a 41 minute 25-19 victory, which clenched the series for Alliance.
Round 2 - Best of 3
Round 3 - Best of 3
Prize Distribution
1. 100 000 SEK (~$15 300) -
Alliance
2. 50 000 SEK (~$7 700) -
Fnatic
3. 20 000 SEK (~$3 100) - To Be Determined
4. 8 000 SEK (~$1 200) - To Be Determined
5-8. 5 500 SEK (~$850)