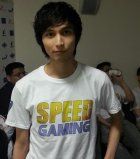 Speed defeat EG to become second Western G-League team
Speed Gaming become the second Western team to claim a spot for G-League in China, as they defeat Evil Geniuses in two straight games in order to join Fnatic who qualified yesterday. Both teams will head over to China for the LAN groupstages which will start on the 9th of December.
Speed Gaming had a fairly easy time of it in their series against South-East Asians Team Impervious, using Moonlight Shadow and Shallow Grave in order to bring heavy early aggression to the first game of the series and taking it decisively. While Impervious made a better run of it in the second game by picking a more early game centric lineup, but over time Speed Gaming built up a strong advantage on their key heroes, which eventually gave them their second victory and a path into the second round.
Meanwhile Evil Geniuses and Team Empire headed it off in a series where Empire drew first blood on the back of a strong Clinkz play which took over the mid portion of the first game and along with Batrider allowed Empire to completely nullify EG's Spectre. Confident in their strategy, Empire went ahead and drafted Clinkz again for the second game, but this time EG were better prepared, getting a strong start and along with a Bounty Hunter were able to snowball to a point where Empire had to call the 'GG', sending the series into a deciding game three. With all the chips on the line, Clinton 'Fear' Loomis put his team on his back with a great farming Alchemist which exploded in the mid game and took over, managing to spearhead EG's assault that sent them into the second round to face off against Speed Gaming.
Speed take on Evil Geniuses
In a close back-and-forth game, Speed got off to a better start but the looming presence of Fear on the Alchemist brought EG back into the game, even enabling them to equalize Barracks before finally breaking at the hands of a star performance by WehSing 'SingSing' Yuen on the Mirana, who lead his team to victory with a 17/2/9 score.
For the second game it was all about Jacky 'EternaLEnVy' Mao who got an early Hand of Midas on Clinkz, which should have heralded a quick Orchid of Malevolence. However, Speed were suffering slightly on their other cores which caused them to try and put pressure on earlier with the Clinkz, delaying the Orchid and almost making it seem as if EG had a shot, until some good teamfights and including excellent Earthshaker plays by Johan 'pieliedie' Åström put a stop to EG's advances and gave Envy the time he needed to correct his approach, taking over the mid game and bringing the game squarely under Speed Gaming's control, leading to an inevitable 2-0 victory for the international squad.
Headline image taken from SingSing's Facebook page.