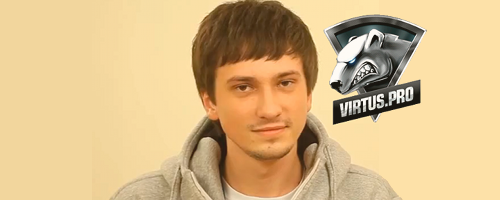 Virtus.Pro add Solo, Goblak and Resolut1on to RoX.KIS
After floating such names as the legendary Virtus.Pro player Igor 'M. Admiration' Kalnysh during their tryouts, Sergey 'Ars-Art' Revin made it public in an interview the other day with Na`Vi's Russian language show "Cool Story" that the team would be adding an offlaner to their squad. Now the name has been made public as that of Alexei 'Solo' Berezin, the controversial former RoX.KIS player involved in the "322" betting scandal.
With Solo joining the team the squad have said that they will soon gather in Russia for a bootcamp in order to help figure things out for themselves and with the intent of looking forward to the upcoming TechLabs Cup event, which they will be attending. Solo was a bit of an outsider choice as by his own admission the role he has been most comfortable playing in Dota 2 was the solo mid role during RoX.KIS initial successful run at EMS One and otherwise. Solo is however a highly talented and motivated player who grew by leaps and bounds under the tutelage of Andrey 'Dread' Golubev, and may well have been recommended by Dread in his place, as he himself has found a new path with his focus on casting for StarLadder.
Meanwhile Solo's old team have solved their roster trouble for now, picking up both Artur 'Goblak' Kostenko and Roman 'Resolut1on' Fominok in order to round out their own roster. This also meant that Igor 'Nexus' Lysakovsky left the squad, choosing to retire. Undeniably RoX.KIS look even stronger after the move, as with Goblak's vision and three strong core players in Stanislav 'BzzIsPerfect' Glushan, Resolut1on and Vadim 'Sedoy' Musorin, the team has the building blocks for causing upsets in upcoming battles.
It seems then that both teams look to become stronger with this change-up, as each acquire something which they previously lacked. With this move we may well see the CIS field an unprecedented four teams which should have it in them to compete consistently with the best of Europe, mirroring the importance that Russia and Ukraine overall have currently in the Dota 2 landscape.
Statement by Alexei 'Solo' Berezin:
 
I am very grateful to Virtus.pro for the opportunity to prove myself in a team with such experienced players. My goals for the game in the coming year is to achieve good results as a player and to perform well at TI4. Thank you to everyone who supported me regardless of which tag I played under and greetings to all VP fans, I will not let you down.
Statement by Denis 'PoDoX' Pestrecov (RoX.KIS Manager):
 
Today our team has undergone some changes. Alexei "Solo" Berezin and Igor "Nexus" Lysakovsky have left the team. Alexei will continue his playing career in Virtus.pro, while Igor, in turn, has decided to retire. We will also announce their replacements now. I am glad to welcome into our midst two new players. Artur 'Goblak' Kostenko will take the role of Captain and support for the team. Roman 'Resolut1on' Fominok will become our new solo mid player. In my view the addition of such experience comebined with such youthful talent is exactly what we needed. Thank you to everyone who supports us. We will try our best!
Virtus.Pro Roster
 Dmitriy 'LighTofHeaveN' Kupriyanov (Hard carry)

 Jaroslav 'NS' Kuznetsov (Support)

 Sergey 'Ars-Art' Revin (Support)

 Sergey 'GoD' Bragin (Solo mid)

 Alexei 'Solo' Berezin (Offlaner)
RoX.KIS Roster
Artur 'Goblak' Kostenko (Support, Captain)

 Stanislav 'BzzIsPerfect' Glushan (Hard carry)

 Vladimir 'yol' Basov (Support)

Vadim 'Sedoy' Musorin (Offlaner)

Roman 'Resolut1on' Fominok (Solo mid)
Sources: VirtusPro.org, GoodGame.ru