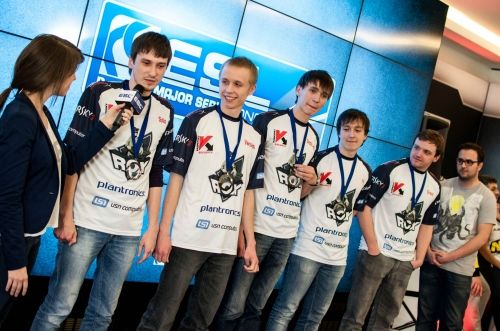 RoX.KIS banned from StarLadder after illegal bet
RoX.KIS at EMS One. Image by ESL.
​
RoX.KIS has been eliminated from StarLadder and severely punished, after Alexey 'Solo' Berezin made a bet with real money against his own team in their game against zRage, game which they probably lost on purpose.
Vitalii 'V1lat' Volochai, StarLadderTV representative, has tweeted that RoX.KIS member Alexey 'Solo' Berezin made an illegal (according to Star Series rules) bet against his own team for their game against zRage, using a known eSports betting site.
The game was of no value for the tournament, as both teams' places were secured in the tournament, with RoX.KIS staying in Star Series and zRage battling for a spot in the next season.
Alexey Solo Berezin , captain of team @RoXKISTeam made a bet against hes team in last game vs zRage. He will recieve lifetime ban at #SLTV

— Vitalii Volochai (@v1lat) June 14, 2013
StarLadder has enforced a lifetime ban on Solo for his actions. RoX.KIS has been eliminated from the tournament and banned for one year. Every RoX player that participated in the game, except Solo, will be banned from StarLadder for three years. 
According to StarLadder, such actions are a disgrace to eSports and will not be tolerated in the future by them or their partners, who were also encouraged to ban RoX.KIS as well from future events and tournaments.
-Update-
In a news post by joinDOTA, the organization mentioned that they are supportive of StarLadder's actions and may extend these bans to all the tournaments they host. This includes a ban from The Defense 4, EIZO Cup, Bigpoint Battle, jD Masters and more. A final decision will be made after some heavy discussions internally.
Source : StarLadder