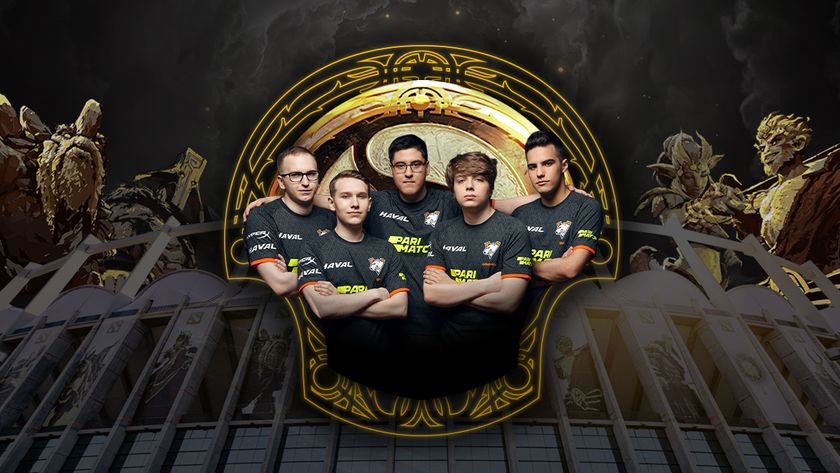 Virtus.pro offlaner DM: "We don't feel any pressure about the playoffs"
After a wobbly start to their TI10 campaign, Virtus.pro managed to secure second place in their group. Next up, they face Vici Gaming in the upper bracket.
When TI10 commenced, a lot of teams were being talked about to potentially lift the Aegis. One name that wasn't thrown around too much was the CIS team, Virtus.pro, and for good reason. Virtus.pro had a good showing in the pre DPC Leagues era, dominated the Eastern European DPC Leagues (first place both times), and looked formidable foes for any team. That is, of course, until they showed up on LAN for the DPC Majors. VP underperformed at both Majors, indicating that the young team, with the oldest player being just 21 years old, was just inexperienced at LAN events.

Virtus.pro roster:
Egor "Nightfall" Grigorenko
Danil "gpk" Skutin
DM.
Vitalie "Save-" Melnic
Illias "illias" Ganeev
Virtus.pro had a weird start to their TI10 journey, going 5-1 on the first day, but then losing both their series on day 2 to bring their tally to 5-5. That though, inspired a six game winning streak to end up at 11-5, which clinched them the second spot in the group, behind Invictus Gaming.
On the TI10 virtual media day, we had the chance to ask the Virtus.pro team a few questions about their upcoming game against Vici Gaming in the upper bracket, how their TI experience had been so far, whether there was any pressure mounting for playing on the stage and why they were one of the very few teams to pick Dawnbreaker. Nightfall, DM and captain Save turned out to be the chatty ones in the team, with gpk and DM just smirking and nodding at most questions.
GosuGamers: Congratulations on making it to the upper bracket! Your efforts have earned you a matchup against Vici Gaming in the upper bracket. Do you take this as a revenge opportunity for the AniMajor early elimination?
Virtus.pro: There is no thought of revenge. We think of the game against Vici Gaming as just another game that we want to win.
GosuGamers: It is the first TI experience for all five VP members. Has it lived up to the hype?
Nightfall: Not really. It is just like playing a casual tournament.
GosuGamers: You guys lost both your series on day 2 (vs iG and T1), and ended up 5-5. After that, you went on to win all six games you played to end the group stage with a score of 11-5. Was there a conversation or a change in mentality that helped you turn the tides, or was it just relatively small strategic adjustments?
Nightfall: We had a good conversation within the team, and made some adjustments to our mentality as well as our strategies. That helped us pick up the wins on day 3 and day 4.
GosuGamers: We've seen  VP perform amazingly in online tournaments, but not so much at LANs. Is it something that you worry about going into the playoffs stage? Is there any pressure on the team?
DM: We don't feel any pressure about the playoffs. We just plan to play our game and win against every single opponent we face.
GosuGamers: You picked the least number of heroes in the group stages (34). Are you just playing to your strengths, or are there more heroes to see from you guys in the games to come?
Save: There will surely be more heroes in the playoffs. We didn't show all our heroes in the group stages. But to be honest, we don't really care which heroes we play, as long as we win. It never crossed our minds that we had the lowest hero pool in the group stages.
GosuGamers: VP is probably the best team to use Dawnbreaker - position 5 and position 1. It hasn't been the most popular hero though. What about your playstyle makes the hero look good in your hands?
DM: This questions should be answered by the Dawnbreaker enthusiast (looking at Nightfall).
Save: Nightfall is the best player Dawnbreaker player in the world, so we just started picking the hero.
Nightfall: Dawnbreaker is a really strong hero to play all over the map and pressure enemies, which is why we picked her.
GosuGamers: Save, when do we get to see the position 4 Huskar?!
Save: That's a good question! Probably in the semifinals. We'll see!
GosuGamers: Which teams(s) seem to be the toughest opponent at TI10?
Nightfall: I think all teams in the upper bracket are equally strong, and there is no hardest opponent as such. Every team in the upper bracket has the potential to beat every other team.
The second day of the TI10 playoffs begins at 10 am EEST on the 13th of October, with Virtus.pro scheduled to take on Vici Gaming in a best-of-3 at 1 pm EEST, right after the game between PSG.LGD and T1. The winner will secure a top six place and will take on the winner of the previous game in the upper bracket semifinals, while the loser will drop down to the lower bracket to play against Evil Geniuses.