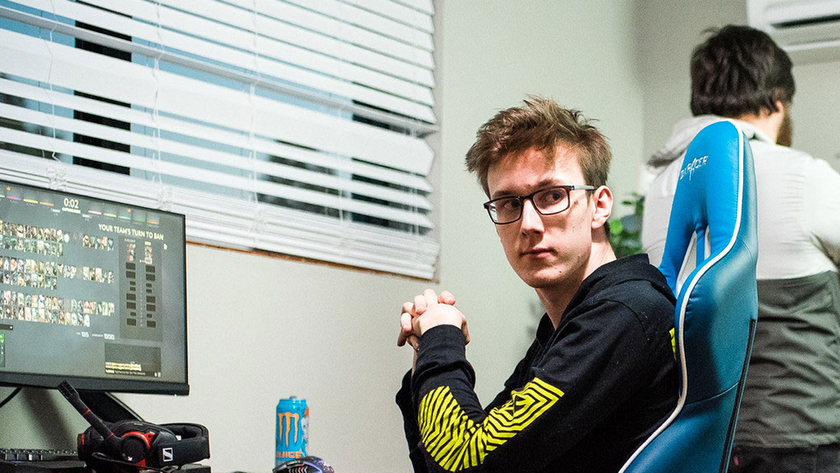 Interview with Undying's offlaner Saberlight: "DuBu and MoonMeander have helped the team a lot"
Image: BeyondTheSummit
GosuGamers caught up with Undying's offlaner Saberlight to talk about their recent qualification to TI10 through the NA qualifiers.
Qualifying for The International is every Dota 2 player's dream, and Jonas "Saberlight" Volek realized this recently when his team, Undying, qualified for this year's iteration of The International through the North American regional qualifiers. GosuGamers caught up with him to talk about the journey that led to their ticket to TI, their rivalry with 4Zoomers and the DPC Leagues, and their format, amongst other things.
________________________________________________________________________________________________________________________________________________________
Hello Saberlight! Thank you for taking the time to do the interview. How's it going with you? Are you in the Czech Republic right now?
Yes, I am in Prague. Ever since we won [qualified for TI10], I didn't really get a chance to celebrate. To be honest, I've been a bit bored as there hasn't been anything to play for. I'll start practicing once the new patch drops. I've just been watching Dota 2 and playing some other games. Right now, I'm watching the TI10 Europe qualifiers.
Who do you think will win the EU qualifiers?
If you ask me, Nigma is the favorite, but I expect OG to pull out some crazy stuff, like they always do, and make it instead. Even Tundra and Team Liquid have a chance of making it.
Let's get to you – congratulations on making it to TI10 with Undying! How are you feeling going to your first ever TI?
I'm excited! I want to prove myself to the world and place well at The International.
I can imagine it being exciting going to your first big tournament. What are Undying's plans for going to TI10? I know you are far away from the rest of the team. Do you guys plan to meet up for a boot camp, or will it just be online scrims?
We want to take TI more seriously than the other tournaments. If everything goes well, the team would definitely like to boot camp for around 10 days. In the days to come, hopefully, we will get an organization that will help us with this, so we can meet in Europe, and the rest of the team will get used to the EU time zone. Also, the team members of Undying haven't met in person, and I feel meeting and playing together will help us improve as a team.
Hope you guys find an organization soon! Let's get to the Dota 2 – it's been a relatively short year, with the first DPC Season starting in January. In that time, Undying and 4Zoomers formed a strong rivalry, be it the DPC Leagues or the BTS Pro Series events. But it seems like, towards the end, you guys stepped it up a notch and left them in the rearview mirror. What you think was the key factor(s) that accelerated Undying significantly ahead of 4Zoomers?
I think 4Zoomers is really a really talented team. The edge we have on them, I believe, is that we deal with pressure much better. Looking back at the TI10 NA qualifier grand finals, I don't think they were playing at their best. Speaking for myself, when I'm playing under pressure, I play at 110%. The entire Undying team played better than we usually do in the grand finals, while the Zoomers were dealing with nerves, making it harder for them than it usually is.
I'd imagine for an up-and-coming player like you, those high-stakes situations would make things difficult. But it's great to hear you deal so well with pressure. Do you think it helps to have supports like Dooyoung "DuBu" Kim and David "MoonMeander" Tan who've been there and done that, who've been in those high-pressure situations, to guide the team in big games?
For sure. DuBu and MoonMeander have helped this team a lot. I don't think we would be where we are without them. Kyle "Kyle" Freedman mentioned something interesting in one of his Tweets, which was to the tune of people who have been to The International before tend to qualify again. That is another advantage we had over 4Zoomers – they are all new players with no one who's been there and done that. We have two amazing players who've already been to TI and even won Majors, and that helps a lot.
No doubt it helps to have that kind of experience guiding you. You guys did very well in both DPC Seasons; especially the first one where you took it to a three-way tiebreaker between Undying, Evil Geniuses, and Quincy Crew. Those were probably very high-pressure games as well. What happened there, though? Was it just a question of those two teams having more experience than Undying?
Quincy Crew is a slightly better team than us and EG is just a lot better. If we played ten games against Quincy Crew, they would probably win six of them, and the best of one we played against them in the tiebreaker was one of those six. 
Coming to the DPC Leagues – this was the first year the league format was adopted. What are your thoughts on it?
I think the DPC Leagues are a good idea, they help the tier 2 teams get better. What I dislike is the fact that they tend to go on for a really long time [six weeks]. It is leagues, two weeks of no Dota 2 when there is a break, followed by one or two weeks of high-level Dota 2 at the DPC Major, which I think needs to be changed.
So if you had to change anything, would you shorten the leagues?
Yes, that would benefit players as well as spectators. I don't enjoy playing a series and then having to wait for a long time for the next one [can be as long as 12 days sometimes]. For example, the TI10 qualifiers were four days of continuous Dota 2, so I could channel all my attention and energy into the games for that week. But it's really hard to do it for a month.
Do you feel like you are closing the gap between yourselves and the top two teams in NA (Quincy Crew and Evil Geniuses)?
I believe so. When our team meets up and plays together on no ping, the matchups with the top NA teams will be much closer than they have been.
I'm glad your mentioned ping – you've been playing on 120 ping for the entire competitive year. At that level, how big of a difference does it make?
It surely makes a difference, but not in the way most people would think. It doesn't really affect my reflexes as such. In the one year that I've been plying my trade in NA, I can remember just one game where I died due to high ping, because I didn't blink out in time. But the main disadvantage of high ping is that it makes laning harder. It's a bit hard to describe, but the delay also makes my brain function a bit slower.
So I'm guessing you get used to playing with the delay. Does that make a difference when you go back to a lower ping?
Currently, I'm used to playing with both – 120 ms when playing in NA and 30 ms when playing in EU. When I'm at 30 ping, I can think and play fast. At 120 ping, I need to really contemplate the decisions that I'm making; it's just slower.
You've played professionally in both, EU and NA. What do you think is the biggest difference in the playstyles of the two regions?
NA is more focused on and better in laning, and play slower. They like to hit creeps. In EU, it's more brawling than hitting creeps.
What made you decide to make the switch from EU to NA for your career?
It was a combination of factors. I believed the players on Undying were really good and I wanted to learn from them, but I also just felt like I needed a bit of change in my life, having played most of my previous career in EU.
Well, I'm glad you took that decision. It certainly paid off! How do you like the current meta? And if we get a new patch before TI10, what changes would you like to see?
The current meta is good, it suits me. Tanky offlaners are performing well, which is my specialty. But I would appreciate a new patch, as patch 7.29 has gotten stale. We've been playing on it for a long time and eventually, all teams start drawing motivation from the top teams [instead of trying out their own unique strategies]. We are culpable of it as well. We took a lot of ideas from the drafts in the Kyiv Major and ESL One Summer for the TI10 qualifiers.
Changes I would like to see would be nerfs to some heroes like Axe, Terroroblade, Winter Wyvern and Hoodwink. I also want some new things in the game, but that probably won't happen in the next patch.
There is a very good chance that Dawnbreaker might get added to Captain's Mode, and she's mostly been played as an offlaner in high-level pubs. Would that be something that would excite you?
Funny story about Dawnbreaker, I thought there would be a patch before the TI10 qualifiers and Dawnbreaker would be added to Captains Mode, so I played 20 pubs with her! If they do add her, it would make things interesting. I don't think she is a good pub hero but would make a good pick in competitive games.
It will surely add another component of interest and intrigue to TI10, as Dawnbreaker hasn't really seen any play in competitive games before.
When did you start playing Dota and at what point did you realize you could make it as a professional Dota 2 player?
I started with Dota 1, so it was at least 10 years ago. I remember playing the game in the computer classes in school with my friends. I would beat them 1 v 5. It wasn't that I was exceptional, but in Dota 1, you used to get more gold if you were alone. I would just buy Dagon in the first minute and beat them all!
I thought about going professional when I hit 5000 MMR. I wasn't too interested in school. I was playing chess professionally back in the day and would get excited at the prospect of skipping school while attending chess tournaments. And then it hit me, I could do the same thing with Dota tournaments. Dota is basically chess on drugs; it's much more exciting!
It is indeed like chess with just so many more variables! In your free time, when you aren't playing Dota 2, what do you like to do?
I like watching TV series in my free time. Lately, I've realized I don't know how to relax. There are days when I don't want to play Dota and take a break, but it just leads to me getting bored. So I just end up playing Dota on those days as well. I need to find something new to do.
Thank you so much for your time, Saberlight! Any shoutouts?
Shoutout to all the Undying fans, who supported us during the TI10 qualifiers. I hope we can make you proud with our performance at The International. Speaking of TI, if anyone is interested in watching behind-the-scenes stuff about our team, they can find it on my Instagram account.