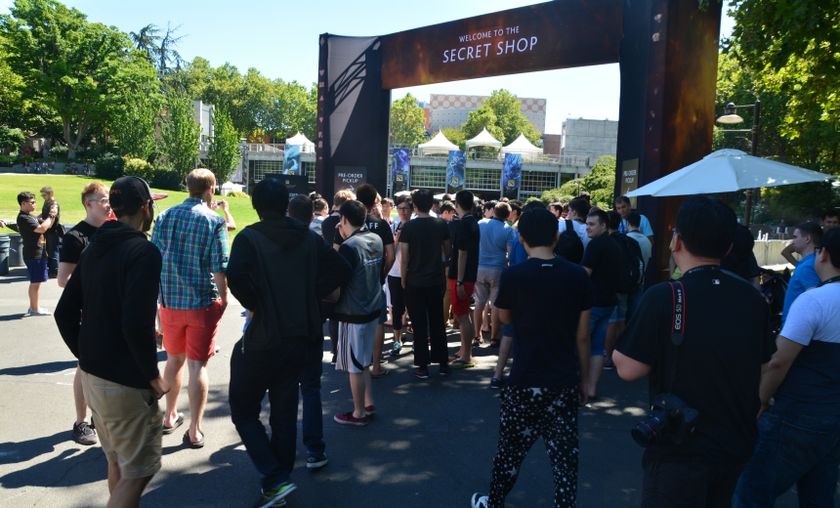 A sneak peek of the TI5 Secret Shop (early access)

Do you remember those insanely long queue at the Secret Shop during The International? I experienced it first hand today. Well, it isn't as long because the secret shop is only opened for players, managers and media today but it still took me 3.5 hours to get my hands on some plushies.
Anyway, let's start from the beginning. Today, is the first "rest" day after the groupstage and it is also the day when we are scheduled to go to Key Arena for some early access merchandise. Valve arranged several buses which will be moving back and forth between the hotel and Key Arena and the first one left at 2pm in the afternoon. I went on the second bus alongside several Chinese players and EG.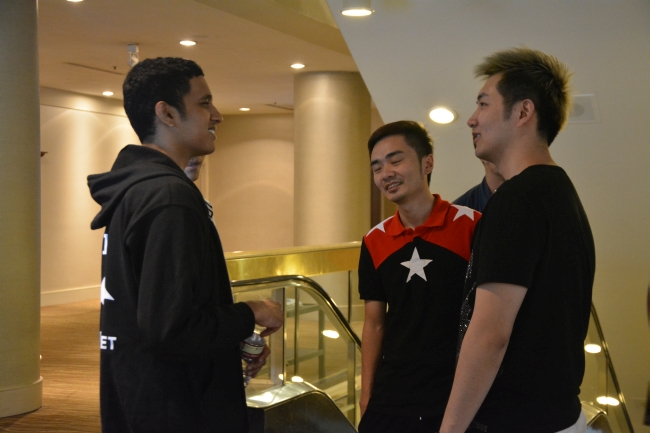 Yao and Xiao8 having a chat with 1437 while waiting for the bus.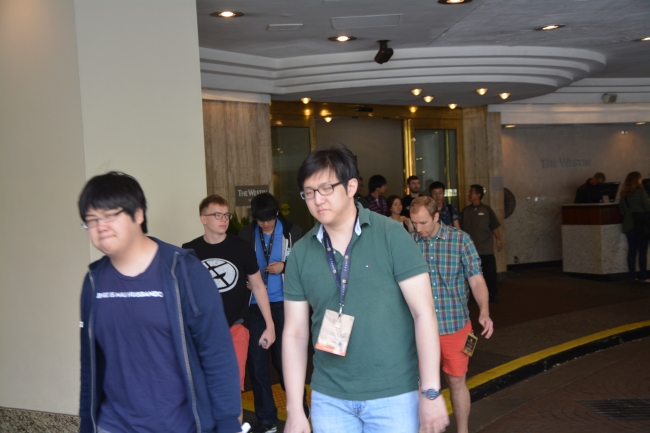 On the way to the bus.
This is my first time visiting Key Arena and at first, I was rather confused as to what was going on. There were two lines, one for the players and another for what I assume to be general audience. I found out later that the fans who have pre-ordered the merchandise could actually collect them today. I thought that was pretty cool and some fans came up to the players to have their pictures taken.
By the time I got to the line, I was perhaps behind 50 people. We have a great view of the Space Needle from where we were lining up and also two big screens set up right outside the Secret Shop so you don't miss all the action. Today however, they were showing highlights from TI4 and the player profiles they made.
As we were waiting in line for our turn, a staff member came over to hand us these booklets and we were suppose to mark what we would like to purchase on a form before we enter the Secret Shop.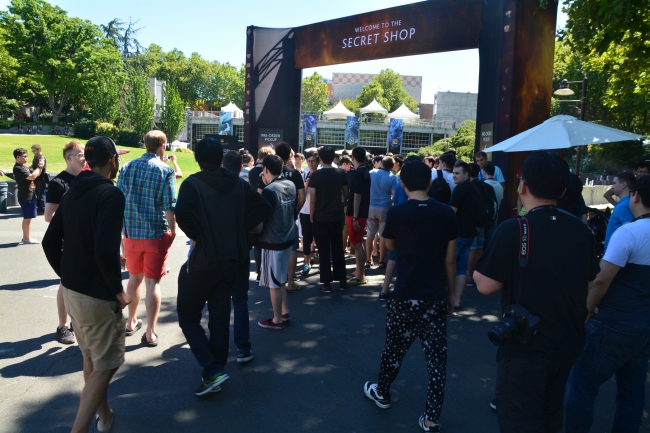 Welcome to the Secret Shop.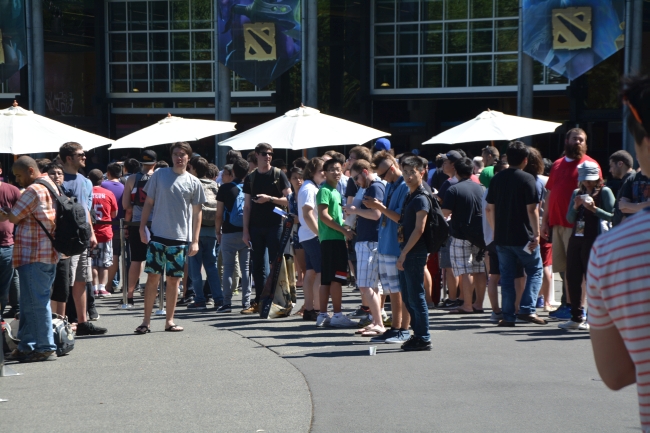 Lining up to collect the pre-orders.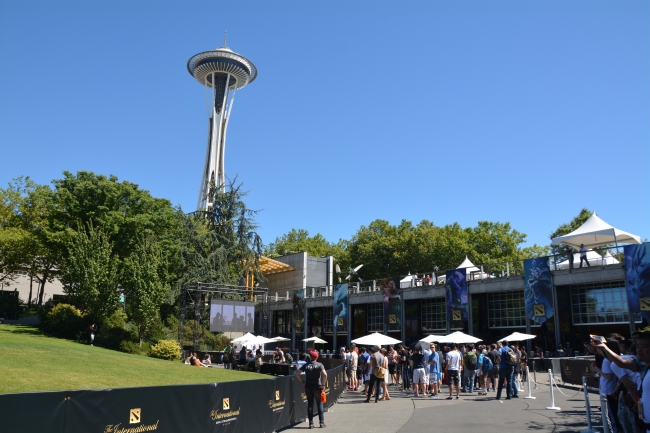 From where I was standing in line. The bunch of people in the middle are for people who pre-ordered.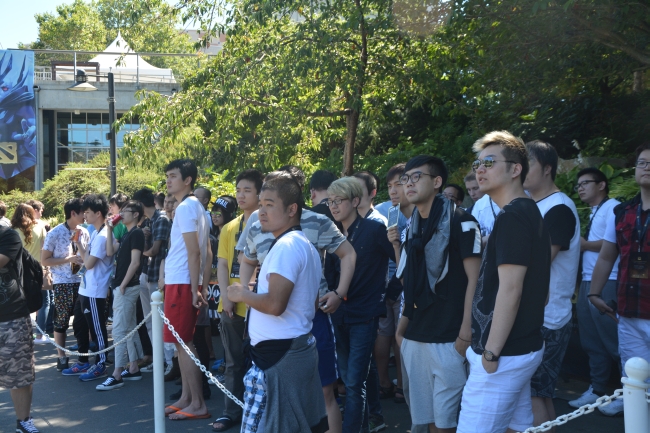 Watching TI4 highlights while waiting in line.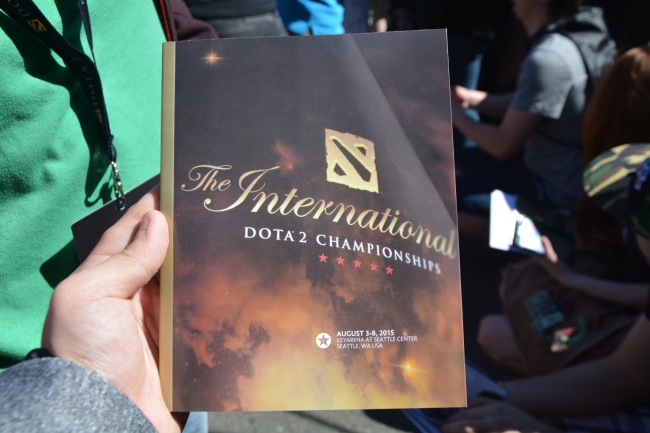 Your guide to TI5 secret shop.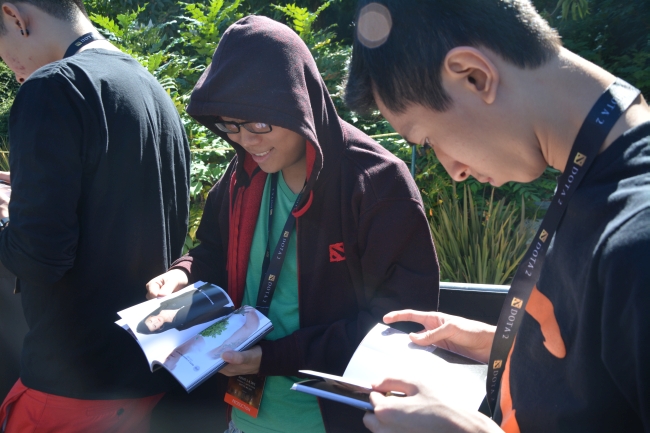 WinteR and Kecik looking at the catalogue.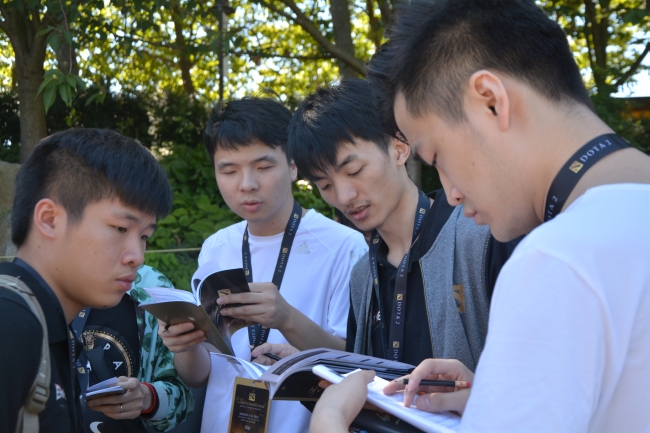 EHOME boys figuring out what to buy.

Fans grabbing a picture with Mushi.
30 minutes into waiting, I suddenly realized that I have not moved an inch for the past half an hour. According to my trusty phone, the temperature today was 31 degrees Celsius and standing out in the hot sun was not particularly enjoyable. Well, since we want items, I guess we have to suck it up and wait but I just did not expect to wait for two bloody hours (still under the hot sun) before getting to the front of the line.
I mean today is just the secret shop day for players, managers and media. If it is taking this long even for us, man I don't know what kind of crap you guys have endured the last few years. Sweaty and thirsty, me and Mushi finally reached the front of the line following which, we weren't allowed to go into the shade yet. There is this divider where they place your order before you go collect them in front. The problem is some of the players bought so much that it takes a while for the staff members to gather everything they want in a short period of time. Understandably, a line formed after the divider causing me and Mushi to continue standing in the sun for another 30 minutes. It's okay though.
Considering how slow the line was going, they decided to open a few more counters and surprisingly enough, instead of asking us to go, they asked the people from the middle of the current line to form a second line for the newly opened counters. I think that is a little silly and to be honest, a little disrespectful considering I have probably queued an extra hour to go into the secret shop. Luckily for us, one of the staff member noticed how long me and Mushi have waited and asked us to go into the newly opened counters to get our orders placed. 

This is where the orders were placed. Collection is in front.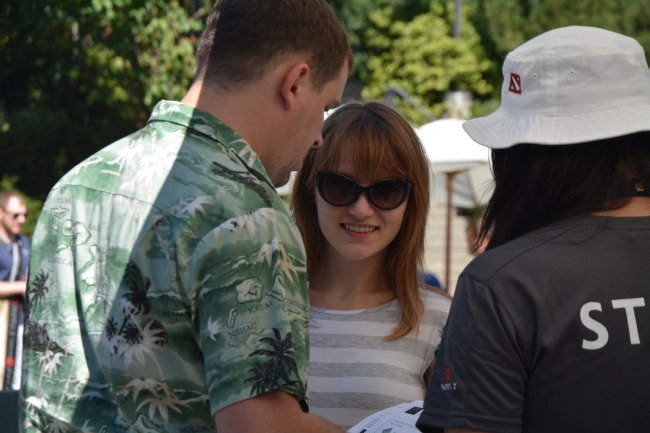 I was about to take a nice pic of Ineska smiling until v1lat came in.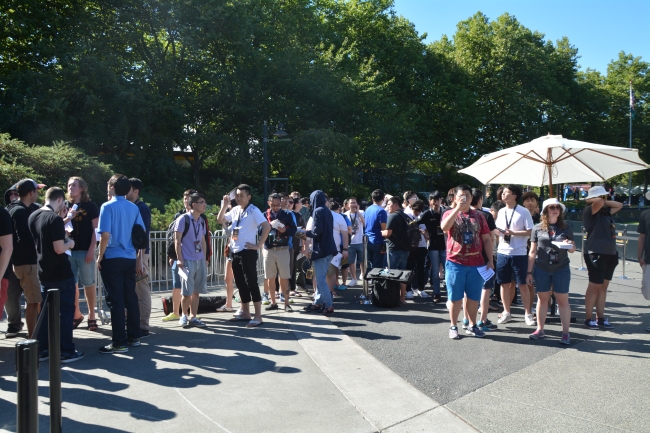 Second line formed.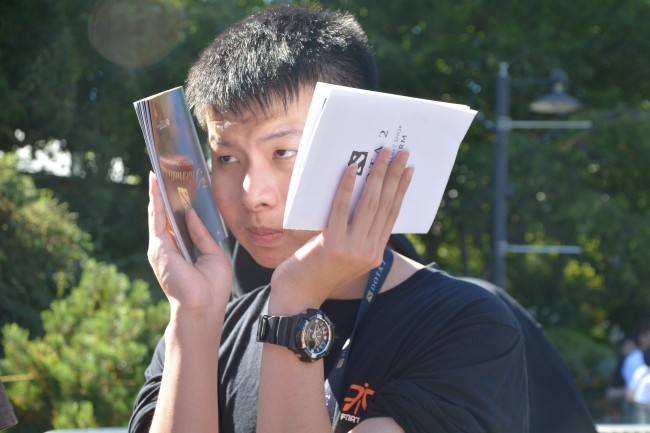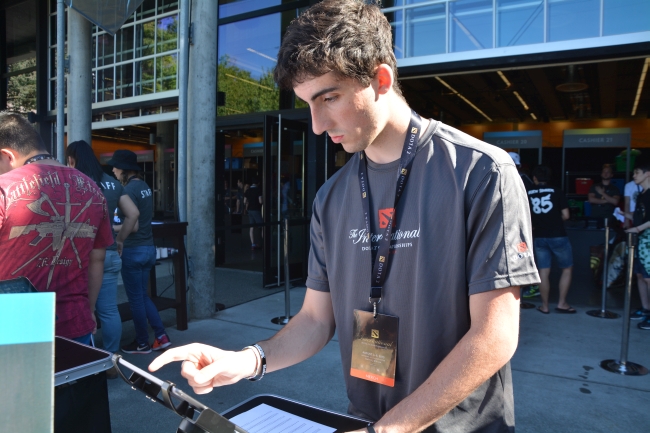 Placing our order.
Total damage: $1,634 (mine is about $300, Mushi bought about $1,300)
As we get to collection counter, I asked some players how much they have spent for Dota 2 merchandise this year. here are some of the figures.
Zai: ~$300
fy: ~$400
Iceiceice: ~$1,000
Mushi: ~$1,300
Ferrari_430: ~$1,600
LaNm: ~$3,000
Universe: $60
Yes, I am not shitting you about Universe only buying $60 worth of merchandise. I mean it is rather hilarious that he waited so long in queue just to get four freaking microplushies. According to Universe, he bought so little because he wants to punish for Valve for making him wait so long. Haha..
In any case, I spent a total of 3.5 hours before my merchandise were handed to me. Time well spent. Some players wasted no time in opening up the demihero boxes to check if they got another golden ones. I for one, am too tired to even touch bother checking. Maybe tomorrow...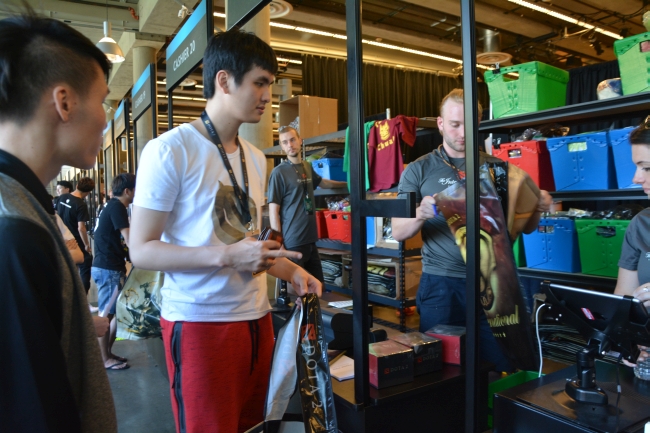 Iceiceice and Warnutz waiting for collection.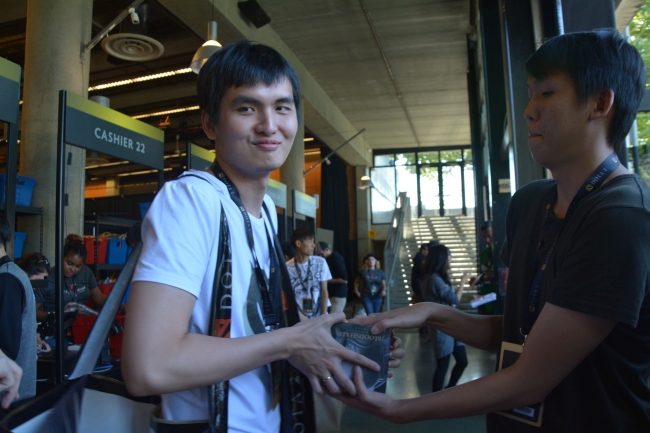 Mushi trying to snatch demihero from Iceiceice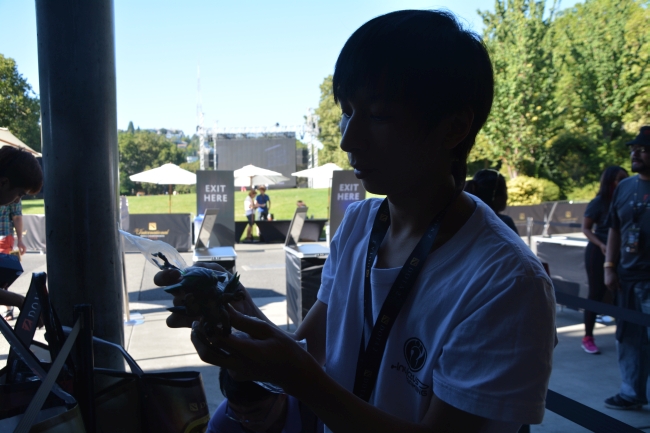 Ferrari opening up demiheroes immediately. He says he has no use for OD.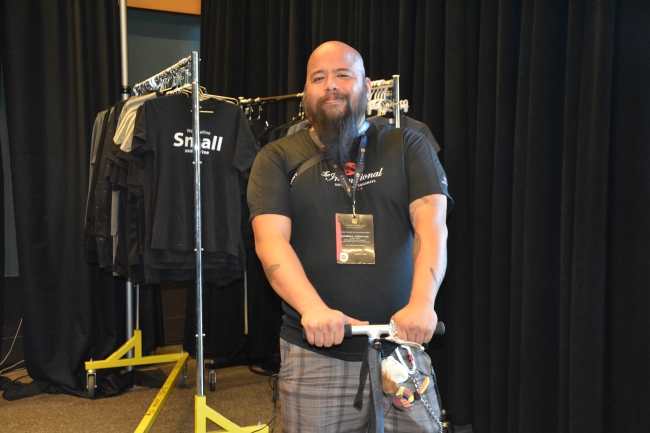 Arsenio, the main man behind the Secret Shop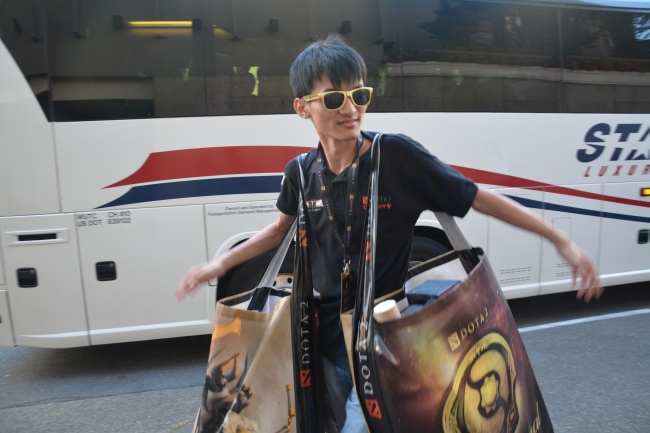 Lanm looking like a boss with $3,000 worth of merchandise.
You can check what you would like to buy ahead of time or pre-order them on WeLoveFine's website. I highly highly recommend you bring bottles of water before lining up though, especially in the afternoon.
---
More content on GosuGamers