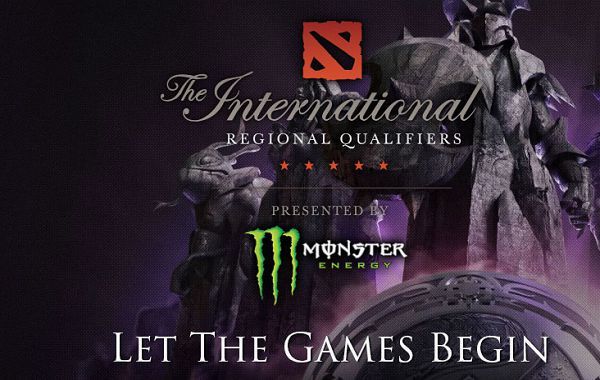 TI4 Southeast-Asian qualifiers Preview
The International 4's Southeast-Asia qualifier is set to begin 16 May at 06:00 CEST (12:00 SGT). It is a four-day affair, with the first two days being exhausted in a best-of-one single round-robin tournament between ten teams, and the final two being used in a best-of-three double-elimination playoffs for the top four teams.
The best teams in this qualifier will be greatly rewarded - the champion receiving an outright slot in the very prestigious The International, and the runner-up getting a slot in the TI4 wildcard tournament. Of course, those two teams will be traveling all the way to Seattle, USA - literally the other side of the world for these teams.
The Tournament Format
Technically, the qualifier isn't exclusive to Southeast Asian teams as there are two Korean teams. As said earlier, the first part will be a best-of-one single round-robin. It will definitely be a test of endurance and focus, as each team will have to play at least nine games against nine different teams in a span of two days. Only the top four teams will advance into the next round
Team
G
W
L
P

9
7
2
7

9
7
2
7

9
5
4
5

9
5
4
5

9
5
4
5

9
4
5
4

9
4
5
4

9
4
5
4

9
3
6
3

9
1
8
1
Matches and results
All games in the group stage will be significant, because the top two finishers will enter the playoffs with a leg up over their opponents. The first and second placed teams in the groups will be going straight into the upper bracket finals, while the bottom two playoff teams will find themselves already in the lower bracket.
About the teams
What makes this tournament exciting is that all teams can actually beat one another, everyone has a fighting and realistic chance. Most of these teams get to fight one another on regular occasions, and unfamiliarity will most likely not be an issue. Expect numerous action-packed, close games with varying strategy.
The regional division also separated these teams from the Chinese teams, and the probability of them claiming a ticket to Seattle is bigger than ever. Every team is definitely aware of this, and this should be an event to watch.

Singaporean team Scythe.SG is arguably the best team in the lot, and its a very solid team composed of young bloods and a tested veteran. There has always been a Singaporean team in The International, and this team definitely are aiming to keep that statement true. While they are a relatively new team which ironically already had numerous roster changes, Scythe has shown that they are one of the better SEA teams as testament by their by their championships in tournaments like ACG Best-of-the-Best and GosuCup Asia May.

Arrow Gaming
Lowyat.net was just among Malaysia's many teams last year. However, they showed big improvements after they were picked up as Arrow Gaming in the begining of 2014. They have shown that they can defeat everyone in the region. Their inexperience in the bigger stages cost them a number of playoff defeats, but that is exactly what they have been working for in the past months. As a trivia, the top two players of Southeast Asia's MMR leaderboards are from this team.
MVP.Phoenix
MVP.Phoenix won the second season of Nexon Sponsorship League, and they have continually improved over the months. To say Dota 2 is a minority in their country compared to other games is an understatement, but they have fought it through and have displayed grit, determination and an exciting play style. The team gave a valiant effort against their tough opposition during Starladder, and have pulled of a win against LGD.CDEC just this month. 
Mineski
Mineski, being invited into the very first The International, is among the first few teams who ever played the game. They have been on a quest to return to the tournament, but they have had disappointing performances in the last two qualifiers. Despite being notoriously inconsistent, the Filipino team has similarly shown that they are one of the better teams in the region when they are in good form. Among their highlights in the past year was the title in GMPGL SEA and the runner-up finish in the ACG, facing Titan in the finals of both tournaments.
MiTH.Trust
As the team just above them, Thai-team MiTH.Trust was also invited into The International 1. In fact, they even finished a respectable seventh-place finish. Despite being in a number of hiatus and a tough stretch, they have shown that they 'are still around' as they eliminated favorite Arrow Gaming in the play-in match of The Inaugural. The team is also one the most stable teams, roster-wise, in the whole world.
Orange eSports
If you started following the game last The International 3, then this team would sound familiar to you. But while the organization is the same, the team composition is very much different. Now a mix of Singaporean and Malaysian players lead by veteran Chan 'Winter' Litt-Binn, the team has been showing signs of improvement within the past months. They are fresh off a brutal, but definitely educational, trip to China, and that experience could possibly prove useful in this tournament.

Rex Regum Qeon
A team  composed of their country's DotA veterans, RRQ has blossomed to be one of Indonesia's finest Dota 2 teams. They have also shown steady improvement, upgrading their disappointing ACG performance into a well-earned second place finish in the ACG best-of-the-best invitational where they really made Scythe work hard for the title. They are also very active in tournaments and have basically joined every big SEA tournament available.

Zephyr
Zephyr is a Korea-based American team (well, one is from the Netherlands), and they won the third season of the Nexon Sponsorship League. They are, as many teams in the region, relatively new as they are formed just early this year. They were dominant in the Korean Dota League, and have also lately broke through the SEA-team wall that has been stopping them for so long, after they defeated Scythe in the Corsair Asia Cup.
Execration
The second Filipino team in the SEA qualifier, Execration has also shown that they go head-to-head with the region's best teams. They are also one of their country's household team, dating back to its DotA days. As with that other Filipino team, they have also displayed patches of inconsistencies. They are also yet to win anything significant, and they have been a victim of roster shuffles themselves. Execration, however, has shown potential and have recently held Malaysian powerhouses Titan and Arrow Gaming into a draw.
First Departure
As Scythe Gaming rose earlier this year, it was fellow Singaporean team First Departure who took the hardest blow. A lot of this team's players switched teams, possibly because of back-to-back disappointing performances in GMPGL SEA and the ACG. The team has been trying out members and strategies, and is trying to find their way back in the mix of SEA teams to be reckoned with.
Casting information and roster
Among the casters for The International 4's SEA qualifiers are the the very same crew we have seen and listened to in the Americas qualifiers. These include the guys from the NA Hub (BTS 1, BTS 2, BTS 3, HGTV) and EU Hub (EU Hub, JD Red, JD Blue).
There are also numerous Asian casters across different languages, and it includes Chinese, Thai (Xclopz, MermaiD), Filipino (PinoyDota, Mineski), Indonesian, Vietnamese (PewPew, Dota2VN) and Korean.
Of course, there will also be a number of Asian casters across different languages and we'll share them to you as soon as they are made available.
For more information about The International qualifiers, visit our coverage hub here!
Head over to our wiki page for The International 2014!
Rotator photo taken from ti4qualifiers
---
> More featured articles
> Bet on matches in May, win luckboxes