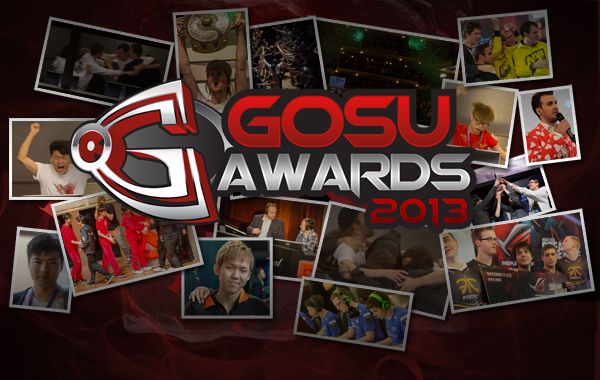 GosuAwards 2013 - Dota 2 nominations
UPDATE: The GosuAward winners are out, find them here.
---
Best team of 2013    
---
Alliance
Country: Sweden
GosuRanking: #1

Alliance dominated the top spot of the podium for most of the year, culminating in their win at The International 2013. They've shown us creative but stable strategies during their time together and heavily influenced the style of play in the West. Although they fell into a slump towards the end of the year due to heavy fatigue, they are still to this day a dangerous opponent which we expect to rise again in the new year.


 

Natus Vincere
Country: Ukraine
GosuRanking: #4

Alliance's biggest rival in the West, some might say the world. Known for their chaotic and aggressive style of play, Na`Vi is a team which seeks to take you out of your comfort zone and surprise you when it matters the most. While their year had it's ups and downs a second place finish at The International 2013 and an overall strong end of the year showing puts Na`Vi ahead of where they were a year ago and ahead of most of the pack as well.


 

DK
Country: China
GosuRanking: #2

For DK this was a year in which they came close, but kept on failing at the last moment, as the team has continued to be a consistent threat without ever winning a major event. In order to reclaim their championship status the team went through a gutsy transformation after their lukewarm finish at TI3, adding Mushi, iceiceice, and Lanm for arguably the most hyped team of the year. Their top seed in WPC-ACE groupstage is a testimony to the capabilities of this new lineup when they are comfortable in the meta, and a promise of a bright future in 2014.


 

Fnatic
Country: Europe
GosuRanking: #6

Easily the king of second place of 2013, the HoN championship team of Fnatic has yet to claim a major title this year, although they have been one of the most active teams around. They are a testament to what friendship and in some cases years together can achieve even in the face of adversity. With the full committal of the team in the second half of the year they rose to consistently not just challenge but beat both the Alliance and Na`Vi, capping off a year in which they managed a 7th/8th place at TI3, something which few were willing to believe of them back in January.


 

LGD
Country: China
GosuRanking: #3

LGD.Cn in 2013 were as they were in 2012, a deadly team built around a precise gameplan executed ruthlessly. This allowed them to consistently post podium finishes in the East and go into TI3 as one of China's biggest hopes. While their failure to perform and early exit at the event does cast a great shadow over their year, their end of the year results have shown that with a new carry player in xiaotuji, they are still a great team with great prospects.

\
Honorable mentions: Neolution Orange, TongFu.
[easypoll]52ac7adde4b0169ef69e6f25[/easypoll]
---
Most improved team    
---
Vici Gaming
Country: China
GosuRanking: #5

VG started out the year as China's hope for the future, but as they came just short of performing competition after competition many lost faith in the squad. Through several roster changes the struggles did not subside until they imported rOtk, Super and Sylar for the team. With a mix of leadership, talent and drive to prove their naysayers wrong the team has rallied in the final quarter of the year to become arguably one of the hottest on the scene right now, East or West.


 

Speed Gaming
Country:  International
GosuRanking: #7

Speed Gaming, formerly known as Kaipi, was once thought of as little more than a mix team where talented players came and went but nothing permanent was built. This began to change when a certain EternaLEnVy joined the team in exile from his former team of NoTidehunter. While the team showed great strides before TI3 it was not enough to get them an invite to the qualifiers, but after TI3 the team broke onto the scene in a massive fashion, culminating in their jubilant win at MLG Columbus, defeating Eastern favourites DK. They are currently in China for G-League and an extended bootcamp.


 

Fnatic
Country: Europe
GosuRanking: #6

It's not been a straight road for Fnatic by any means, as they were only just starting to show signs of hitting their stride at the end of 2012 and then took over the Western scene for a while at the start of 2013 before the real life obligations of their Captain, Fly, caused the team to halt their progression once more. While they took an impressive 7th/8th place at TI3, it's not been until this past month that the team has really gotten back on track, having gone far to cement themselves as the third powerhouse of Europe along with Alliance and Na`Vi.

 


 

Sigma International
Country: Europe
GosuRanking: #13

Sigma.Int was formed from the remnants of Flip.sid3, mousesports and Quantic. They represent a continuation of the journey of both France and Germany in Dota 2, with great talent and potential. Yet they've been often overlooked, something which changed with their amazing run at MLG Columbus, where this last minute replacement team ended up taking fourth place, equaling Na`Vi's finish in the competition.


 

First Departure
Country: Singapore
GosuRanking: #16

Few had heard of First Departure until they won Armaggeddon Grand Slam earlier this year. With Meracle spearheading them for the first nine months, FD has risen to become one of the most feared teams in South East Asia. While Meracle has since left them for Titan, they still managed to win RGN League without him, proving that they are more than just a one man team.
Honorable mentions: Any team Goblak joined this year, with the exception of Virtus.Pro.
[easypoll]52ac7ce3e4b0169ef69e6f2b[/easypoll]
---
Most disappointing team    
---
LGD International
Country: International
Status: Roster problems

After reaching the finals of G-League early in the year, LGD.Int failed to ever again reach the expectations set for them, leading to a dissapointing finish outside of the top 8 at The International 3. Even rebuilding the team after TI3 did little to breathe new life into the squad, and with both Pajkatt and Misery having left the team it seems this experiment is well and truly about to end, just over a year after it started.


 

Virtus.Pro
Country: Russia
Status: Roster problems

VP had quite a successful team with IllidanSTR, KSI and Crazy, even though they consistently failed to perform on LAN due to internal issues. This lead to a dissapointing finish at TI3 and a removal of the old roster in favour of a new all-star line-up with names such as God, Goblak, LighTofHeaveN and Resolut1on. But as is often the case with rosters where starpower dictated the formation of the squad, the results were terrible and the players were unable to work together, starting a chain of roster changes which has yet to completely subside, as the team struggles to find a solid footing, heading into 2014.


 

RisingStars
Country: China
Status: Disbanded

RisingStars acquired some of the hottest properties in the post-TI3 Chinese shuffle but failed to ever capitalize on the abundance of talent due to communication issues. They are, much like Virtus.Pro, a testament to how sometimes a team can be far less than it's individual parts. The team disbanded after they failed to get into the playoffs of every tournament they joined.


 

Invasion-MUFC
Country: Malaysia
Status: Disbanded

MUFC made dubious history this year as they went 0-15 at The International 3, being the first team to not win a single game in the new longer format competition. They were invited to the tournament because of their promising performances after their formation in January, but a series of communication problems ended up crippling the Malaysian team. Their failure was of the magnitude that many have questioned the number of slots SEA teams should receive at future events, even in the face of Orange's great success this year.


 

Zenith
Country: Singapore
Status: Disbanded

At one time believed by many to be the strongest South East Asian team this year and the true SEA hope going into The International 3. At their peak they had consistently beaten Invictus Gaming and Orange, but when it came time for the event itself the team failed to live up to expectations. Carrying the legacy of Scythe.Sg and last years Zenith, it was the first time the team failed to make it into the money at The International.
Also considered: Mousesports
[easypoll]52ac7d10e4b0169ef69e6f2c[/easypoll]
---
---
Best carry of 2013    
---
Loda
Jonathan Berg
Team: Alliance
XBOCT
Alexander Dashkevich
Team: Na`Vi
BurNing
Zhi Lei Xu
Team: DK
Hao
Zhi Hao Chen
Team: iG
Era
Adrian Kryezuk
Team: Fnatic

This year has been an interesting one for carries, with the focus swinging back towards a more active style of play which is reflected in the nominations. Players such as XBOCT and Hao have been at times thought of as near reckless in their aggression, but both stepped up greatly this year to become backbones of their respective teams, along with a return to form for the living legend of Loda, who dazzled China at G-1 with his ability to play a wide carry pool. Meanwhile in Europe Era formed one half of the most feared Wisp and anything duo, perfecting several aggressive heroes on top of his famous Lifestealer.
In fact the only true nod to the more traditional farm orientated carries is the ever present BurNing, who while still a master farmer, has also stood out as the best of the traditionally minded carries at knowing when to engage during the early game; a testament to his great ability to read the game. Still, it has been the dynamic presence of XBOCT and Loda which has been the model for all carry players this year, rather than that of the Chinese carry players which dominated the top spots last year.
We do still extend a honorable mention to South East Asian prodigy Meracle, who sadly was not able to truly show off his potential over the course of most of the year, but whom we look forward to seeing much more of in 2014. In similar fashion, Sylar has had a bumpy year but has shown signs of growth since joining ViCi-Gaming which may put him back on track to reclaim a place among the nominees for next year. And finally a special mention for Fear, who while he has changed up his role several times this year still proves each time he takes up the carry role why he is considered one of the Western scenes most reliable players.
Honorable mentions: Meracle, Sylar, Fear.
[easypoll]52ac7b35e4b0169ef69e6f26[/easypoll]
---
Best solo mid of 2013    
---
Mushi
Yee Fung Chai
Team: DK
s4
Gustav Magnusson
Team: Alliance
Mu
Pan Zhang
Team: Tongfu
Dendi
Danil Ishutin
Team: Na`Vi
h4nn1
Kai Hanbückers
Team: Fnatic

It's been an interesting year for the solo mid position, as we've seen it be subject to many changes, reducing bottle-crowing and forcing players to brand out in order to fill different gaps in their teams as the role has been expanded in many different directions. Players like s4 staked their claim early on through perfectly executed plays on teamfight control heroes, while Mushi and Dendi set the pace for elevating the ganking game yet again. Mushi in particular gained a lot of notoriety this year due to his ability to pick up and play nearly any hero for his position, utilizing his great understanding of laning to have a consistently great impact. Rounding out the picks are two great players who stepped it up this year, with Mu being the other half of the TongFu success story at the D2SL and TI3, while H4nn1 has grown to be a far more stable player, on top of his ability to snowball and take over games on a variety of heroes.
As the year has been highly volatile for mid players, each of the nominated players have had their ups and downs this year, but they've all had a great impact on the success of their respective teams and have shown a great ability to adapt time and again to the challenges of their position. They beat out their competition for their consistency over the whole year and their consistent presence in the minds of Dota fans. While true greatness can be seen in the plays of Arteezy and Resolut1on, this is not yet their year, and neither is the recent re-awakening of Super nor SingSing enough to make up for their lackluster first half of the year. These players, along with many others, ensure that this years five nominees will be pushed to their limits in the coming year.
Honorable mentions: Super, Arteezy, Resolut1on, SingSing
[easypoll]52ac7b73e4b0169ef69e6f27[/easypoll]
---
Best secondary solo of 2013    
---
AdmiralBulldog
Henrik Ahnberg
Team: Alliance
iceiceice
Daryl Koh Pei Xiang
Team: DK
funn1k
Gleb Lipatnikov
Team: Na`Vi
bOne7
Pittner Armand
Team: Speed
rOtk
Bai Fan
Team: Vici Gaming

Only one year ago, most of the names on this list were unknown to the larger public or known for something entirely different than world class secondary solo skills. rOtk was a well known feeder and a shadow of his WC3 DotA self, iceiceice was a solo mid and carry player, Funn1k was the support player of failed TI2 team Darer and AdmiralBulldog was that crazy pubstomper who played Lone Druid. And absolutely nobody knew who bOne7 was.
But so it is that this year we've come to know the Bulldog as the self-proclaimed king of rats and the spiritual successor to LighTofHeaveN, while Funn1k has more literally grown to fill the void left by the Russian legend in Na`Vi and become a deadly consistent executer of amazing plays. rOtk has steadily improved his gameplay to a point where some consider him one of the carrying forces of DK at TI3 and the lion that envigorated ViCi-Gaming. Few players have been as innovative as bOne7 over the second half of the year, breathing new life into familiar heroes through highly unconventional item builds. And of course the South East Asian troll, the ever loveable iceiceice, bringing a brand of madness to the offlane that would make rOtk proud.
Many great names have come close, specialists like Kabu and Yao, madmen like Trixi (iceiceice and rOtk rolled over for one of the West slots) and visionaries like Bulba. It's been a great year for the offlane player, with many different styles in play at the same time. In the end our five nominations each stand out from the pack due to how they've managed to make the role their own to such a degree that it is nearly impossible to imagine the game without them.
Honorable mentions: Kabu, Yao, Trixi, Jessievash, Bulba
[easypoll]52ac7babe4b0169ef69e6f28[/easypoll]
---
Best supports of 2013    
---
n0tail
Johan Sundstein
Team: Fnatic
fy
Lin Sen Xu
Team: Vici Gaming
Puppey
Clement Ivanov
Team: Na`Vi
EGM
Jerry Lundkvist
Team: Alliance
Net
Wai Pern Lim
Team: Titan

Akke
Joakim Akterhall
Team: Alliance
KuroKy
Kuro Salehi Takhasomi
Team: Na`Vi
Xtinct
Joel Zhan Leong Chan


Team: Titan

VANSKOR
Ivan Skorokhod
Team: Empire
Banana
Jiao Wang
Team: Invictus Gaming

Over the course of the year we've seen team after team bring ever greater flexibility into their supporting line, which culminated in 6.79 with a near absence of the traditional dirt poor 5 position suport. As a result it no longer seems worth while to split this category up, with many teams moving fluidly back and forth. Instead we've decided to honour all supports under one category, with 10 players receiving a nomination and the top two players according to your votes being crowned the best supports of the year.
Among the nominees we find the dynamic duo of Akke and EGM as well as their counterparts of Puppey and Kuroky, each of whom has shown us that they are players that win games this year, be it on a "4" or "5" positon. We find the Net and Xtinct duo who through their precise rotations formed the backbone of Orange's consistent success this year. The amazing game-sense of n0tail which has set him apart as one of the greatest players of the game, not just on Io but on many other heroes as well. The veteran presence of Banana who played an instrumental role in the success of TongFu. And the Russian prodigy VANSKOR and his Chinese counterpart in Fy, two players of immense talent who have only recently found the platforms they needed to prove to the world that they indeed are some of the greatest support players of this year.
Coming up just short are players like LaNm who has changed his role more often than Mushi changes heroes this year as well as strong individual players without great success with a team such as Ars-Art. Fenrir is sadly overshadowed by the more talented and younger Fy, while pieliedie missed out on a nomination by the slimmest margin imaginable. And of course Pinoy pride in the form of Jay.
Honorable mentions: Lanm, Ars-Art, Fenrir, pieliedie, Jay
 
| | |
| --- | --- |
| [easypoll width="300px"]52ac7971e4b0169ef69e6f1c[/easypoll] | [easypoll width="300px"]52ac7953e4b0169ef69e6f1b[/easypoll] |
---
Most improved player    
---
EGM
Jerry Lundkvist
Team: Alliance
fy
Lin Sen Xu
Team: Vici Gaming
AdmiralBulldog
Henrik Ahnberg
Team: Alliance
XBOCT
Alexander Dashkevich
Team: Na`Vi
Meracle
Galvin Kang
Team: Titan

The traditional rookie award does not do justice to this year in Dota, which is why instead we have nominated five players who stepped up their game and not just established themselves as players but changed the whole conversation about what it means to be a great Dota player. Until he joined Alliance EGM was a lesser known Swedish offlane player, talented but mostly overlooked. Fy was a pubstar until ViCi-Gaming came calling, as was AdmiralBulldog until he stood in for Na`Vi, opening the doors for him to be picked up by Alliance as well. And of course Meracle, the stand-out player of First Departure who has recently taken China by storm and now terrorizes the likes of DK with his Naga Siren.
But among all these more or less fresh faces, there's one you may realize you know from before. How come a player who won The International in 2011 and finished second in 2012 as well as 2013 is listed as one of the most improved players of the year? Because one year ago, something changed. XBOCT began taking the game more seriously, starting with more practice and slowly translating into a far steadier presence in games, becoming the carry player so many knew he could be but had failed to be during 2012. XBOCT is a testament to the fact that great players can overcome their flaws, even after having achieved great success.
Other players who have similarly shown great personal growth this year include rOtk and SingSing, while Arteezy and qojqva have impressed us with their great talent, although they still need to show further results or a full season playing the game before they can be considered for inclusion on this list.
Honorable mentions: rOtk, SingSing, Arteezy, qojqva.
[easypoll]52ac7cb1e4b0169ef69e6f2a[/easypoll]
---
[easypoll width="300px"]52adad61e4b02173feb8f2d3[/easypoll]

[easypoll width="300px"]52ac7ddde4b0169ef69e6f2d[/easypoll]

[easypoll width="300px"]52ac7e02e4b0169ef69e6f2e[/easypoll]

[easypoll width="300px"]52ac7e5ae4b0169ef69e6f32[/easypoll]
[easypoll width="300px"]52ac7e32e4b0169ef69e6f30[/easypoll]
[easypoll width="300px"]52ac7e87e4b0169ef69e6f33[/easypoll]
[easypoll width="300px"]52ac7eb4e4b0169ef69e6f35[/easypoll]