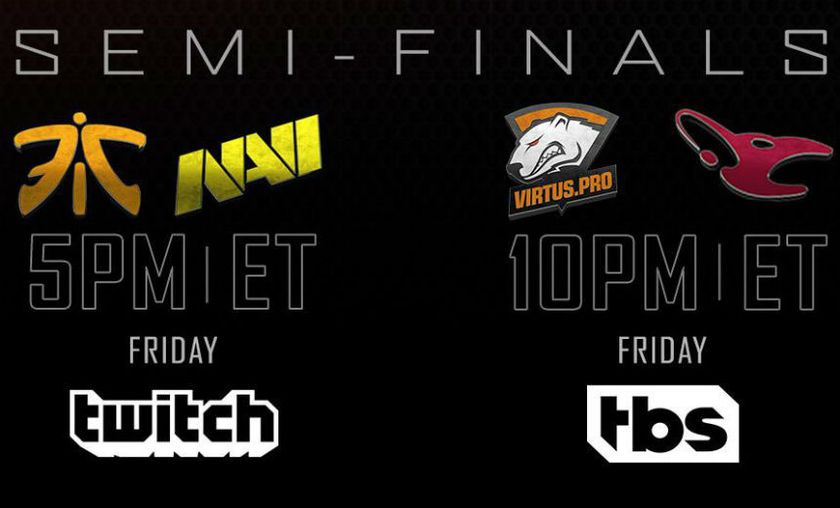 ELEAGUE Semi-final Preview

Fnatic face Navi in a battle of titans, Mousesports look to get one step closer to winning their biggest tournament ever against Virtus.Pro.
Fnatic enter the first semi-final as the slight favourites, solely because of history - in the last 49 maps these teams have played each other, Fnatic has won 38 and Navi has won only 11. In the last meeting, online at ESL Pro League Season 3, the teams exchanged maps with Niclas "PlesseN" Plessen substituting for Olof "olofmeister" Kajbjer, who was out with a wrist injury. During the same period, star AWPer Ladislav "GuardiaN" Kovács struggled with an arm injury of less severity, but nonetheless, it was an injury that saw a dramatic decline in his form before he recovered.
Because of these injuries, the last time these two line-ups played each other was all the way back in early March, when Fnatic took Dust2 16-10. It is impossible to predict what will happen during tonight's semifinal, with both teams' superstars recovered physically and psychologically. Because ELEAGUE replaced Inferno with Nuke in the map pool, Fnatic's chances take a slight hit, but if Olof shows up, I think they will be able to clinch the series.
I predict the following map picks (format: ban, ban, pick, pick, ban, ban): Fnatic will ban Overpass, Navi will ban Dust2, Fnatic picks Cobblestone, Navi picks Train, Fnatic bans Nuke, Navi bans Cache, and the final map will be Mirage.
Historically, the Mous v. VP match is much closer (12 wins for Mous, 15 for VP). Both teams have improved upon their early 2016 form, however, Mous is flying high as they have guaranteed themselves the largest prize in the organization's history, $60,000 for 3-4th place compared to $25,000 which they earned at the ECS Season 1 Europe Qualifier.
Momentum favours Mous in my opinion, but anything from a deagle ace from Nikola "NiKo" Kova? to an insane 2v4 clutch from Pawe? "byali" Bieli?ski can happen in this matchup. My predicted map picks: Mous ban Cobblestone, VP ban Dust2/Cache, Mous picks Dust2/Cache, VP picks Train, Mous ban Overpass, VP bans Nuke, and the final map will again be Mirage. Similar to the first semifinal, I think Mous is slightly favored here if NiKo shows up.
Stay tuned to GosuGamers for our recap of the semi-finals and the final tomorrow night, which will air live on TBS at 4pm Eastern Time.
Headline image courtesy of ELEAGUE Twitter