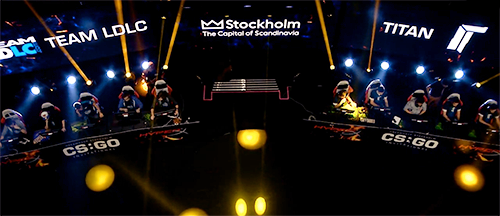 Titan and Epsilon eSports disqualified from DreamHack Winter 2014

Titan and Epsilon eSports have both been disqualified from DreamHack Winter following a series of VAC bans against members of their roster.
Earlier today we reported that French professional player Hovik "KQLY" Tovmassian has recieved a VAC ban just one week prior to the $250,000 major. However, now it appears that another French professional player, Epsilon eSports' Gordon "Sf" Giry has also been banned for cheating. 
With Valve's new tournament rules stating that no team with a VAC banned player will be allowed to participate in any of their sponsored tournaments, DreamHack have now decided to disqualify both teams from attending the event.
A LAN qualifier will be held this Saturday at Inferno Online featuring four European teams in order to determine the replacements for the two disqualified teams. The organizers are currently looking for teams to participate in the "last call qualifier", and teams that decide to participate will recieve travel accomodation directly from Valve. The qualifier will be in single-elimination BO3 format, and the participants will be announced shortly.
Groups B and D in the main tournament will have these seed changes:
Group B: Team Dignitas will receive the top seed and face Penta eSports in the first game while iBUYPOWER will meet a team from the Qualifier in their opening match.
Group D: Epsilon will be removed from the group and NaVi will meet a team from the Qualifier in their opening match. Virtus.Pro vs. myXMG stays the same.
Groups A and C have not been affected by the disqualifications.
This is the saddest thing for Titan and Epsilon eSports players ... Is that real? NO DREAMHACK 1 WEEK BEFORE?

— ScreaM (@Epsilon_ScreaM) November 21, 2014
Our thoughts go out to players such @Epsilon_ScreaM @EPSILONUzzziii @gmxcsgo fxy0 who are let down 6 hours before grabbing flight.

— Epsilon eSports (@Epsilon_eSports) November 21, 2014
We are currently investigating a VAC ban on @Titan_KQLY, while logging onto our usual game server at the training house. Stay tuned!

— Titan (@Titanorg) November 20, 2014
Source: DreamHack
---
Click here for results, VODs and all the other information