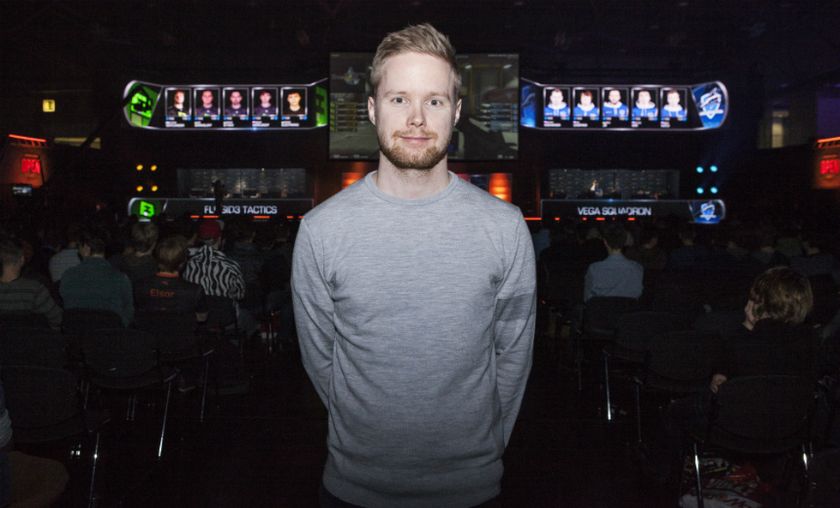 Interview with DreamHack's CS:GO Project Manager, Marc "Nix0n" Winther
Hi Marc, good to meet you. You are a project manager at DreamHack, what does this title encompass in terms of work?
I have two projects under my wings currently - DreamHack ASTRO Open as the project manager, as well as Director of DreamHack Masters. For the project manager portion, DreamHack ASTRO Open is a very well-oiled machine that still requires some supervision. In general it's tying all links together, spending time with our event, tournament and broadcast operations teams ahead of and during each of the events. In short, making sure all components of the project are running smoothly, including on-site presence.
DreamHack Masters includes much of the same, but varies in the sense of more long-term planning and strategy, which furthermore entails development of the product and constantly keeping up with market trends and pushing ourselves as we continue to produce record-breaking events around the world.
Is there a set routine for the tournaments in terms of their organisation or is it very much a blank sheet every time a project is in the works?
A lot is set in place now when you have year-long event series like the DreamHack ASTRO Open. This said, it's not just auto-mode once the first event is out of the door. We have a lot of experience as a company which has taken time to achieve, we have routines to help us not waste valuable time, which is indeed valuable to us when we have nine events for the year, adding on top of two DreamHack Masters events. Each project does vary and thus, this is where time is invested to ensure we get a 1:1 feel across all of the projects, no matter where we go.
Some time ago one of CIS' most popular Dota2 commentators, Vitalii "v1lat" Volochai, posted a blog where he outlined the immense amount of work, endless difficulties and various obstacles that go into organising an event. Do you reciprocate his thoughts regarding the whole situation? What are the most challenging aspects of organising offline events?
Going to new countries, cities and venues is nice, but also challenging and at times scary. You get out of your comfort zone and will have to deal with a fair amount of uncertainty. Given our experience, we deal with this in a great way, but this does not mean we do not hit obstacles on the road to a successful event execution, I think that's also the beauty of trying new venues and cities. Events have become greater in terms of technical requirements and the complexity is not like it was a couple of years back, just looking at the production room, it has evolved significantly since I joined just under two years ago.
Could you describe your daily routine?
Something quite enjoyable with my scope of work is that not many days are alike. I work remotely from our Swedish headquarters, allowing me to enjoy quiet mornings with a fresh espresso whilst catching up on news, results and other industry happenings as I settle in. While I do have a fair bit of emails and messages to attend to every day, I have a lot of industry people I touch base with regularly throughout the week, be it scheduling, acquiring talent or simply discussing relevant news in our industry. When I'm in at the Stockholm office, my time is usually spent hard-core with meetings and planning sessions.
With a fair few large tournament organisers in the industry, players have been pointing out event saturation that subsequently leads to burnout. Do you feel the situation needs to change in any way from the perspective of organisers, or is it a matter of gaming organisations being more selective when considering tournament options for their rosters?
I think the oversaturation claim is a little inflated by the fact that teams have been terrible at controlling their own time and jumping onto too many events. We've also received some criticism on the matter, when people learned that we would have 11 CS:GO events in 2017. What the community seems to either forget or simply doesn't grasp, is that we have different products catering to different audiences.
DreamHack Masters caters to the very top - it's our biggest event of the year, the biggest prize pool, arena and the world's best teams competing. For DreamHack ASTRO Open, it's catering to a lower tier of teams, who you don't get to see that often. We need to have a playing-field for these teams, otherwise we will simply kill the teams and stars of tomorrow. It is not all about the tier one teams lifting the biggest trophies and cashing in the biggest cheques. For us, it's an important element in order to cater to the grassroots, which ultimately is a vital part of our nine DreamHack festivals around the world in 2017.
2016 saw the rise of major new TOs in the CSGO scene. How does DreamHack plan to react to increasing prize pools, improved production values and so on in 2017 and beyond?
DreamHack have always been adapting to developments in the scene and the constantly changing competitive landscape in eSports. Already in late 2015 we started to shape our strategy with Masters events, to position ourselves on the front row in CS:GO, but also to offer something truly unique in the space with our DreamHack Open format (nine festivals and a limited format not meant to attract all the top teams to every event). We agree that we have seen some really good tournament organisers entering the space, but we have also seen many disappear and overall it feels like the CS:GO scene currently has quite a healthy number of organisers that compete to present the best tournaments and production.
"I think the oversaturation claim is a little inflated by the fact that teams have been terrible at controlling their own time and jumping onto too many events."



How much do you learn from watching other events and TOs at work, and how much information is shared between 'rival' TOs? Is there anyone you particularly admire with this in mind?
As a part of the process of pushing ourselves as an organising party and raising the bar in the industry, I find it important to always keep close tabs on what's going on around you. This includes watching and attending other industry events. I believe the important aspect, strictly in our case, is to not divert from what is considered "our touch". 
Comparing us to other organising parties, you can most definitely say that we have our take on how to do things, both from the outward facing broadcast, to internally as well. Not saying everyone else is not having fun, but I find that the community do enjoy our funny and alternative approach versus others.

That said, some things are shared amongst industry rivals, who often are friends as well, some are well-kept for our own benefit.
ELEAGUE are one of the few TOs to bring eSports to television. What are your thoughts in the idea? Is it redundant, or is there potential to tap into the mainstream?
DreamHack have been working with Sweden's largest TV-channel (SVT) since 2009 and been broadcasting eSports regularly for over 8 years on national public service TV. In Korea this has also been the case for many years. We have also worked with over 10 TV-stations in different companies, including our parent company MTG during the last couple of years.

We love what Turner do with ELEAGUE. It's a high-end and high-quality product that really raises the bar for production quality in the industry. But doing eSports on TV is nothing new.

We believe that bringing eSports to more and more mainstream media channels is necessary to build the interest in new target groups. However, the key distribution format will be digital/online streaming and that's why we are also working with multiple streaming platforms such as Twitch, Twitter, Facebook, Znipe, Sliver.TV, HumaoTV and many more.
DreamHack Summer and Winter are BYOC events, where gamers from across the world unite en masse to share their passion for the industry and computer games. Why do you think this phenomenon still exists, despite the idea of being able to game from the comfort of your home?

DreamHack is a social event. The actual gaming experience 2017 is probably better at home in the comfort of your home. Your chair, your table, the kitchen around the corner and total silence. DreamHack is loud, limited space. But it's all social. You go to DreamHack to experience something you can't experience anywhere else together with your best friends or new friends that you met online.

We want to be a bridge between online and offline.
The most recent iteration of DreamHack Masters was organised in the MGM Casino in Las Vegas, Nevada, US. It feels like DreamHack, barring the Summer and Winter events, tend to vary their venues, whilst other organisers stick to the familiar. Could you take us through the thought process of deciding a location and the importance of it?
Per DreamHack tradition, we like to explore new locations and go with cities that are not necessarily capitals of the respective countries. It has to come down to a lot of things, but generally ensuring that there is a good fit with the city, that can range from anything to partners, location of airports or venues. On top of that, the challenge of going to new places and visiting new venues and arenas is a challenge we like.
DreamHack haven't organised a Major tournament since Cluj-Napoca in 2015. Can we expect anything from you guys in the near future?
There is no denying that it is personally disappointing not having hosted a Major since 2015. We strive to host the best events in CS:GO and I think we've done pretty well without the Majors, just take a look at our first DreamHack Masters event last year in Malmö. That said, we'd love to once again host a Major and we as a team are ready for that challenge.
"We strive to host the best events in CS:GO and I think we've done pretty well."
On November 12th, 2015 DreamHack was acquired by Modern Times Group. How has association with the Swedish media giant aided the company? Have things changed internally since the acquisition?

Many things have become better after the MTG acquisition as we get a lot of help controlling and growing our business. As MTG is a publicly traded company, we need to pay more attention to detail and have more controlling functions overseeing our operations.

However, I think MTG's key message to us is to keep doing what we do best. Produce the best festivals in the world and challenge the eSports industry by producing some of the best eSports tournaments on the market. This grows our reach and our community.
Moving on to questions of a more personal nature: you're an avid cyclist. Could you tell us a little bit about your fascination with the sport? What's your proudest achievement?
I'm generally a sports lover, I do have my favourite sports, very transferable that I'm an eSports lover by having my favourite titles that I dive into. In many ways, I believe it boils down to my competitiveness in general; I've always been very fond of the competition against others and the ability to measure yourself against others by performance. You'll find yourself on the losing end at times, which I really despise, yet accept as a part of sportsmanship. Sports got me into eSports a long time ago, I had already been messing a little around with CS and other games, but it was when I faced a knee injury sustained playing handball in 10th grade that tipped me over. Funnily, very similar to how many of the professional players had a competitive drive in regular sports, got injured, and then turned to computer games and eventually eSports.
My proudest achievement in sports stems from a handball match determining whether we would be promoted to a higher league. The ball was knocked in the air while we were attacking, I jumped for it, got sandwiched by two big and buff guys in the centre defence, eventually they knocked me out. After that I woke up on the bench and the match was over. Turns out I had caught the ball and we won the match by one goal. Outside of this, competing in my first half distance IRONMAN and crossing the finish line to complete it was a great achievement against myself.
Do you have any hobbies outside of cycling?
Cycling has definitely been a hobby for years, but more so now it's a part of my new found hobby triathlon, where I get to first and foremost compete against myself, but also have the opportunity to measure myself against others.
Have you ever competed on a professional level in Counter-Strike?
Once, and one time only. It's a funny story and a fond memory as well. Back in 2011, at the IEM Global Challenge in New York, the Danish team mTw was without a 5th due to reasons. They had explored last minute ringers but all fell through. During the morning of the group stage they approached me and said I was their last resort.
Do you have a CS:GO team that you support?
Strictly speaking in working relations I obviously have to stay neutral, which I guess most can relate to when working in the industry dealing with teams as a part of your profession. No secret though, that I've been supporting Danish teams throughout my history with CS, going all the way back to mTw in CS 1.6, now it would likely be Astralis I'm getting behind, yet still fond of the fact that Denmark is producing so much top tier talent in teams such as North and Heroic at this time. Outside of that I'm really looking forward seeing how the current composition of FaZe will do down the road, as well as Brazilian teams due to their emotions when playing in a live environment. Lastly, I'm a sucker for the underdog storyline at a tournament.
Where did the nickname "Nix0n" come from?
I recall I had a really hard time finding a suitable nickname that I liked back in the days. Around that time in school we had a stint learning about US Presidents. As easy as it was, copy the name of the one I found most appealing and replace a letter with a number, thus Nix0n came about.
Since your job has a direct connection with CS:GO, do you ever have a few hours to sit down and play some matchmaking with mates?
Occasionally, far less than what I want to at times, but I love to crack a few games every now and then. With work, travel, working out and training for my next triathlon race, time is not really in my favour.
If you do play CS:GO, what's your favourite weapon/skin in the game?
In many ways, not just in CS:GO, I actually like when things are vanilla. Not really a direct need for me to pimp it up, rather keep it simple and clean. I do have a thing for Black/Red/White mixture though.
What do you see as the next big step forward in CS broadcasting/events?
There is definitely space to try new things and that would be to make sure that the on-site viewers get the added extra, as opposed to those viewing from home. With that said, the community is constantly asking for new features, which we monitor and listen to, while at the same time we do have some ideas of our own, that will stay internal for now. Other than that, the constant development of the broadcast product is interesting and something the different tournament organisers keep on pushing each other with. I find that challenging, yet fun.
What do you think could be the 'next big thing' in eSports? Do you see Overwatch becoming a AAA eSport?
While it is a given that the game titles have to be good, it is all about the community getting behind it. You can throw as much money at the game as you like, but if it doesn't have the community support then it will not go anywhere. It will be interesting to see where Overwatch heads, I feel like it hasn't really taken off yet. Debatable, but not a fan of the league setup they have going.
As a FPS and particular CS fan, I thoroughly believe that this game will be around for a long time to come, but the beauty of eSports is also that they come and go, or well, some just respawn!
Is there anything we haven't asked that you'd like to say?
If you are yet to visit a DreamHack event in person, then I'd definitely advise to try and make it to the authentic DreamHack festival in Jönköping, Sweden. There is nothing quite like it. If you happen to be so lucky to have a DreamHack event in your own country then be sure to make it for the next one. Furthermore I'd encourage everyone to check out DreamHack Masters in Malmö come September 1-2, where again we will host the biggest CS:GO event in the Nordics.
Images courtesy of Marc Winther, DreamHack Flickr: 1 - Abraham Engelmark, 2 - Kim Ventura , 3 - Adela Sznajder , 4 - Unknown