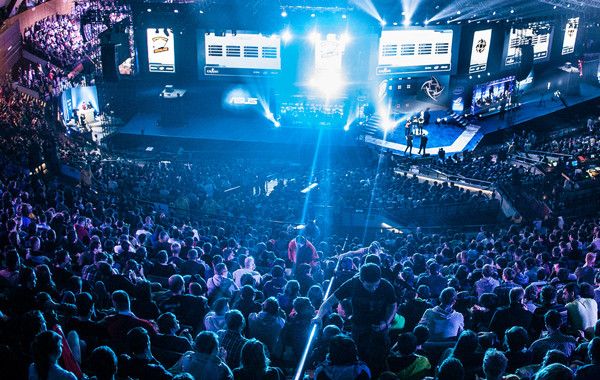 ESL One Cologne preview and predictions
ESL One is approaching tomorrow, where the best Counter Strike GO teams in the world will be competing for $250,000 in prize money. This feature highlights everything you need to know about the tournament, as well as some added tips for your ESL sticker predictions.
ESL One Summer will be held this year at Gamescom 2014 in Cologne, Germany. The tournament features sixteen teams, with half of them coming from the top teams at EMS Katowice. Those seven teams have been dubbed "The Legends", and are returning to defend their titles. The "Challengers" are teams that had to slog through qualifiers for the right to compete at Cologne. There are seven Legends and nine challengers. 
The Legends
The Challengers

Cloud9
Fnatic
HellRaisers
Ninjas in Pyjamas
Team Dignitas
Team LDLC
Virtus.Pro

Copenhagen Wolves
dAT Team
Team Epsilon
iBUYPOWER
London Conspiracy
MTS GameGod Wolf
Natus Vincere
Titan
Vox Eminor

All sixteen teams, regardless of how they managed to reach the main event, will be starting off on equal footing in groups of four.
The maps for the main event will be as follows:
de_nuke
de_dust2
de_inferno
de_mirage
de_cache
de_overpass
de_cobblestone
The prize distribution for the main event is listed below:
1st: $100,000
2nd: $50,000
3rd/4th: $22,000
5th-8th: $10,000
9th-16th: $2,000
The group stages, which begin on Thursday, will have four teams in each group that play each other once. The top two teams will move on to the quarterfinals as part of the top eight. This means that winning twice guarantees you a spot in the playoffs, while losing twice is certain death.
From the quarterfinals on, all matchups will be best-of-three single elimination format.
The schedule for the event is below:
Thursday 14 August - Starting 9:00 CEST
- Group A to D - First round matches and losers match
Friday 15 August - Starting 9:30 CEST
- Group A to D - Winners and losers matches
Saturday 16 August - Starting 9:00 CEST
- Quarterfinals
Sunday 17 August - Starting 9:00 CEST
- Semi-Finals and Grand Finals
Location
Cologne is one of the largest cities in Germany and host to exhibition center Koelnmesse, which holds over 2,000 conferences annually. Koelnmesse is the location where the Dota 2 International 2011 took place, as well as numerous other large scale eSports tournaments. It will be taking place during Gamescom 2014 with over 340,000 attendees, so expect a large audience and plenty of excitement. 
Caster Information
The commentating will be handled by RoomonFire duo Anders Blume and Auguste 'Semmler' Massonnat, both experienced and talented casters for twitchtv channel "RoomonFire". The community has come to recognize their voices, and it would be difficult to find a better pair for the job. 
The Roomonfire team will be accompanied by Lauren 'Pansy' Scott and Stuart 'TosspoT' Saw. Pansy joined ESL TV earlier this year in June, and specializes in games Firefall, Call of Duty, and CS:GO. TosspoT is a veteran eSports commentator who has worked on several events for the past decade.
The overall event will be hosted by the ever popular Paul 'Redeye' Chaloner, who will also be taking care of interviews. Redeye, who recently made waves in the Dota 2 community at ESL One Frankfurt, is widely regarded as one of the most talented hosts in eSports history, and specializes in Quake, SCII, and CS:GO. 
The analysis desk will feature Scott 'SirScoots' Smith and Richard Lewis. Scott 'SirScoots' Smith is one of the oldest personalities in the eSports scene, with an interview on various topics here. Richard Lewis is an eSports journalist that will be providing his expertise at ESL One. 
Predictions
Although all the brackets are filled with the best teams in the world, some teams stand out or are coming into ESL on a hot streak. Below are predictions of the group stages where certain teams may have a leg up over the others. 
Group A -  NiP and  HellRaisers
 

Ninjas in Pyjamas have been widely considered the best Counter Strike GO team in the world since 2012, winning or coming close to winning almost every single tournament they have competed in. Led by standout players Patrik 'f0rest' Lindberg and Christopher 'GeT_RiGhT' Alesund, NiP has one of the most experienced and talented rosters ever to grace the CS:GO competitive scene. Despite a recent slump, NiP hopes to regain some momentum with a good showing at ESL. Expect NiP to at least make it out of the group stages.

 

Formerly known as Astana Dragons, HellRaisers have returned to compete at ESL One since their devastating defeat to Dignitas at EMS Katowice. This time around they will be returning with a vengeance, as they have stated in an interview that they felt that they would do much better with this second opportunity. An experienced and balanced team that recently qualified for Starladder, look for HellRaisers to have an impact on ESL One. 
Group B - Team LDLC and Na`Vi
 
French team LDLC.com recently formed from teams Nameless and Clan-Mystik to compete at EMS Katowice, where they were defeated by eventual tournament winners Virtus.Pro. Since then, they have done relatively well for themselves in large tournaments like Starladder. Winning 14 of their last 20 series, LDLC.com is likely coming into ESL with high confidence and momentum. Look for LDLC.com to perform well in the group stages.
 
Na'Vi, whom underwent a roster change earlier in December, have over the course of several months proven themselves to be top contenders on the CS:GO scene. Led by Ivan 'Edward' Sukharev, Na'Vi are a highly capable team with flawless teamwork that have gone on to place well in several tournaments in the past. However, Na'Vi have lost seven of their last eight series and are desperately looking for a way to pull themselves together for the ESL One main event. Hopefully they can recover before August 14th, before they find themselves in a bracket with some of their toughest opponents yet.
Group C - Virtus.Pro and Fnatic
 
Polish team Virtus.Pro have, in recent times, proven themselves to be the most fearsome CS:GO team on the scene. Defending champions of EMS Katowice, and also winners of Gfinity 3, Virtus.Pro enters Cologne as the top dog and king to overthrow. Led by team captain Wiktor ' TaZ' Wojitas, Virtus.Pro hopes to continue their domination in Cologne. It's difficult to view Virtus.Pro as anything but favorites, so expect them to make at least a top four finish. 
 

Fnatic have been on an absolute tear this month, going 11-1-1 so far. The only series they lost was to Titan at G3, who will be participating in ESL One. Fnatic are also favorites to take this tournament, so look forward to their match against Virtus.Pro for a true clash of giants. Coming off a victory over Mousesports and a 3rd/4th place finish at Gfinity 3, Fnatic looks to overtake their final few opponents before they can truly claim to be the best. 
Group D - Dignitas and Titan
 
Dignitas, over the past few months, have put on one of the strongest performances ever seen in CS:GO history, going 30-4 up until Gfinity 3. There, they were knocked down and out by Virtus.Pro and Fnatic, shocking viewers all over the world. Some claim it was a months worth of inactivity that defeated them, while others say their time to shine is over. Whatever the reason is, Dignitas looks to quell all doubts that they are the best team in the world by placing highly at ESL One.
 

French team Titan is a top tier team that has slowly but surely been picking up steam as ESL One rolls around. Placing first at the Dreamhack invitational, they afterwards bounced around through several tournaments, always placing anywhere from 16th to 3rd. Titan most recently earned silver behind Virtus.Pro at Gfinity 3. Led by team captain Kevin 'Ex6TenZ', Titan looks to finish the home stretch and earn a first place finish once again. 

Let us know in the comments below what your predictions are for ESL One. 
Teams and rotator image from ESL website. 
Commentators image from ESL website. 
Click here for results, VODs and the all other information