FoCuS wins 56th ZOTAC edition
Following up after a missed spot in the NiceGameTV War3League, FoCuS wins the 56th edition of the weekly ZOTAC Cup. Defeating the likes of Thrall, Fav and Sonik on his way to the final, FoCuS was set to play Satiini for the 100 Euro first prize.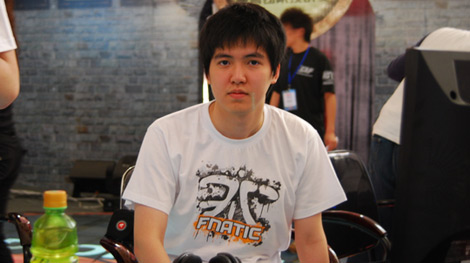 FoCuS at Road of the King tournament. Photo by: fnatic.com
The final started at
Twisted Meadows
, with
Satiini
opting for a
Druid of the Talon
build accompanied by the expected Demon Hunter, as well as the Keeper of the Grove.
FoCuS
did not surprise either, and went for the standard
2-grunt-tech to raiders
and Blademaster/Shadow Hunter. Satiini effectively focuses on the raiders in mid-game to avoid his Demon Hunter from being ensnared. While in the final battle, Satiini mixed the potions up which eventually cost him the first game.
- Partly my brain were working right,
I just forgot to move potions at that time to my Demon Hunter,
tells Satiini to GosuGamers. He also admits that he was slowly drinking the whole evening, which might be the reason for some odd mistakes.
The second game was played on
Turtle Rock
, and Satiini decided to go for
bears instead of crows
this time. It took a long time for the players to touch each other, except for FoCuS's lucky scan-strike on the Finlander's Demon Hunter 7 minutes in.
"
Only way to win a big fight was to save gold at 50 pop and then make an equal army"
- Satiini
A short while later, FoCuS expands, and both players creep and power up as much as they can. And
not until the 14 minute mark Satiini moves towards the Orc expansion,
pounds the great hall a bit until he uses the town portal just before FoCuS can reach him.
- I waited so long because I noticed he had an expansion, so
only way to win a big fight was to save gold at 50 pop and then make an equal army,
explains Satiini.
18 minutes old, Satiini's army is equalized in supply as FoCuS, and goes for the attack just outside the expansion. Satiini has the upper ground, and when the Blademaster goes down, and the Orc units are shattered, FoCuS calls it gg.
"
I should have gone
Human,
but wanted to test how it feels to play Orc mirror"
- Satiini
- I won the last battle because I had a great position,
his kodos didn't get to eat my bears, and still all my units got to fight, also had good uprgades, says Satiini.
The score tied
1-1
, FoCuS picks
Lost Temple
as the third map. Feeling doomed right from the beginning,
Satiini picks Orc
to even out the race imbalance. But playing Orc matters little, as FoCuS could end the game in typical Orc manner in 8 minutes.
- I should have gone
Human,
but wanted to test how it feels to play Orc mirror, same shit as all mirrors was the result, says Satiini.
Melting Valley
was the fourth map to be played on. Satiini, back on Night Elf, went mass Talons and Demon Hunter/Keeper. Another tough match for Satiini, who lost his Demon Hunter at the 8 minute mark. Three minutes later the final battle emerges, and Satiini manages to keep his Demon Hunter alive for quite a while despite being "FoCuSed" on. With nice usage of cyclone to keep the Night Elf heroes out of play, FoCuS raider/spirit walker/grunt army could win the game.
- Melting Valley is
an awful map for Night Elf
- no good place to creep with Ancient of War, it's huge so it takes awhile to get to harass if you dont want to creep, Satiini complains.
- The creeps are positioned in the middle of the map so it's really easy to creep-jack elf in there, he adds.
A 100 Euro in the pocket to FoCuS. Hopefully Satiini had a good evening and could mix potions the right way in the night club.
ZOTAC #56 Final

fnaticMSI.FoCuS
>
nGize.Satiini
1-0
@ TR

fnaticMSI.FoCuS
<
nGize.Satiini
1-1
@ TM

fnaticMSI.FoCuS
>
nGize.Satiini
2-1
@ LT

fnaticMSI.FoCuS
>
nGize.Satiini
3-1
@ MV
Links
GosuGamers.net
- Download the replays
GameSports.net
- Full grid