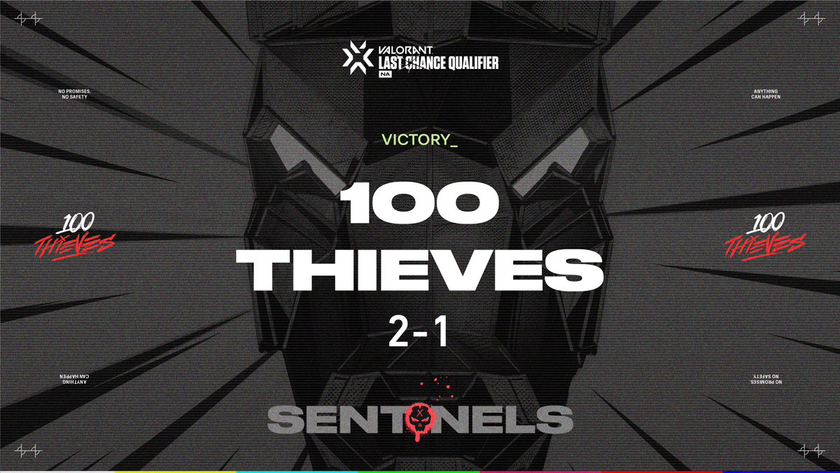 VCT 2022: NA LCQ saw Sentinels eliminated from a chance at Champions
Even with Shroud on board, the team is not getting any break for Istanbul.
The unimagined has happened – Sentinels is out of the running for Champions Istanbul. They lost against 100 Thieves in their Lower Bracket quarterfinals match. Even with the help of Shroud, who pulled in over 600,000 viewers during his first match for Sentinels, the team was knocked out of contention for Champions 2022.
The match, which spanned across three maps, did see Sentinels trying their best to maintain a semblance of a lead, but was thwarted by the 100 Thieves who are also on a journey to regain their standings from 2021. The first map, Fracture, saw Sentinels winning by a hair's margin through extended time, 17-15. Both teams played on par, and Sentinels just edged out 100 Thieves in extra time.
For Breeze, 100 Thieves led the way in both halves, leaving Sentinels behind to win 13-7 without breaking too much sweat. Haven is where everything went down and while Sentinels did try to claw back points to try and win the last round and win the match, 100 Thieves was too far ahead and the win at round 24 sealed the deal for the Thieves, and the end for Sentinels.
The exit from the lower brackets means Sentinels will miss their chance to leave their mark in the 2022 season of VCT. They ended the match with 100 Thieves with TenZ leading the way with 73 kills, 53 deaths and 9 assists, while Shroud is in dead last with 32 kills, 55 deaths and 37 assists.
The next matches for the NA LCQ will be:
100 Thieves

vs

Cloud9 (Lower Bracket Semi-Finals)
The Guard

vs

FaZe Clan (Upper Bracket Finals)