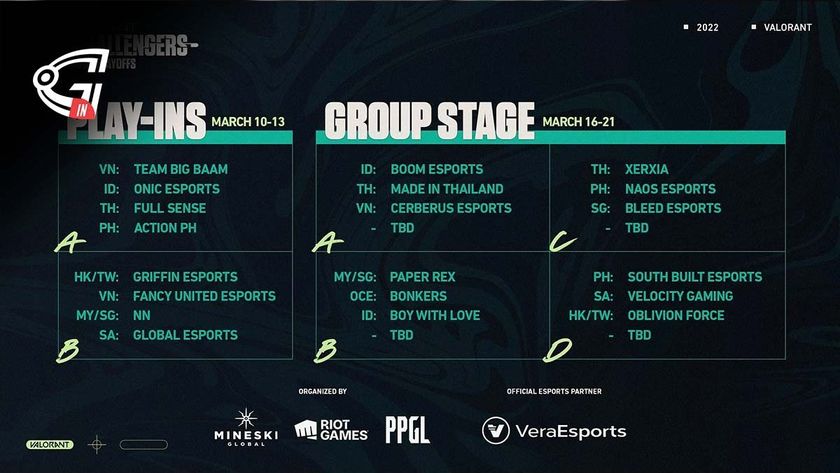 Group Stage commences for Valorant Champions Tour 2022 APAC Stage 2 Challengers
Now we are going to witness the group stage matches of this VCT APAC Stage 2 Challengers after the successful completion of the Play-ins, only 2 teams from each group in the play-ins made all the way up to the group stage which is going to take place from 15th June to 20th June. 4 teams from the Play-ins will be placed along with the 12 High Seed teams who are already in the group stage waiting for the group draw to be done. There will be a total of four groups which will carry four teams each and all the matches that will be played are of best of 3 games with four- double elimination format. 
The group stage began today with Group A where the first match was between Gaimin Gladiators vs Griffin E-sports which Gaimin Gladiators won very easily as they won back-to-back maps with the score of 13-10 and 13-6 and secured the top position,.the second match of the day was between Alter Ego and Global Esports which was the opening match for Group B and the match resulted as Alter Ego won against Global Esports with 13-9 and 13-7 in both the maps, the Group C game started with Oasis gaming taking on ORDER in the third match of the day where ORDER totally dominated the game in the back-to-back map wins, it was 7-13 in the 1st map and in the 2nd map it was a total rampage by ORDER as they didn't let Oasis gaming to get points against them, Oasis hardly got 2 rounds where ORDER won the map with 2-13. It was a strong dominating game in the Group C by ORDER which gave them a difference of +17 in. The 4th match of the day is underway with Group D's FW Esports VS Fancy United Esports and the 1st map is won by Fancy United as they managed to get the win in the 1st map with 10-13. After the defeat in the 1st map its FW Esports made a good comeback and made it 1-1 in the Best of 3 format. Fancy United Esports managed to get the win in the 3rd map and made it 2-1 to end that day with securing the top spot in Group D.