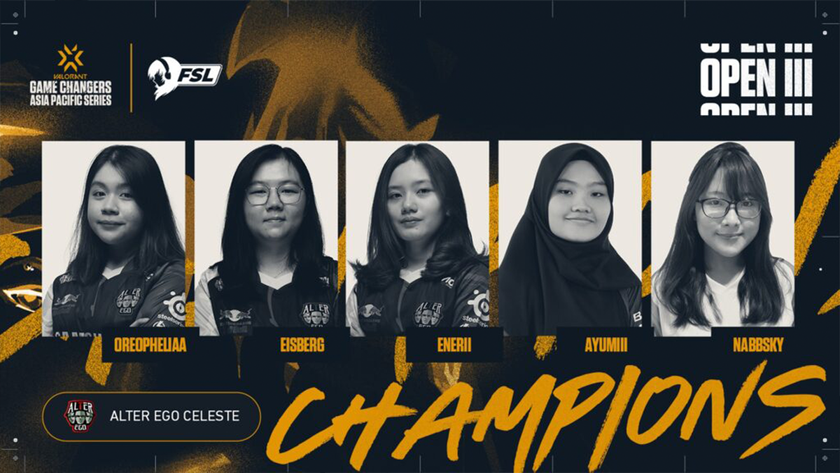 VCT 2022 Game Changers APAC Open 4 winner is Alter Ego Celeste
They beat teams like Nigma Galaxy Female, Team SMG and Bren Esports Victress.
As one of the satellite tournaments for Valorant Champions Tour 2022, Game Changers is designed to increase the participation of women in VALORANT. The APAC Game Changers saw sixteen teams from the region battling to see who the winner of the tournament would be. At the end of the tourney, Alter Ego Celeste emerged as the overall winner, as they beat Team SMG in the grand finale.
The team is on a winning streak, winning the last three APAC Opens for 2022. For APAC Open 4, the Indonesians started strong from the start, as they beat Aresta, Bren Esports Victress and Nigma Galaxy Female before meeting up with Team SMG in the Grand Final.
The match with Team SMG started with Bind, with AEC taking an easy lead in the first half and eventually winning the map. Unfortunately for AEC, the tables turned in the second map, Split. SMG held the lead in the first and second half, eventually winning the map. The story was the same for Breeze, where SMG took the lead in the first half. AEC tried to catch up, but SMG was too far ahead, giving them the win yet again.
AEC saw a second wind on the fourth map, Fracture. The team led on both halves and eventually gave them the needed win. On the deciding fifth map, Haven, SMG dominated the first half, but AEC quickly caught up in the second half with back-to-back rounds, and ultimately the win for the map.
Alter Ego Celeste won 3-2.
They walked away with $1,500, and 20 circuit points to be counted towards the Elite final stage at the end of the year in October.