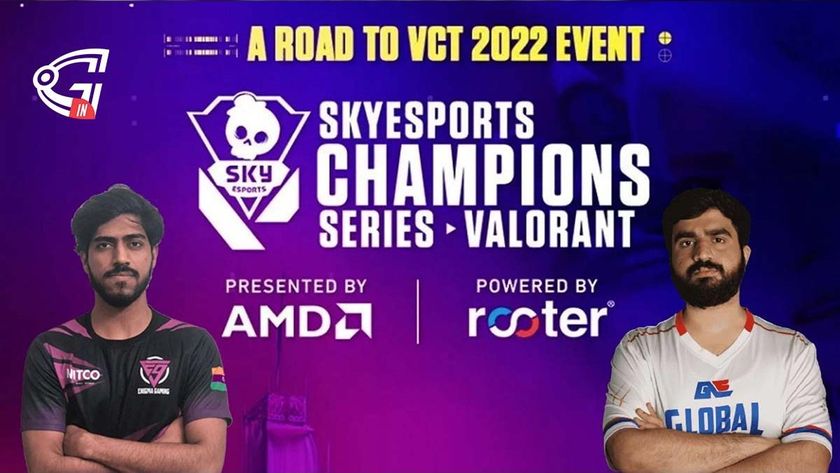 Enigma Gaming and Global Esports will participate in VCT APAC Challengers Stage 2 from South Asia
Global Esports won the AMD Skyesports championship series with Valorant by defeating Enigma Gaming in the grand finals of the tournament. Both the teams, Enigma Gaming and Global Esports, qualified for the VCT (Valorant Champions Tour) APAC stage 2, but Global Esports will have an advantage over Enigma Gaming for winning the tournament. Global Esports won the tournament and will have a direct entry into the playoff stage, while the runners-up, Enigma Gaming, will have to play in the play-ins. The VCT APAC Challengers are going to have a total offering of $30,000 as a prize pool.
AMD Skyesports Championship
The AMD Skyesports Championship Series Valorant tournament was hosted in a best-out-of-five format. In the grand finals, both the teams, Enigma Gaming and Global Esports, played on the maps – Ascent, Split, Heaven, Fracture, and Bind respectively.
1st match – Ascent
In the first match on Ascent, Enigma Gaming had a slow start as they only scored 5 points against Global Esport's 12. But Enigma Gaming made a great comeback and defeated Global Esports in the first match with a score of 14-12.
2nd match - Split
In the split match, Global Esports showed their dominance and won the match with a score of 6-13. Making the overall score 1-1
3rd match – Heaven
In the first half of heaven, both teams had an equal score of 6-6. In the 2nd half, Enigma Gaming took the charge, leading the score line to 13-11 and winning the match.
4th match - Fracture
In the fourth match, Global Esports again made a comeback and equaled the overall scoreboard by winning the match by an 8-13 score line.
5th match - Bind
Bind was the deciding match as both the teams played the first half and ended in a score line of 7-5 in Global Esports' favor. In the second half, Global Esports won the game and the tournament with a score of 13-9.