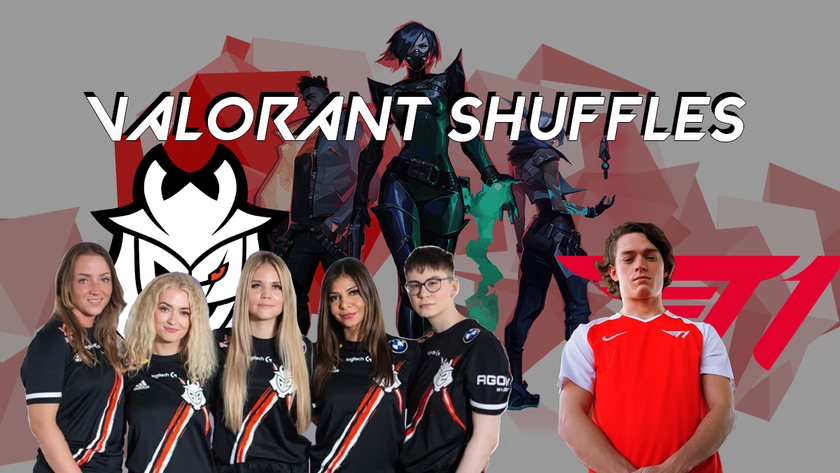 VALORANT Shuffles: We welcome G2 Gozen, brax steps away from T1
G2 steps into the world of women VALORANT circuit while brax focuses on full-time streaming.
With the year-long VCT 2021 season almost over, some shuffling and new teams are starting to appear as we cruise through the fourth quarter of the year. One of the news comes after the success of the recent VCT: Game Changers tournament in NA. 
G2 Gozen emerges
G2 Esports have announced that they will start competing in the upcoming VCT Game Changers EMEA with a new team called G2 Gozen. The roster of the team consists of:
They came from XSET Women and Team Secret Women's CS:GO rosters, apart from Anja who played for Riz.GG Lightning. The announcement of G2 Gozen coincides with G2's recent collaboration with Adidas. 
The roster for G2 Gozen played as The Originals in the EMEA Game Changers Series 1, where they went all the way to the semi-finals and lost to TENSTAR Nova. Now with the name of G2 behind them, the team is set to make even bigger strides in VALORANT.
brax steps away from T1 as a competitive player
In a recent social media post on his account, Braxton "brax" Pierce shared his decision of stepping away from T1 to fully focus on his streaming career under the T1 banner. In the post he said the decision was made so he can focus on:
"...his personal life and essentially finding his happiness again after a crazy year of ups and downs both in and out, out of the game."
He also said he's found himself "already in a completely different head space from before" after making the decision to start streaming full-time, Monday to Friday from 8am to 4pm CST.
He joined T1 in March 2020 as one of the early players in the VALORANT circuit. He was joined by his former CS:GO teammates AZK and Skadoodle, along with new blood food (now Victor) and crashies. He then parted ways with the team to join TSM but saw little playing time, after which he then returned to T1. With then roster of Skadoodle, autimatic, curry and dawn, they played in the Stage Three Challengers Playoffs, but lost to FaZe in Round 2 of the lower bracket.