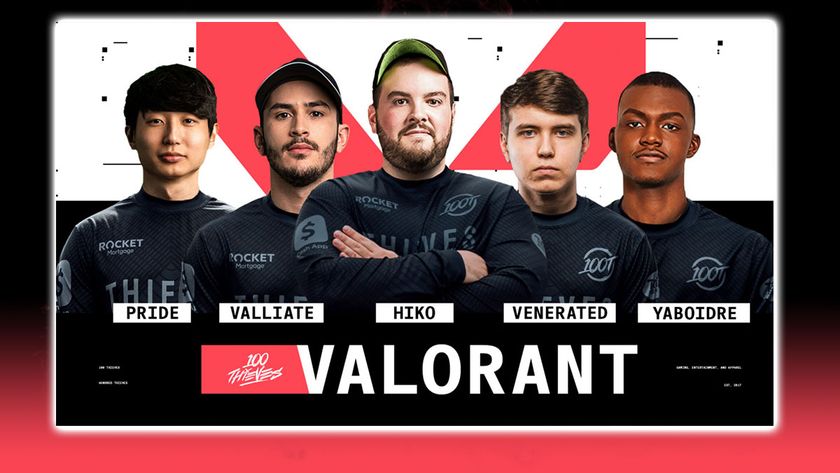 100 Thieves fined $5,000 for 'delay of a game'
Coach Hector 'FrosT' Rosario was also suspended for "unprofessional behavior towards a Tournament Official"
100 Thieves was fined by Riot Games $5,000 due to the reason of "delaying a game". Their coach Hector 'FrosT' Rosario was also suspended for "unprofessional behavior towards a Tournament Official". This outcome was after a match against Immortals in the recent VCT Masters NA.
According to Riot Games, this is due to the match between 100 Thieves and Immortals in the Upper Bracket Quarterfinals game on March 12, where a dispute over the game ping delayed the game for almost an hour. 100 Thieves won the match against Immortals 2-0.
"100 Thieves disagreed with the Tournament Official's choice of servers due to the ping response. 100 Thieves members entered the in-game shooting range in order to prevent Tournament Officials from initiating game start in the VALORANT client" - Riot Games
Additionally, Riot Games stated that:
"FrosT joined a Discord voice channel to speak with the Tournament Official and attempt to argue for a change to the server decision. During this time, FrosT refused to accept the decision from the Tournament Official and treated the Tournament Official in an unprofessional manner. Additionally, when reminded that failing to start the game pursuant to the Tournament Official's decision can result in disqualification, FrosT threatened to leverage players' social media platforms against the Tournament Organizer and Riot Games as a response."
This results in the team being fined $5,000 and FrosT is placed under probation for the duration of the whole VCT tournament. This is not a true ban, but all eyes will be on the team as a whole from now on.
100 Thieves responded with their own statement, saying that
"We disagree with Riot's competitive ruling against our VALORANT head coach FrosT and strongly disagree with Riot's public release and mischaracterization of the incident after we complied with their investigation. We were blindsided by the characterization of this issue and feel as if it has been blown out of proportion."
FrosT also shared statements on his Twitter account in a series of tweets, which has since been deleted, where he basically mirrored what the team said and hopes "Riot will provide a clearer clarification of the rules in question to prevent further misunderstandings."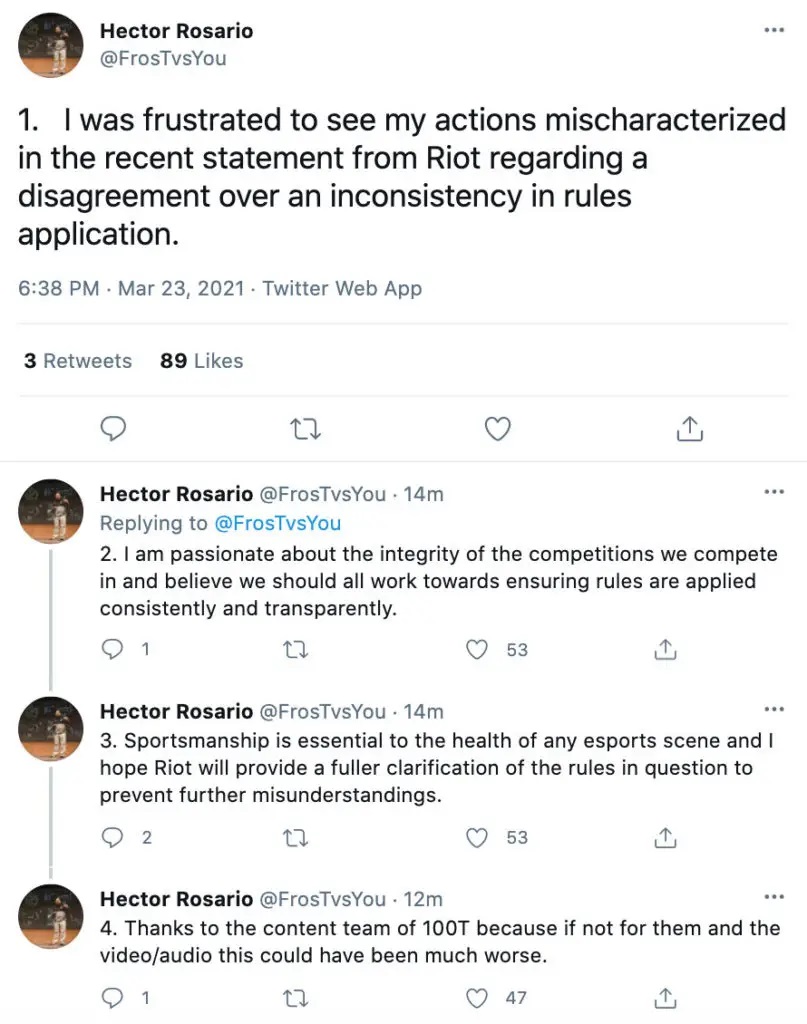 Later on, Riot Games updated that they have considered the matter closed due to the evidence shared with them.
This may be one of few blips in the generally successful VCT tournament. We will be keeping our eyes on the matter and see if anything similar will pop up in the future leading to the Championship in December