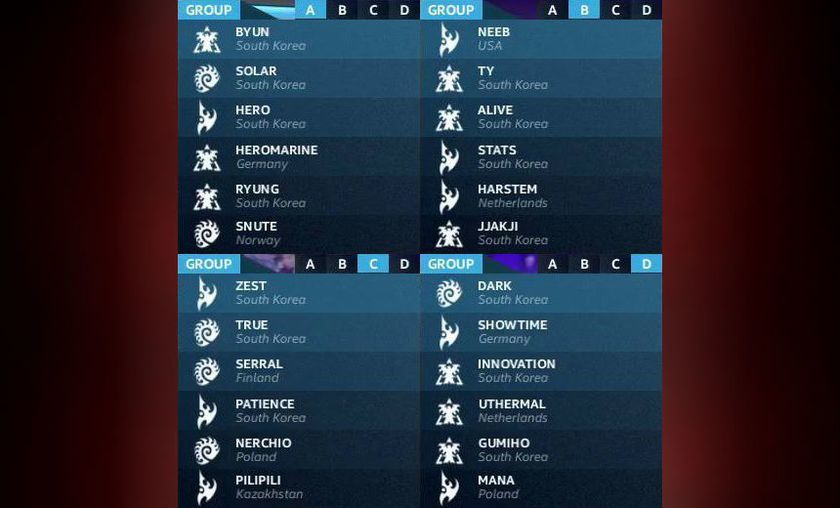 Starcraft 2 round-of-24 groups revealed for IEM Katowice
The groups are stacked with the best players in the world. Though it's still anyone tournament, let's just say you don't want to be in group A.
Here is the initial Twitter reaction to seeing the groups revealed:


Even from this small sample size, it's pretty clear: Group A is a nightmare. Despite Heromarine stating publically that he doesn't like to play tournaments anymore, he has made it to the round-of-24 and faces Byun, Solar, Ryung AND Hero. It's hard to imagine he makes it out alive, especially when Byun and Hero are present.

Fan favorite Snute is facing the same gauntlet of South Korean Starcraft muscle, but he is going into the group with considerable momentum. It isn't likely that he will dominate the pool, but he can still advance if he avoids all those Korean Terrans.
The other groups
The group-of-death anomaly aside, the rest of the matches seem relatively safe to try and predict. In Group C, Nerchio and Zest are likely winners (with a slight favor towards Zest)  while Group B, from pure speculation, goes to Stats, Alive, and then Neeb in that order.
Group D is a little more interesting. Innovation is the clear pick for dominating the group, but Dark and Showtime seem very evenly matched. Dark, in particular, has had an amazing 2016 and a chance against a legend like Innovation may be exactly the upset he is looking for.