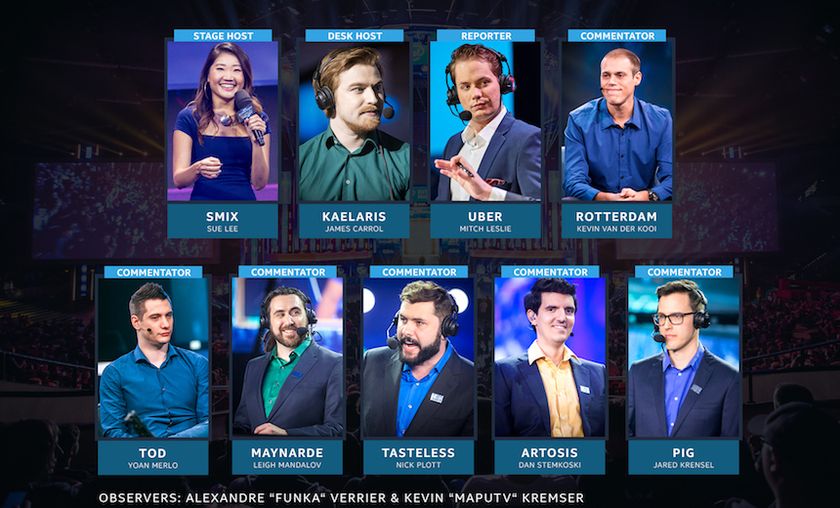 Your Starcraft 2 IEM Katowice broadcast team
The coverage team at IEM Katowice is a who's who of Starcraft 2 talent. Smix and Kaelaris will hold down hosting duties while the usual suspects cover casting. This is exactly the type of talent you want casting such a premiere Starcraft 2 event, although fans will surely miss Incontrol, Nathanias and Apollo
The Broadcast Team
Stage host: Sue Smix Lee
Desk host: James Kaelaris Carrol
Commentator: Leigh Maynarde Mandalov
Commentator: Kevin Rotterdam van der Koi
Commentator: Yoan ToD Merlo
Commentator: Jared PiG Krensel
Commentator: Nick Tasteless Plott
Commentator: Dan Artosis Stemkoski
Reporter: Mitch Uber Leslie
Observer: Alex FunKa Verrier
Observer: Kevin MapuTV Kremser
 
One position of note is the Report. Uber is known for his Overwatch casting and prior involvement in the LoL scene. However, his involvement with IEM Katowice will have him interviewing teams and generally providing behind the scenes coverage for the viewers at home. It's not common for tournaments to have "Reporters" distinguished as a specific role, but perhaps this trend will catch on.
An unseen art
Not shown on the official image, however, are the Observers. Observing is likely the most important position in any tournament, as the careful and knowledgeable placement of the camera makes up the majority of every broadcast. You may not conciously appreciate a skilled observer, but trust me, you will immediately notice an unskilled one.
Which is why the folks at Katowice have chosen well with FunKa at the helm. A veteran of the community in every right, he has observed for countless premier events, including last years BlizzCon 2016 Championship series. MapuTV is a new addition to the IEM team, although he has experience observing HomeStory Cup and the  NationWars tournament.
The tournament continues this Thursday with the round of 24! You can watch the show live at intelextrememasters.com