Jaedong paired with Draco, Fenix in WCG group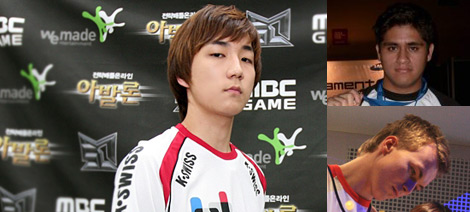 The World Cyber Games 2009 group drawing was made earlier today, in which Hwaseung OZ star Jaedong was paired with WCG veteran Draco as well as Chinese Toodming an Peruvian Fenix.
By moving from eight groups to four, the groups are packed with high-ranked players and there will be many fan favorites who will not make the cut.
Eight players were placed in a seeding pool and was split out evenly in each group. Among the seeds were - aside from the Koreans - Fenix, BRAT_OK, Pj, White-Ra and IdrA. However, all the groups have many contenders for the eight playoff spots.
World Cyber Games Grand Final will take place on November 11-15 in Chengdu, China.
Bulgaria has a spot in the drawing but no player has been signed up for it yet. Also, Croatian player Ptak is not in the drawing despite winning his national qualifier.
Update:
GosuGamers has received the information that Ptak is not attending due to Croatia not paying anymore.
Group A

1.
RoX.KIS.Fenix

2.
HwaseungOz_n.Die.Jaedong

3.
inF.ClouD

4.
zloy_toss

5.
ESC.Koll

6.
EG.Louder

7.
S.C.Toodming

8.
BVG.Draco

Group B

1.
RoX.KIS.BRAT_OK

2.
SamsungKHAN_Stork[gm]

3.
S.C.Fengzi

4.
DB.SEn

5.
LRM)tOsKY

6.
GosI[Terran]

7.
JohnRambo

8.
-
Group C

1.
SKTelecomT1_Bisu[Shield]

2.
S.C.Pj

3.
Bulgaria #1

4.
ToT)GOsia(

5.
Crow

6.
RoX.KIS.DIMAGA

7.
RoX.KIS.Bruce

8.
Cobo
Group D

1.
ESC.White-ra

2.
CJEntus.IdrA[Media]

3.
Ramah Nyang

4.
DB.MarinE

5.
LimbiC

6.
mTw.HoRRoR

7.
iG.Yayba

8.
RoX.KIS.Advokate
Links
WCG.com
- See the draw
Forums @ GG.net
- Discuss