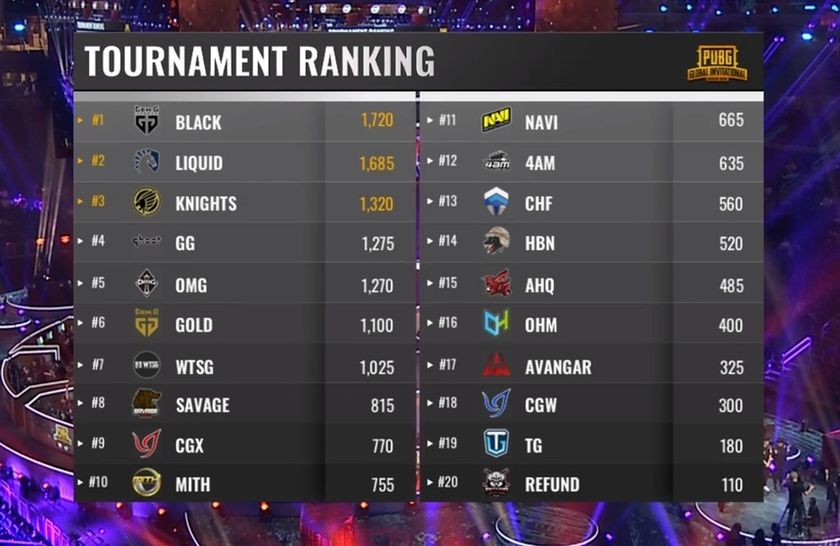 Gen.G Black Leads The First Day Of PGI 2018

Photo courtesy of Steam
The South Korean team garnered the most number of points after 4 long rounds in TPP mode in the PUBG Global Invitational 2018.
PGI 2018 has finally commenced yesterday at the Mercedes-Benz Arena in Berlin where 20 strong PUBG teams from across the globe battled it out for a prize pool of $2,000,000 and the first champion title of the first PGI presented by PUBG Corp.
Top 3 Teams
Gen.G Black has proven their survival skills in the map of Erangel by securing a total of 1720 points against the European team, Team Liquid with 1685 points. Although placing only 14th in position in the first round, Gen.G Black regained their strength by consistently placing 2nd in position on the other 3 rounds. Coming in third place is another EU team, the Pittsburgh Knights, securing 1320 points. Knights also displayed their fragging skills by winning the most number of kills by the end of the game.
Each team played carefully at the first circle to avoid being easily eliminated from the game. NA team, Honey Badger Nations started the heat of the game by making first blood, however, they were not able to follow through the game by only placing 14th in position by the end of the first half of TPP.
TPP Mode Expectations
While the audiences were expecting Asian teams such as China's 4AM and SEA's MiTH to conquer the TPP mode, the EU teams, aside from Gen.G Black, seems to have placed higher which makes the tournament more interesting. Aside from Liquid, another crowd-favorite, Natus Vincere from CIS only placed 11th after the 4 TPP rounds.
Can Gen.G Black regain their position? Let's find out at the PGI 2018 Day 2.