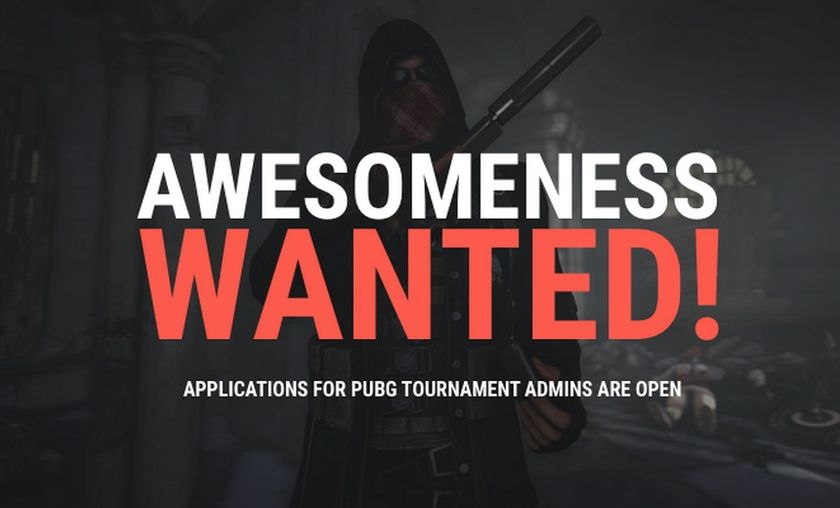 GosuGamers is looking for tournament admins with an interest in PUBG


Benefits of joining us as a tournament Admin.
Experience and exposure in eSports and tournament administration.

Contacts with players, teams, team managers, and eSports organizations; build your connections within the industry.

Work with friendly, open-minded people with many years' experience in eSports.

We're always happy to help our outstanding volunteers in their future career steps. We can provide a letter of recommendation to reflect the quality of your work. Many crew members have used this opportunity to move on and work for other eSports companies or non-eSports media.

GosuGamers have been organising tournaments for

PLAYERUNKNOWN'S BATTLEGROUNDS since November 2017 and are currently working on increasing the amount of tournament as well as perfecting our product. Your role will begin with leading our tournaments but can gradually expand to entail more responsibility with organisational task regarding them.
Requirements
Strong written and verbal communication skills. It's not an easy task informing a team that they've been disqualified due to violation of the rules.

Efficiency and professionalism. As a tournament admin you will need to adapt these skills in order to keep the situation under control. All issues need to be handled with great attention to detail and full understanding of the rules. You will also need to understand when and what you can and can't do in order to keep the situation under control.

An understanding of Players Unknown Battleground.

Being able to participate as an admin during weekdays from 18:00 CET  and/or weekends from 13:00. Minimum requirement is one tournament a week. (Best of 5 tournaments with 2 servers can take up to 9h to complete)

We are currently focusing on EU tournaments, if you are interested in admining tournaments in your own region (NA etc.)  we are more than happy to receive your application.

Send your application to [email protected] with the position you apply for in the title of the e-mail.

 
About GosuGamers
GosuGamers is an eSports portal specializing in Dota 2, Hearthstone, Heroes of the Storm, Counter-Strike, Starcraft 2, League of Legends, Overwatch and PLAYERUNKNOWN'S BATTLEGROUNDS. The website was founded in 2002, and in its fourteen year history has evolved into one of the premier outlets for eSports coverage, providing news, featured content, VODs, replays, player and team rankings, matchticker, first party tournaments and in-depth event coverage.