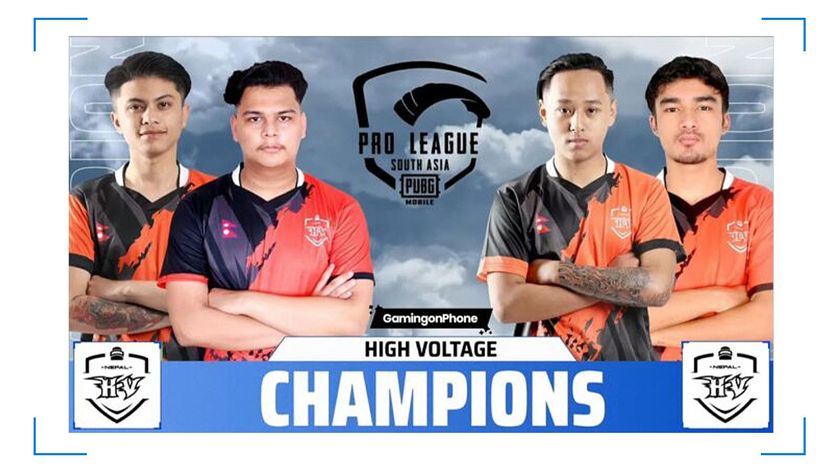 PMPL South Asia Fall Split Finals: Team High Voltage emerge champions of the split
The team turned around their luck to achieve their victory in the finals.
With a $150,000 total prize pool, ten spots to the South Asia Championship, and two berths to the PUBG Mobile Global Championship 2022 up for grabs, the PMPL South Asia Fall Split Finals was one of the big South Asia region tournaments to look forward to. After a gruelling month of competition, High Voltage from Nepal emerged as the winner of the split.  
The team turned their luck around as previously they placed ninth in the last season and managed to achieve to the sixth position during the league stage.
Consistency was the game, which contributed to the victory for High Voltage. Out of the 18 matches they played, they earned ten top-4 finishes, with three finishes being chicken dinners. Thanks to the placements, they gained 129 placement points, which, coupled with their 93 eliminations, allowed them to finish at the top of the table.  
Behind them in second place was DE Warriors from Mongolia. They were 27 points behind High Voltage in the standings. While the team were top killers in the finals with 96 kills, their lack of consistency was a factor – and this resulted in only 89 placement points.
Tournament favourite GodLike Stalwart only managed to be in third place – even though they were the defending champions and league stage winners. Their strong performance in the finals helped them, especially with two chicken dinners, High Voltage and DE Warrior's aggressive plays were too much for them to counter.
The top ten teams from MPL South Asia Finals will now advance to the South Asia Championship, which will take place from 10-16 October. The ten teams will be meeting the top six teams from PMPL Pakistan to crown a South Asian champion. Additionally, GodLike Stalwart and IHC Esports have secured their spots in the upcoming PUBG Mobile Global Championship (PMGC) 2022 thanks to their points tally thus far.
At the same time, the other eight teams will have their chance to make it to the PMGC via points – Tencent has confirmed that the top three teams from the South Asia Championship will be heading to the PMGC as well.
With as many as 48 teams competing, the PMGC 2022 will kick off in late November with a multi-week league stage, all aiming for a share of the $4,000,000 prize pool. The Grand Finals for PMGC 2022 will be held in Indonesia come January 2023.