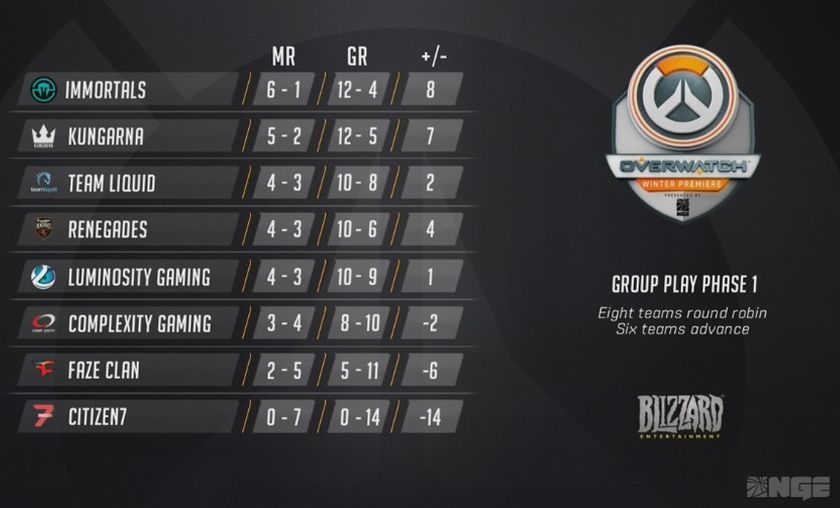 NGE Winter Premiere Group Phase 1 results: Citizen7, FaZe Clan eliminated, Immortals top team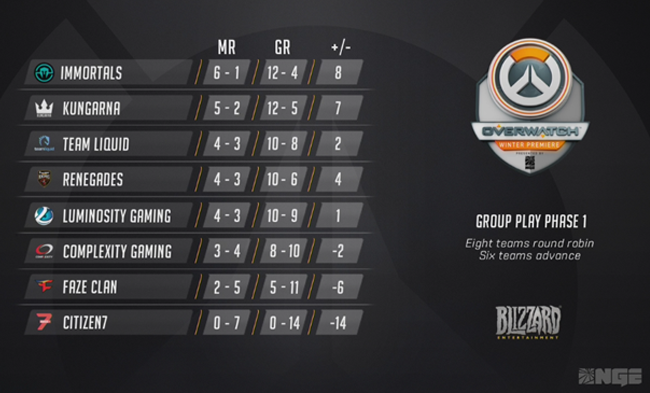 Citizen7 and FaZe Clan were knocked out of the tournament after the first round of group play in NGE's Winter Premiere.
The NGE Winter Premiere tournament has wrapped up Group Play Phase 1, with six teams advancing to Group Play Phase 2 that will take place January 17-19.  
Citizen7's (C7) fate was sealed on Day 5 after a two heartbreaking map endings: on Route 66, C7's Sypeh unleashed his Dragon Blade, only to be sleep darted immediately after, opening the door for his team to be wiped by FaZe Clan; FaZe capped the point only seconds afterwards.
The team also met with an unfortunate end on King's Row after being shut down in Overtime on the first point.
Citizen7 went 0-7 during their run at the Winter Premiere, with their final loss coming from their match against compLexity on Day 6.
FaZe Clan had a chance to eliminate compLexity and advance to Group Play Phase 2 in their final match against Kungarna, but was unable to capitalize on any of their Nano-Blade combos to pull through. Though Kungarna took Hollywood, FaZe came back from a 55-99 deficeit on Nepal's Shrine to win the map and tie the match up, resulting in the final showdown on Watchpoint: Gibraltar.
All throughout the match, Mykl's Self-Destruct ults were on point, resulting in the critical double and triple kills that were needed to keep FaZe down.
Immortals stayed at the top of the pack all throughout the tournament, only losing once to second-seeded Kungarna during Day 5 play, 2-0.
Despite that loss, however, Immortals steamrolled most other teams, thanks in part to Hyped's top-teir D.Va play and Agilities' fantastic DPS and Tank performances.
Immortals will be the team to beat come Group Play Phase 2.
Kungarna had the most eventful Group Play Phase 1 thanks to their knocking out FaZe, being the only team who beat top-seeded Immortals and played the longest game of the tournament thus far against Renegades. The first match of Day 6 took over 90 minutes thanks to two Map 3's going into Overtime.
NGE's Winter Premiere tournament resumes January 17 at 3:30 PST on their Twitch channel, with Immortals, Kungarna, Team Liquid, Renegades, Luminosity Gaming and compLexity all returning to see who can make it to the top four and advance to the live finals.
For more competitive Overwatch news, follow us @GosuOverwatch.