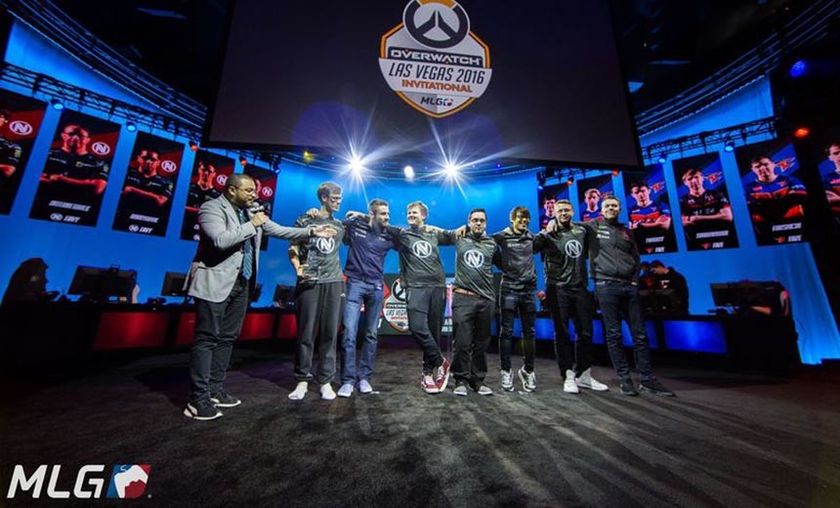 EnVy sweep FaZe for back-to-back championships at MLG Vegas

Photo: MLG
The APEX champions pocketed another major gold, this time on home turf.
After a months-long trip to South Korea, EnVyUs returned to North America for the $100,000 MLG Vegas. With the trophy of Korea's premier franchise APEX on their shelf, the team behind captain Dennis "Internethulk" Hawelka was considered favorited to repeat their success, despite lacking the bootcamp time the other seven invited teams enjoyed.
It wasn't an easy start for NV, however, with star DPS player Timo "Taimou" Kettunen experiencing travel issues, which forced a re-scheduling of their opening match against Complexity  to a day later. Complexity themselves bared their teeth and took the first map off of NV for a rough "welcome back".
NV's recovery, however, was swift and steamrolling. The APEX champions easily turned around the series against Complexity and went on to beat Fnatic in the winners match to top their groups. A sweeping 3-0 against rivals Cloud9 in the semi-finals qualified them for the closing match, where they waited for FaZe, the team built around marquee Genji player George "Shadowburn" Gushcha.
While NV paraded through the tournament unopposed, that wasn't the case for FaZe, who were still searching for their major break-out win. Upon winning the group stage over Team Liquid and Cloud9, FaZe had to endure an exhausting six-game series against Fnatic, following a tie game on Volskaya. Although Shadowburn played an overall stellar tournament behind star Reinhardt player Russel "FCTFCTN" Campbell and alongside fellow DPS Eric "TwoEasy" van Hoorn, FaZe couldn't figure out how to break neither of NV's compositions, be it the standard triple tank which won the APEX or the ones where Internethulk flexed out of Lucio and into Winston and Symmetra when needed.
Alongside winning MLG Vegas, NV has gone on to now officially sign outstanding D.Va player Pongphop "Mickie" Rattanasangohod, who played a key part in his team's victory in South Korea.
For more competitive Overwatch news and features, follow us @GosuOverwatch.