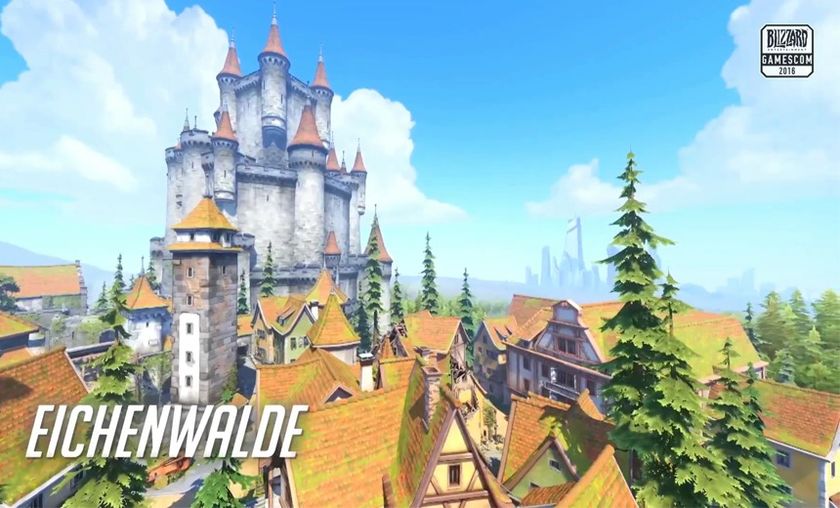 New Overwatch map announced at Gamescom: Eichenwalde
The first gamescom livestream just finished, and it announced some upcoming Overwatch content.
If you read our previous article, you knew when to tune in for the first gamescom livestream focused on Blizzard. After the devs from all other Blizzard games had a chance to chat, the first Overwatch related announcement came from the Heroes of the Storm devs:
Zarya will be the second OW hero added to Heroes of the Storm. Similar to Tracer, they will try to keep her as close to her Overwatch version as possible. As such, she will be the second ranged warrior after Rexxar.
After talking about the Summer Games that are currently going on, they also promised that future similar events would 'blow fans away'.
On to the Overwatch part of the broadcast. They announced the following content:
 
Eichenwalde: First new map, German castle & town in a forest

Middle part of map is very vertical, around the castle
Assault/Escort hybrid
Playable at Gamescom
Live September

It is the forest where Bastion comes from, and will be featured in The Last Bastion short coming in 2 days
 
Digital shorts team is working on a second set of animated shorts, similar to the Winston/Widowmaker/Soldier:76/Shimada ones we got before.
 
This was all that got announced so far. But the addition of yet another map is more than enough for us already. We hope some of you are gamescom and can try the map out yourselves.
For those of you who missed the complete livestream, check the VOD here.
 For more competitive Overwatch news, follow us @GosuOverwatch.