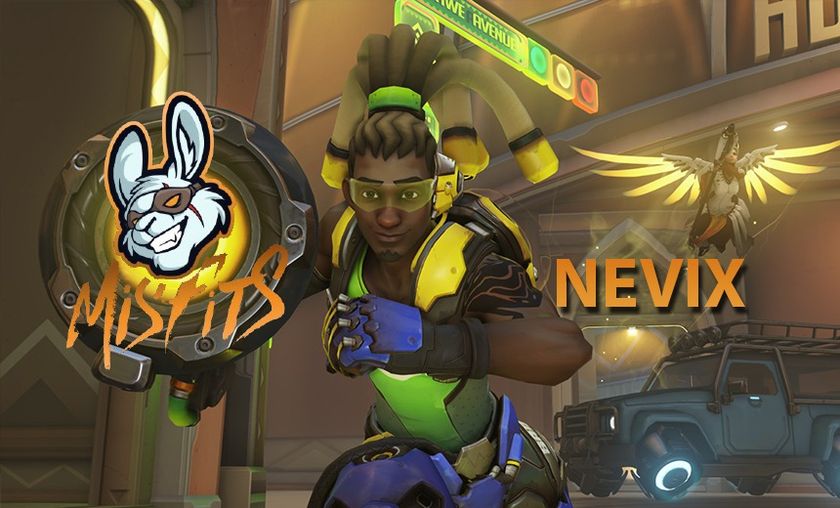 Interview with Misfits Nevix: "I don't fear playing against Cloud9, EnVyUs, or any other NA teams."
Last week, Team EnVyUs in North America and Misfits over in Europe took home the first two spots in the regional finals. I sat down with the superstar support of Misfits, Nevix, to discuss his win in the qualifiers alongside various other things.
Hey Nevix! First off, how do you feel about Misfits being the first qualifier for the Overwatch Open? Did you expect to do so well?
It did definitely feel good to win the first qualification. We were not expecting to face off against ANOX in the final, but as we figured them out we knew we could win.
Going off that, do you think REUNITED and Rogue stumbled a bit, or are ANOX actually that good?
Well, ANOX have been practicing a lot and they had a very aggressive playstyle. I think they took REUNITED and Rogue by storm in the Best of 3. While we had the advantage of going into a Best of 5, we lost the first map on King's Row, and on the second map (Lijiang Tower) we were down 2-0. But from there we adapted and changed our playstyle, and it favored us a lot in the matchup.
So clearly Misfits was the team that adapted the best. How do you feel about the EU scene as a whole? Over in NA, I think it's pretty clear how the teams stack up, but in EU, you guys trade sets far more often. There are almost 4 teams that could possibly win any given week, although Misfits has stood out a bit more than everyone else recently.
I think the EU teams have a lot of outstanding players in every top team, but players have their on and off days and sometimes 1 or 2 players can create momentum for their teams. Strategy might swing things as well, if you read your opponents well. I do think the top 4 EU teams are very closely matched against each other, and it might be 5 depending on if ANOX can keep it up.
Moving away from just Europe, how do you think EU will stack up against NA once regional finals for the Overwatch Open are over? EnVyUs especially looks very strong.
I don't fear playing against Cloud9, EnVyUs, or any other NA teams. I have watched them play and they are really good, but I think any top European team will give them a challenge.
Outside of the team, you were also #1 on the worldwide leaderboards for a bit and are currently #2 on your main account. How much work do you put into ranked play each day, and how hard was achieving a top rank for you?
I don't fear playing against Cloud9, EnVyUs, or any other NA teams.
I play at least 3 hours of competitive a day. I play on two different accounts and I've managed to reach the top on both of them (Nevix and lllllllll, #2 and #1 respectively at this point). It hasn't been very hard. It can be very frustrating because most of the time I queue solo or duo, but as long as I perform and have a good attitude (and do not get too salty) I will go up in rank!
I've noticed you support for Misfits but generally play DPS in competitive. Do you just think you have a bigger impact if you play carries in competitive?
I have always been a very flexible player in Overwatch, and I played all different roles for teams. You can "carry" as a support but it's only possible if you have good DPS players. Sometimes I can't carry as DPS because the enemies supports are too good, so it goes hand-in-hand. But playing a really good McCree or Genji definitely helps if you want to climb the ladder.
Aardvark pays off...
What 3 teams do you expect to win in the Overwatch Open qualifiers to accompany Misfits? What do you expect the top 3 spots to be after the tournament is over?
I obviously expect Rogue, REUNITED, Creation but ANOX could possibly stay strong and take a spot. I believe any top EU team (along with Cloud9 as a competitor) will accompany EnVyUs in the top 3 teams in the tournament. Hopefully we can make it.
How do you feel Overwatch will develop as an eSport? Are you optimistic for its future?
I believe in Overwatch to become one of the most respected eSports in the future!
Do you have any closing remarks for people reading this interview?
I want to give a shoutout to Misfits for taking good care of the roster, and to everyone who cheers for us! #MSFWIN
You can find Nevix on Twitter (@Nevix_OW), and can cheer Misfits on when they fight in the regional finals on September 28.
For more competitive Overwatch news, follow @GosuOverwatch.