Get the gamer shave with Gillette
Have you ever felt that you needed to shave, but your shaving process wasn't GAMER enough? Well, despair no more, Gilette is here to save you. Throw away your normal razor and buy yourself one of these beauties - for a true GAMER shave!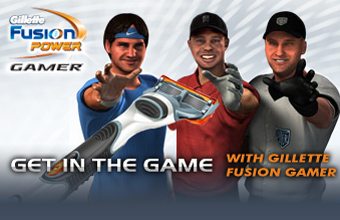 Showing Tiger Woods, Roger Federer and Derek Jeter as gaming profiles in their newest razor launch, Gillette hopes to grab all the gamers' attention.
"Get in the game with the new Gillette Fusion Gamer. The Gillette Fusion Power harnesses Gillette's advanced shaving technology,"
can be read at the product's splash. We can also read that the design allows
"every man to get in the game."
As usual, the web comic
Penny Arcade
puts it the best way.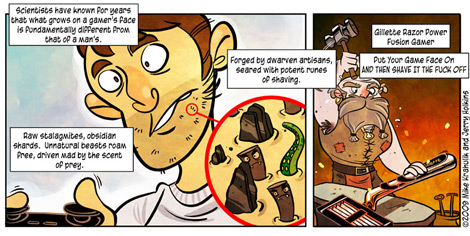 Gillette is actually not a newcomer to the gaming world. The 2004 OnGameNet Starleague was sponsored by the Procter & Gamble owned brand. Rumours of them giving away razors to the winner (JulyZerg) is as of yet unconfirmed.
Links
Kotaku.com
- Source