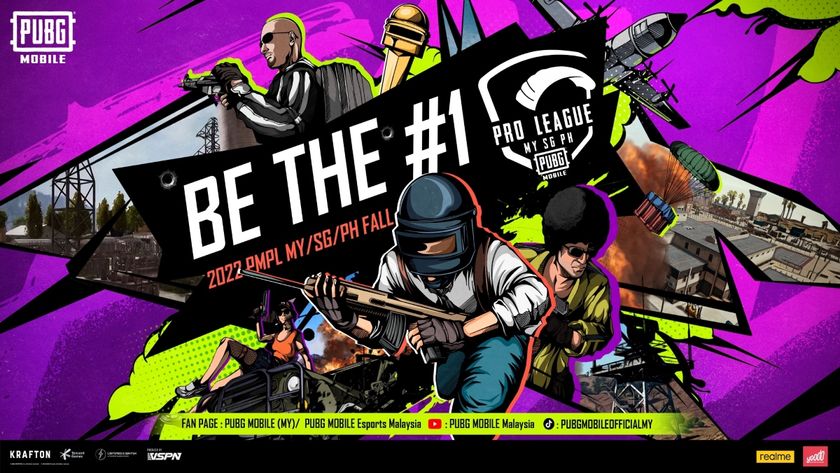 Here is everything you need to know about the PMPL MYSGPH Fall 2022 season
(Image credit: Tencent)
A full month of PMPL action to look forward to.
The PUBG Mobile Pro League (PMPL) MYSGPH Fall 2022 season is about to begin from July 20 until August 28, giving you a little over a month of pure battle royale carnage. It will feature the top teams from Malaysia, Singapore, and the Philippines who will be duking it out for a lion's share of the US$150,000 prize pool. There will be a total of 20 teams participating in the PMPL MYSGPH Fall season.
Malaysia has the most representatives in the PMPL with 18 teams while both the Philippines and Singapore have one each. The Fall season represents the last opportunity for seven teams to qualify for the upcoming PMPL SEA Championship Fall 2022. However, only the top four finishers will head straight to the SEA Championship while the fifth, sixth, and seventh-seeded teams will head for the play-in stage.
Schedule & Format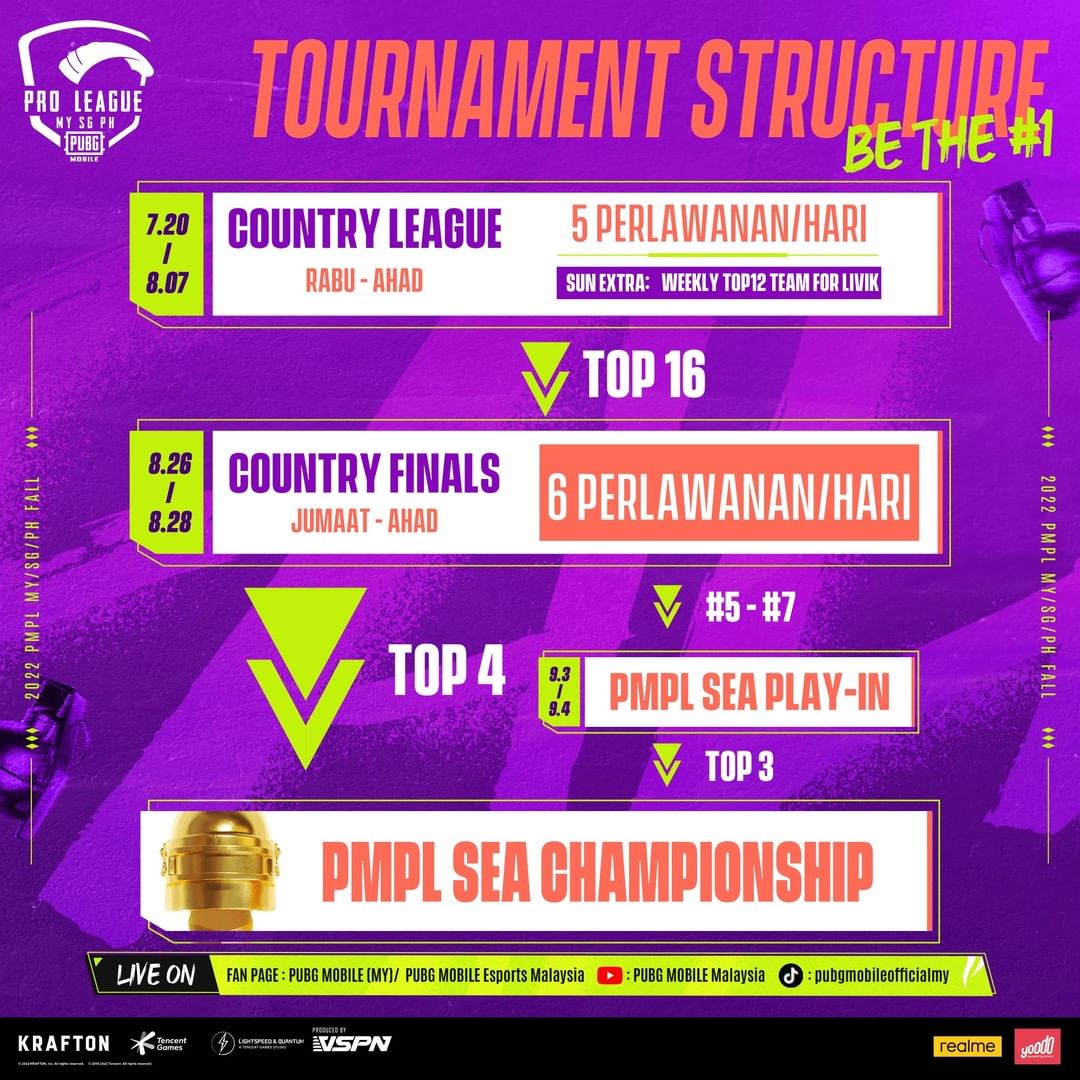 The PMPL MYSGPH Fall 2022 season will be split into two formats: the Country League and the Country Finals. The Country League will take place from July 20 - August 7 with the 20 teams divided into five groups of four. There will be three weeks' worth of games to go through with a total of five matches per day. This is to ensure that each team will be playing four matches in a round-robin format.
The top 12 teams from each week will be invited to play a special match on Livik that will be held every Sunday. This will have a bonus point system where teams will get bonus points after each week and the Country League. In the end, the top 16 teams with the most cumulative points will head to the Country finals, which will take place from August 26 - 28.
From there, teams will start with their accumulated bonus points from the Country League, giving the top-seeded teams an advantage heading into the finals. There will be six matches a day during the Country Finals, ensuring that each team will play 18 matches in total.
Teams & Groups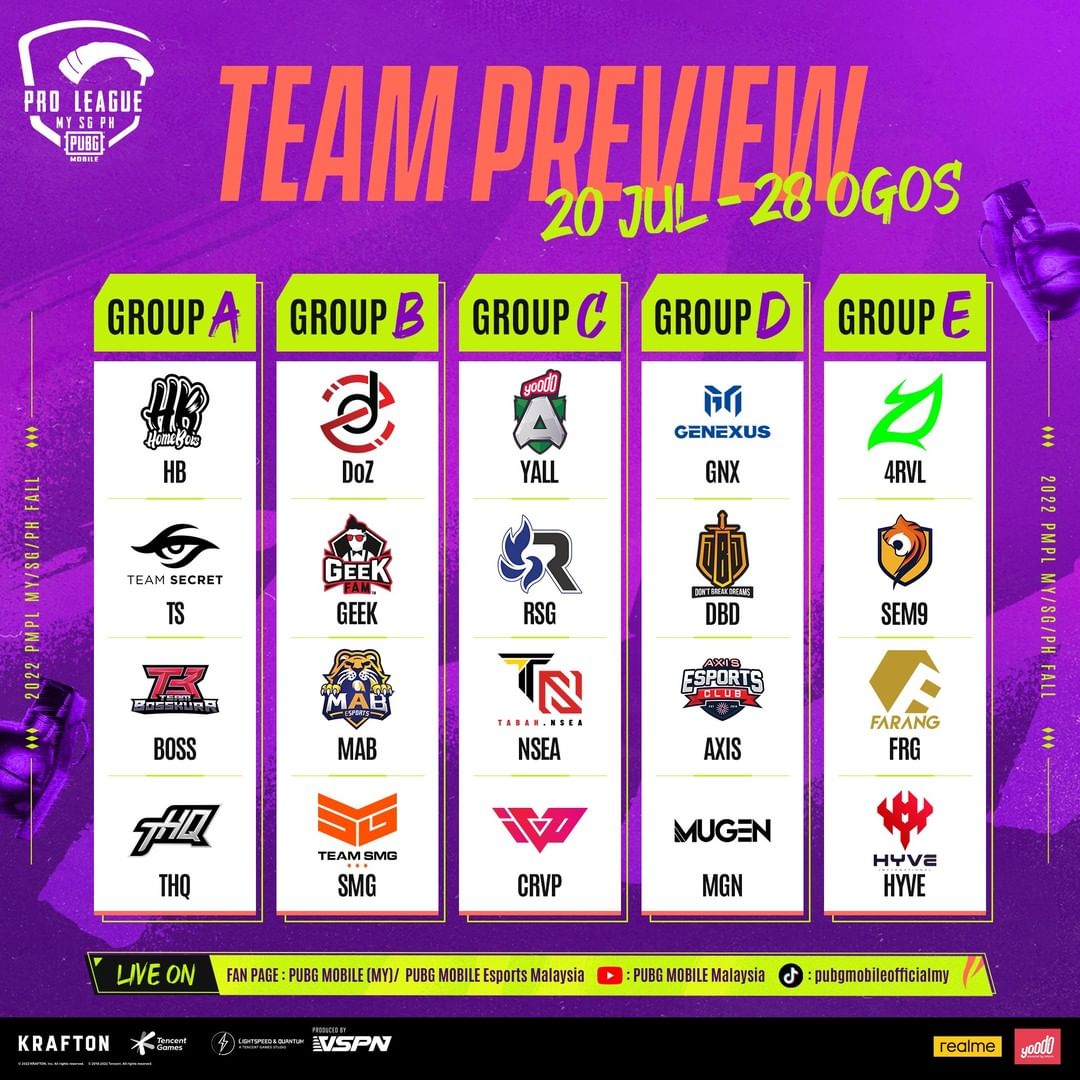 Group A
HomeBois (MY)
Team Secret (MY)
Team BossKurr (MY)
Team HAQ (MY)
Group B
Dingoz Esports (MY)
Geek Fam (MY)
MAB Esports (MY)
Team SMG
Group C
Yoodo Alliance (MY)
RSG Malaysia (MY)
TABAH NSEA (MY)
CRIT VIP (MY)
Group D
Genexus (MY)
Don't Break Dreams (MY)
Axis RedONE (MY)
Mugen (SG)
Group E
4Rivals (MY)
SEM9 (MY)
Farang Guerilla (MY)
Hyve International (PH)
Be sure to catch all the action when it starts this July 20 on Wednesday onwards.