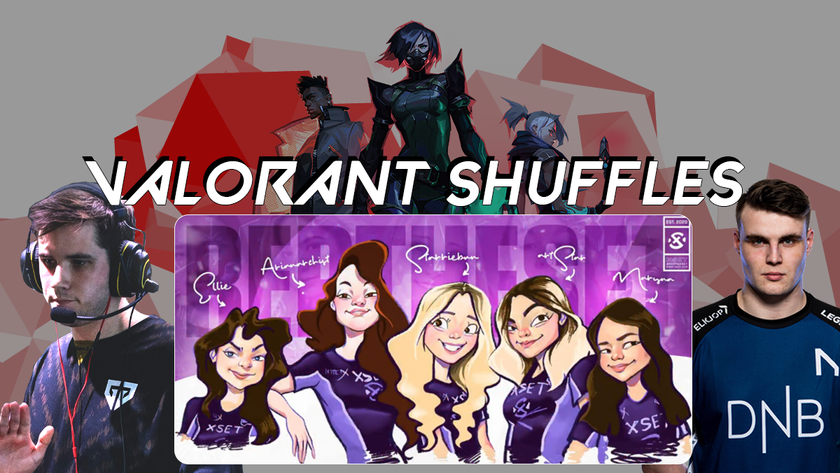 VALORANT Shuffles: Elmapuddy rejoins Gen.G, XSet signs NOTHING2LOSE and mertz goes VALORANT
Elmapuddy was with Cloud9 for a short time, XSET steps into women VALORANT competition with the new signing and mertz pivots to VALORANT
The shuffle continues as we step into the third quarter of 2021. With Champions already set, the teams who did not manage to grab a seat will be starting to rethink their strategies for the 2022 VCT season.
---
Gen.G Esports has confirmed that ex-strategist Chris "Elmapuddy" Tebbi is now back with the team – but this time around, he will be coaching for the VALORANT lineup instead. He left the team after Gen.G decided to pull the plug on their CS:GO roster and moved to Cloud9 – only to suffer the same fate as the Gen.G CS:GO roster.
He was left without a team for many months, instead focusing on content creation. Now he has signed back with his old team, coaching for Riot's popular multiplayer FPS game instead. He replaces Matthew "mCe" Elmore who was cut from the team due to poor results.
With his signing, Gen.G hopes to turn around the team's not-so-stellar showing in VALORANT in 2021. The highest they have reach was third place at the North America Stage 1 Masters. The VALORANT Champions Tour 2021: North America Last Chance Qualifier is just around the corner, and the team is hoping to get one last chance to try to fly to Berlin for Champions.
---
XSET has signed on the NOTHING2LOSE squad as part of their team to be their first all-women team in the NA VALORANT scene. NOTHING2LOSE was an organization-less team that has been playing in the NA Game Changers Series.
NOTHING2LOSE was formed just this year – 22 May to be exact. The team achieved solid results in the VCT: NA Game Changers Series 2 and managed to win two VCT: Game Changers Academy events in July and August.
With the resources that XSET has to offer, it is hoped that they will go far in the NA VALORANT scene. Unfortunately, they suffered a recent setback as they lost in their qualifying round bid against Cloud9 White. Even so, they should be making good strides in the near future with the additional assets now in their hands.
The current lineup for XSET Female:
Ariane "ARIANARCHIST" Lafrenière  
Katherine "starriebun" So
Carolyn "artStar" Noquez
Maryna "maryna" Semyaniv
Elena "EllieTwitches" Garland
---
Mertz
Daniel "mertz" Mertz has announced that he will be pivoting to VALORANT after more than 5 years playing CS:GO. He is following many other CS:GO professionals who has switched guns and now started playing Riot's shooter instead.
He is currently with Nordavind, but he was attached to teams like North, Heroic, Team Singularity and Copenhagen Flames previously.
The Dane announced his pivot by sharing a highlight reel of him playing VALORANT on his Twitter account. Stating that "...proud to tell you that my next chapter will be written on VALORANT."
He started his CS:GO career with Eastern Viking and his highest achievement was when he was with North when he won the DreamHack Open Tours 2018.