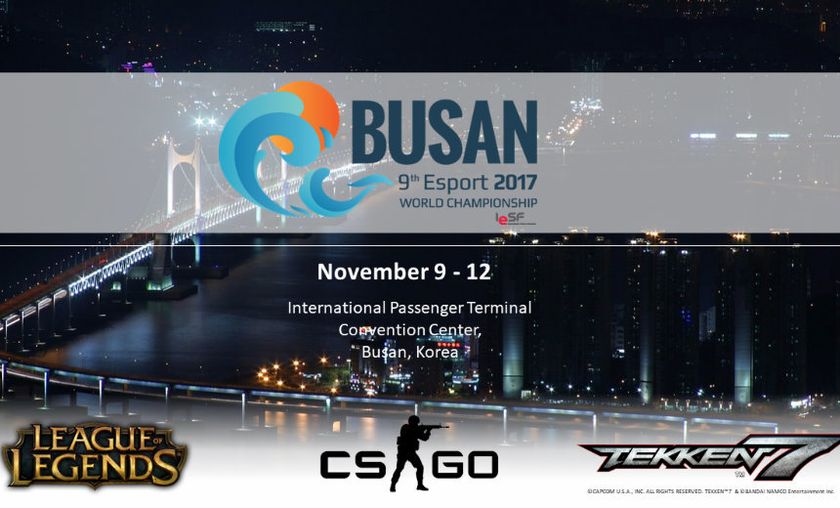 CSGO, LoL and Tekken 7 at IESF 2017 World Championship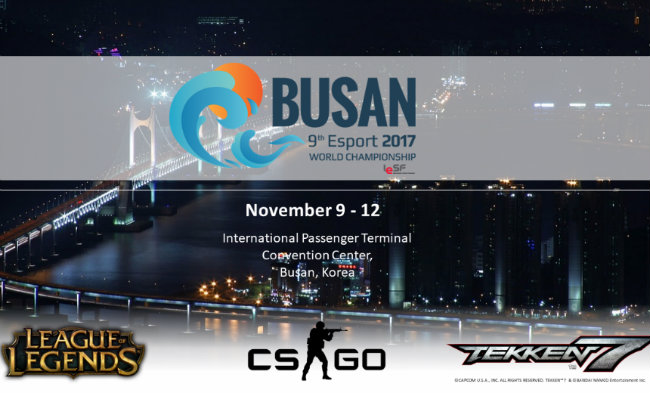 The International e-Sports Federation has released the first details of its 2017 World Championship.
IESF  today announced the three titles which will feature in the 2017 Esports World Championship, the 9th of its kind. Competitive staples League of Legends and Counter-Strike: Global Offensive will be joined by Tekken 7 on the list of official games for the event. The event, which is sponsored by Korea's Ministry of Culture, Sport and Tourism. takes place in Busan, South Korea between November 9 and 12.
Earlier this year, IESF announced that Busan will be the host city for the next four years. Last year's event was held in Jakarta, Indonesia, and won by South Korea. An ENCE team featuring Sunny and Nasu won the Counter-Strike event on behalf of Finland, defeating Tyloo in the grand final. However, many countries sent understrength teams due to the "national team" ruleset used by IESF.
Similar rules meant that South Korea breezed through the League of Legends tournament without dropping a single game. They defeated The Phillipines 2-0 in the grand final, though the entire tournament was filled with players unknown outside of their home countries. The vast majority of players at last year's LoL tournament don't even have Wikipedia pages, let alone professional contracts.
This is somewhat in-keeping with IESF's goal of being an olympic-like, largely amateur tournament. IESF promotes competition between nation states, rather than individual teams. As it says in the organisations statues, they aim "to organize its own international competitions and to draw up regulations and provisions and ensure their enforcement." Indeed, the IESF will also be hosting a summit after the World Championships are over.
Both Counter-Strike and League of Legends are mainstays of IESF events, with LoL being played for the fourth time since 2013. CS returns for its second year in a row, after a successful tournament in 2016. Tekken 7 makes its debut, replacing Tekken Tag Tournament 2 as the only one-on-one fight game at the event.
Registration for qualification has officially been closed, with over 450 individual participants signing up across the three games. The official press release from IESF broke the numbers down more specifically: 
"171 participants from 14 countries of Asia, 199 participants from 16 countries of Europe, 14 participants from 3 country of America, 31 participants from 2 countries of Oceania, and 40 participants from 4 countries of Africa have registered"
From there, individual organisations in each region will hold national qualifiers to decide who will represent their home nation later this year.