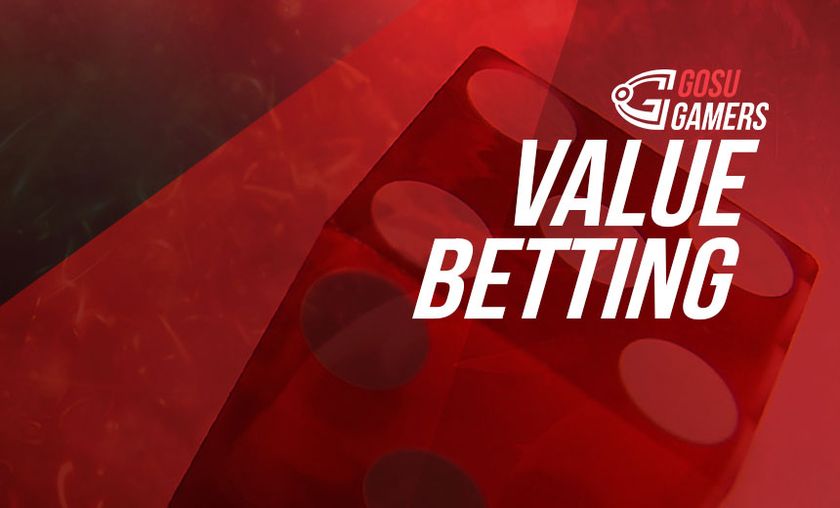 Introducing ValueBet on GosuGamers for Dota 2 and CS:GO
The long-requested feature is finally here! GosuGamers users can now use ValueBet on eSports matches for CS:GO and Dota 2. Valuebet is now in open beta stage.
Recent updates listed here - latest on top:
Update 5 - ValueBet open beta and a final farewell to ItemBet (June 12th, 2015)
Update 4 - status update and bug hunt (May 22nd, 2015)
Update 3 - status update and #winnings (May 15th, 2015)
Update 2 - Increasing the numbers  (May 12th, 2015)
Update 1 - information update (May 7th, 2015)
Betting on competitive matches has always been one of GosuGamers' most treasured features, allowing fans worldwide to test their eSports knowledge and luck. Watching any live tournament and cheering for your favorite players and teams is a unique and personal experience. Here at GosuGamers it is our goal to passionately follow and cover the eSports scene, providing you with up-to-date stories, information and statistics, as well as fun and engaging opportunities to predict the outcomes.
In June 2014, we took those options one step further with ItemBets, allowing our visitors to not only place bets with a purely-for-fun currency known as "tangoes" but also with actual rare in-game Dota 2 items and keys. ItemBet was welcomed and enjoyed by fans and crew until early 2015, when the feature was discontinued. The experience and feedback gained from it allow us to bring you something new, easier to use and that we hope will provide you more exciting betting experience.
Introducing ValueBet
ValueBet is a new feature on GosuGamers that allows you to place bets on matches using items from your Steam inventory for their estimated value. ValueBet can be placed on any upcoming match marked with the corresponding symbol, displayed as a red dice in the match listings. The ValueBet option can be found right next to GosuBet in a match page.
 

We have extensively tested ValueBet internally but the beta provides us with much more options to test and stress out the system under a bigger load. We will continuously monitor and improve ValueBet based on your feedback and suggestions. 
The beta test is available for Dota 2 and CS:GO and you can only use items from those games, but it can change in time based on results and feedback.
 
How do I join the  beta?
To join the beta access, just deposit an item and place a bet on a ValueBet enabled match. See the guide on how to link your Steam account below.
 
How can I place bets?
In order to use ValueBet, you need to have your GosuGamers account linked with your Steam account. Then you just need to deposit items in your GosuStash which you can then use to place bets.
A detailed step-by-step guide for linking your Steam account, betting on matches and withdrawing items can be found here:
Below you can find some additional information and frequently asked questions. We will update this list as more questions arise from the community.
We hope you will enjoy ValueBet. Please leave us you feedback and comments bellow.
If you have trouble please contact us at [email protected]" rel="noreferrer noopener">[email protected]
You can also use this forum discussion to share your feedback and suggestions for ValueBet.
The ValueBet terms of use can be found here.
Frequently asked questions (FAQ)
Am I betting real money in ValueBet?
How is the estimated value for each item calculated?
When I win a bet, do I get the same items that I used in the bet back + my winnings?
Can I change my bet before the match starts?
Can I get my items back to my Steam inventory?
Q: Am I betting real money in ValueBet?
A: No. With ValueBet you are placing bets using your items, with their estimated value being used to determine the value of your bet and potential gain from it.
 
Q: How is the estimated value for each item calculated?
A: ValueBet takes an approximate market price based on publicly accessible Steam Community Market pricings, but uses a proprietary algorithm to make our price index more robust against fluctuations. This provides a reasonably high degree of protection for our visitors that use ValueBet by allowing only items with stable prices to be used, preventing market errors and/or speculations to affect the outcome of bets.
Items which have unstable prices over a certain period of time or are very expensive are not allowed and cannot be used in ValueBet. This is done to ensure a stable and enjoyable environment, in which your only concern as a better is the end result.
By participating in ValueBet you acknowledge that the GosuGamers ValueBet pricings are not necessarily comparable to the official Steam Community Market pricings and that GosuGamers takes no responsibility if the pricings used on GosuGamers services differ from Steam Community Market pricings.
 
Q: When I win a bet, do I get the same items that I used in the bet back + my winnings?
A: Yes. When you win a bet you get the item(s) you used for it back + the winnings in the form of random items that correspond to the amount you won based on their estimated value.
You cannot choose what item(s) you win. Our betting algorithm will randomly give you items based on their estimated value in order to maximize your winnings.
Example:
User-A bets 2 USD Value on Team 1      User-B bets 3 USD Value on Team 2
Team 1 wins the game
User-A gets the items he placed in the bet back into his GosuStash and receives random items as his winnings with estimated value of up to 3 USD minus the 1% GosuGamers.net fee.
The items you get as a winning cut are random, you cannot choose what items you will get. Our algorithm will give you items best matching your winning amount based on their estimated value.
 
Q: Can I change my bet before the match starts?
A: No. Once a ValueBet is placed it cannot be changed, so take your time and be sure that you are betting exactly what you want and on which outcome. Once you place a bet, it can only result with a win, loss, draw or the bet being cancelled.
 
Q: Can I get my items back to my Steam inventory?
A: Yes. At any time you can use to the "Withdraw" button in your GosuStash to select the items you wish to move to your Steam inventory. Your GosuStash is in the "Items" tab of your GosuGamers account.
Here at GosuGamers we are excited and happy to bring you ValueBet and we are looking forward to read your feedback. Happy betting from GosuGamers.