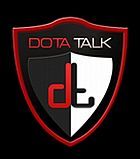 Showmatch: Mineski vs. First Departure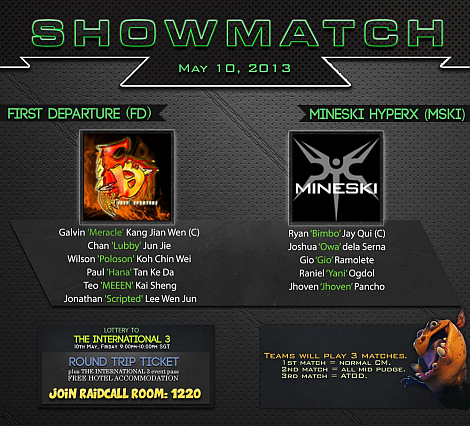 DotaTalk announces a three game showmatch between Mineski and First Departure which brings another chance to win a lottery to The International 3. The match will take play on May 10 at 14:00 CEST.
All three matches will be played in a different format. The first match will be played in the good old Captain's Mode, whereas the second match will feature the highly entertaining All Pudge 5v5 Only Mid mode. The final match will be played in reverse CM mode, in which the captain of one team drafts for the opponent team. All three games will be played regardless of the outcome of the first two.
The lottery:
This event, brought to you by DotaTalk features a lottery to The International 3, which includes a TI3 event pass, hotel accomodation and a round trip ticket to the location of the event.
The lottery event will be held in Room 1220 of RaidCall, and will be given out ONLY if the number of participants in the RaidCall Channel exceeds 3500. The matches start at 14:00 CEST whereas the lottery event will take place from 15:00 to 16:00 CEST.
 
Apart from that, some other goodies up for grabs on the RaidCall channel are:

4x Fiery Soul of the Slayer (Lina in-game cosmetic)
2x Na'Vi QcK Mousepad
2x Fnatic QcK Mousepad
2x Dota 2 QcK Mousepad

The games will be cast by Sheever.
Source: DotaTalk showmatch announcement, DotaTalk lottery announcement
Lottery: Terms and Conditions