Alliance picks up NTH and Naniwa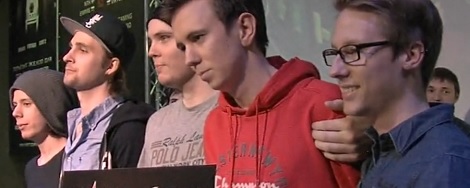 Alliance announced that they will be sponsoring NoTidehunter and Naniwa after many months of teasing. Gosugamers found out that Alliance hosted under Evil Geniuses and hence, NTH and Naniwa are unofficially playing under EG.
After months of teasing, NoTidehunter, Star Series V Champion has finally unveiled thealliance.gg as their unnamed sponsor. Besides sponsoring the Swedish Dota 2 team, Alliance also picked up Johan 'Naniwa' Lucchesi as part of their Starcraft 2 squad.
We dug deeper into Alliance's website and according to Google Analytics, we found that the website is owned by multi-gaming American company,
Evil Geniuses
. Besides that, Alliance's website also shares the same IP address as myEG.net.
With this and the following hints below, it is pretty clear to deduce that the Alliance is under EG. However, it is unknown whether Alliance will be announcing that they will have a name change in the near future.
Jonathan 'Loda' Berg

We are extremely happy to be a part of the birth of Alliance. We are proud to be a part of something new. We strive for perfection, and with the support from our sponsor, Razer, this will be a great organization.
Johan 'Naniwa' Lucchesi

A few months ago I was searching for a team that could help me become the best player I could possibly be. It stood between a few teams and I'm 100% sure, since I've been with this team for a while, that I have made the right choice. Not only are they trying their best to fulfill my wishes, but are very professional while doing so. I am very happy to be a part of this team.
The first hint came when Evil Geniuses posted a recruitment news, which has been removed since, on their website stating that they are looking for writers who can communicate in both English and Swedish.
Fast forward 25 days after the first hint, Jonathan 'Loda' Berg who was competing in Kiev for the Starladder Star Series V gave Monster, EG's sponsor an "obvious" shoutout over on
Twitter
. Besides that, NTH team members were also spotted wearing Astro headsets which is also an EG sponsor.
Besides that, in an interview by prodota.ru with Henrik 'AdmiralBulldog' Ahnberg in Star Series V, AdmiralBulldog mentioned that they will announce their sponsor a week after Star Series V.
Rumors are also saying that the Alliance Dota 2 team will be following in LGD.Int and Na`Vi's footsteps and head over to China for bootcamp before The International 3. This is not confirmed.
Alliance Dota 2 team is currently participating in WePlay tournament, The Premier League IV, and the upcoming EMS One offline final. They were also directly seeded into the second round of G-1 League EU/NA qualifier.
Alliance is also looking to extend their StarCraft 2 squad.
Alliance Dota 2 team roster:
Gustav 's4' Magnusson
Henrik 'AdmiralBulldog' Ahnberg
Joakim 'Akke' Akterhall
Jerry 'EGM' Lundkvist
Jonathan 'Loda' Berg
Alliance Starcraft 2 team roster:
Johan 'Naniwa' Lucchesi
Source:
Alliance