Code S Ro8: And the last protoss falls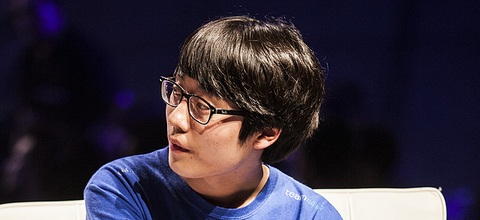 After the first week of Code S playoffs, the swarm stands dominant after all else, Taeja the only non-zerg to survive the culling.
The high velocity momentum with which KeSPA entered 2013 came to a halt yesterday as two of its brighter stars - one home-born and one rebaptized only recently - tasted bitter defeat. eSF zergs truly showed no mercy.
First to fall in the quarter finals was Innovation
. The STX player entered the match up steaming hot from his decisive victories against Stephano and DongRaeGu, considered by many to be the strongest player in this Code S. His round of four finish last season and his top ten Proleague score came in to further support the terran once known as Bogus. What was Symbol to do against such an extensive portfolio?
Well, the only logical thing, in fact.
Symbol's play evolved and changed with every passing map
and never was a strategy repeated twice, ranging from ling/baneling busts, through 3-hatch before pool opening and to nydus/roach plays. The AZUBU zerg was absolutely manic and although flawless victory was never within his reach, a 3-2 win is still a win. One KeSPA player was down, three more were to go.
Following Symbol's example, Curious ran in to crush another KeSPA non-zerg
, but way (way!) more decisively. A surprising outcome, though, considering it was Parting who was his opponent, the same Parting whom zergs feared for the wonwonwon push that had ended so many of their kind.
It wasn't so much seeing Parting defeated as much as seeing him defeated
in that manner
and whether it was him choking or Curious being absolutely brilliant is a dispute without clear winner. It was only in the first game Daybreak that Parting was himself and the game went into the very late stages, with sky toss pitted against brood lord/infestor in a deadly stand off. Parting lost that one but viewers knew full well there is no shame in that defeat.
There was one in the following two games, however. Curious utilized mutalisks to the very maximum to
juggle with Parting for audience's amusement
in game two and mangled the 7-gate push in game three to send the protoss packing.
It was not until the first match of today that a race other than zerg would see success.
As day two went under way, Liquid`s Taeja clashed with Woongjin's Soulkey, representing the only foreign team and being the last terran standing in the tournament.
Things picked up great for Taeja and after Whirlwind and Icarus he sat on a 2-0 lead, looking forward to comfortably sweep this series. With the coming of Cloud Kingdom, however, the tides took a horrible turn.
Outmacroed and outplayed, Taeja surrendered games three and four
and suddenly he himself was a game away from elimination.
Thus it came to the final fifth game of the series, a game from which Soulkey will remember one thing and one thing only - a ton of banelings detonating on a Planetary Fortress which survived with single digit HP.
In the last match of today, MC was fighting to defend the old eSF school
by going against RorO. And he almost did it, despite seeing such a horrible start to the series.
MC took a fair amount of beating in the opening two games and conceded to the muta/ling flock on Belshir Vestige and the massive Brood Lord swarm on Cloud Kingdom and looked like he was about to go out with a 0-3:
RorO was that scary
.
Taking Icarus put MC back in the game and one step closer to the tie and a nail-biting deathball timing attack that hit second before brood lords spawn allowed the protoss to break even. Not that it made any difference: a failed immortal all-in on Planet S spelled doom for SK's player and RorO was allowed to advance.
In the last WoL GSL,
MC was the protoss that came closest to a semi finals spot.