Yamateh to join Zenith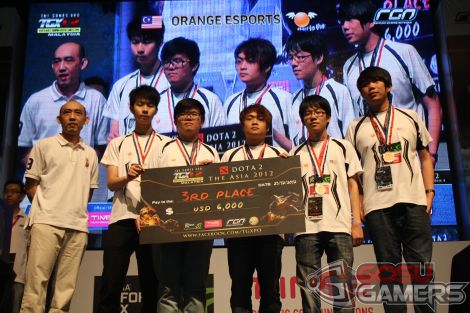 Against all odds, Yamateh joins Team Zenith. After weeks of rumors about Mushi leaving Orange e-Sports, it is Yamateh who leaves the team.
For weeks there have been rumors about Yee Fung 'Mushi' Chai and Wei Poong 'Yamateh' Ng not getting along, therefore Mushi leaving the team. Everything piled up when Mushi didn't play with the team and his name eventually turned up on Zenith's blog. The rumor was however debunked when Orange stated that Mushi is still part of Orange e-Sports.
Now the Malaysian squad announces the departure of Yamateh. He was one of the key players in the line-up and will join the Singaporean Team Zenith, that is currently down to three, now four, people.
Statement by Orange e-Sports:

We like to announce the official departure of Yamateh from Orange Esports DotA team. He will be joining the Zenith team as you may see in their GosuCup Asia IV lineup. We thank him for his dedications and contributions to the team in 2012 and wish him much success. Orange Esports DotA team is still working on our 2013 roster aim to be among the Top 3 DotA2 teams in Asia. Thank you to our fans for their continuous support!


Yamateh joined Orange Esports in December 2011 together with his long time teammate, Chee Cai 'Ice' Chua. After competing in several tournaments throughout 2012, Yamateh and Orange managed to place first in Dota 2 Malaysian Invitational, WCG Asian Championships, Gosucup Asia I, and also seventh placing in The International 2012.
With Yamateh's departure, Orange is now back to a five man roster assuming that benched player, Litt-Binn 'Winter' Chan, will be competing with the team again.
Zenith has been struggling to find a stable roster since the departure of Benedict 'hyhy' Lim and Jonathan 'Loda' Berg post-TI. The three remaining core players of Zenith were and are still looking for a fifth member to fill the gap after the addition of the Malaysian superstar.
Zenith and Orange are both currently competing in Gosucup Asia IV.
Click here
for more info about Gosucup Asia IV.
Current Zenith roster:
Daryl 'iceiceice' Koh (Captain)
Toh Wai 'xy-' Hong
Nicholas 'xFreedom' Lim
Wei Poong 'Yamateh' Ng
Current Orange roster:
Joel 'Xtinct' Chan
Chee Cai 'Ice' Chua
Kang Yang 'kYxY' Lee
Yee Fung 'Mushi' Chai
Litt-Binn 'Winter' Chan
Source:
Orange e-Sports on Facebook