HerO sweeps Taeja, defends his winter crown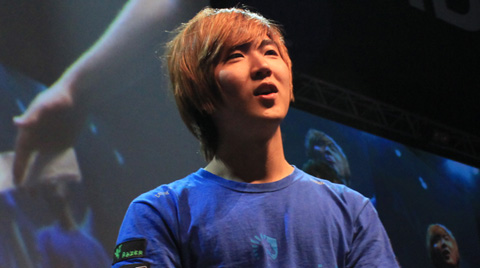 Liquid`HerO exactly one year ago
A four-nil stomp is what Liquid`Taeja got at the hand of his own team-mate HerO. The protoss nailed a spectacular 20-2 run and sat on the Winter throne once again, becoming the first ever two-times DreamHack champion.
The grand final series was as quick as they come. A 2-base colossus all in on Metropolis and a failed, cleaned-by-DTs 1/1/1 on Ohana put HerO on 2-0 not twenty minutes into the match. Spawning on Cloud Kingdom, Taeja tried to go for at least one macro game and went for a quick third but an attack of HerO had it detained. Opting to make a play of his own, Taeja took the road towards HerO's own third but walked directly into a storm/colossus slaughterhouse as he tried to climb the ramp. Another GG dragged Taeja dangerously close to elimination.
The terran would not give on the idea of playing macro games and he opened Antiga Shipyard with a CC first. On the other side of the map, however, HerO geared for a 2-base blink play. As the rush came knocking, Taeja had to summon all his mastery in defense and for several tense moments - as both stim and concussive shells finished and as one observer after another got sniped - it looked like he might barely hold.
All in vain: supported by a constant stream of newly built observers and HerO's impeccable control, the stalkers reached critical mass that not even a well upgraded, medivacced army could fight off. A brief moment of indecisiveness further aggravated Taeja's situation. A final GG was typed, making HerO 250,000 SEK richer.
DreamHack Winter '12 standings
1.
HerO
2.
Taeja
3-4.
Monchi
3-4.
Nerchio
5-8.
Thorzain
5-8.
Naniwa
5-8.
Snute
5-8.
Mana