Sharky: 'My proudest achievement was defeating Kingsurf'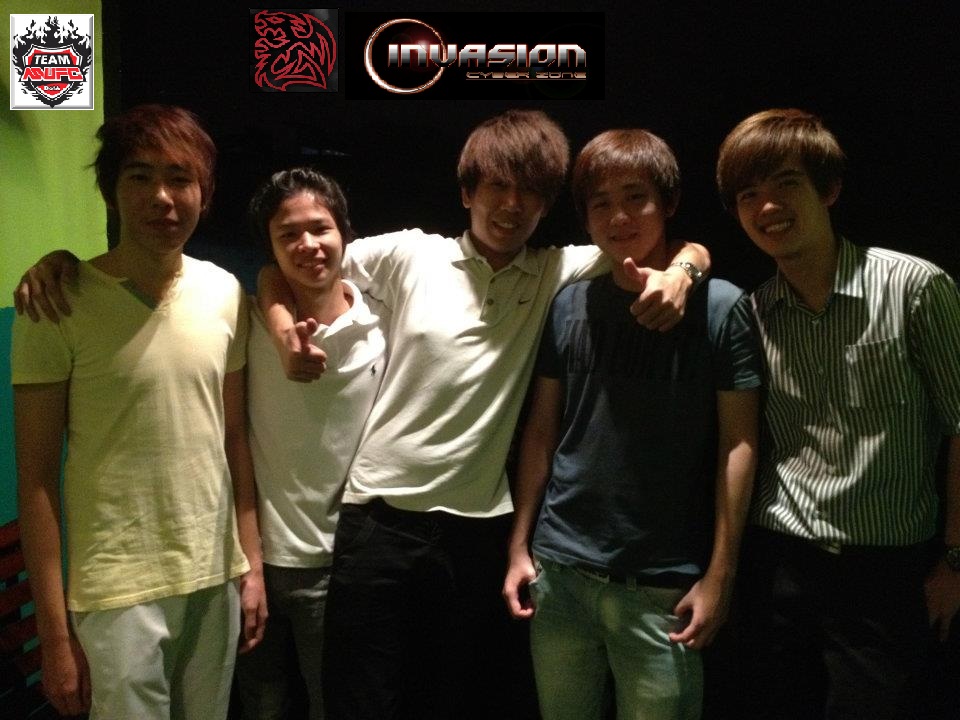 The old MUFC (The International line-up)
G-1 speaks to Malaysian powerhouse MUFC, the team which fell short of making their presence at the offline LAN semifinals in Fuzhou after being defeated by Orange 2-0 in the Lower Bracket. Veteran player Sharky is the team's representative.
---
Hello Sharky, introduce yourself to the audience.

-"Hi guys, I'm MUFC's Sharky."

It's regretful that you were eliminated by Orange in the Lower Bracket. Can you run us through your team's preparations for the event?

-"Indeed, we regretfully lost to Orange. Well, we didn't really make special preparations for this tournament; we just made sure we tried our best every match."

How huge is the gap between the top Asian teams like Orange and iG?

-"I feel that teams like iG, LGD, DK and Orange can all be considered as Tier 1 teams in Asia. While my team, Flash and TongFu are all Tier 2 teams. There's a considerable skill gap between teams from Tier 1 and Tier 2.

As for Orange's weakness, I would have to say that it's their instability in games. The minute they have to play late game, there's a high chance that they will throw the game away.

A few prominent examples would be their match against EHOME at The International [Tiny Wisp] as well as their first game against iG in the Winner's Bracket. These two games are the best examples of how they tend to throw games when they go late - those are games they shouldn't have lost."

MUFC used a 4-1-0 lane in your second game against Orange. What was the rationale behind this decision and how do you think Orange responded to it?

-"We felt that given the lineups we both had, fighting their safe lane head on was not going to give us a good chance of winning the game. Our mistake was not letting Lone Druid free farm at the bottom lane after taking down the first tower.

Instead, we went on to take down the second tower and gave Naga Siren close to 6-7 minutes of free farm. Adding to that, the four heroes we had pushing were all under levelled. In that game, Orange responded well."

Give our Chinese readers a brief introduction of your professional career and tell us what your proudest achievement to date is.

-"The first professional team I joined was iNc`xLo - I'm grateful towards my captain zuki for recruiting me in. I then went on to play in teams like Cybertime, MUFC and Scythe. My proudest achievement would have to be with iNc`xLo when our team defeated Kingsurf, a team which was basically undefeated in South East Asia for close to two years."

Your team has seen a couple of roster changes lately, with the entry of Aeon players and using hyhy as a standin - are you still considering shifting players around?

-"hyhy was indeed a very talented player. Personally, I like him very much, so there's a possibility that you may see him in MUFC."

What is your impression of the Dota 2 scene in China - with the teams, players and strategy? Is it easy arranging scrims with them?

-"Arranging scrims with the Chinese teams is quite feasible. I can only say that the standard of Chinese DotA/Dota 2 is impressive, and I'm sure that all players are aware of that. I'm not sure why, but I guess it's because they are truly what one would call 'professional players'."

Tell us about the Malaysian Dota 2 scene. Compare Dota 2 with League of Legends - given its popularity, have you considered switching?

-"There are quite a number of Dota 2 players in Malaysia, and our sponsor e-Club has been giving beta keys out. If there are any players in South East Asia who want a key, you can check this out.

I've not played a single game outside of DotA to be honest, so I don't know what the other games are like. Sorry, I can't answer this question. *laughs*"

Can you summarize your experience at G-1? What do you think about the tournament?

-"I feel that our performance this time was acceptable and I can only hope that we'll do better next time. G-1 was managed very professionally, assistance was rendered on time and we have three talented casters for the event. I like it."

What are your team's plans down the road?

-"We will join SMM, because it seems like it's going to be the last official tournament for DotA and especially because it's going to be held in Malaysia. I can't think of a reason not to go. Of course, if we get an invite to G-League, you can bet that we'll be there."

I wish you all the best then!

-"Sure, thanks for the interview. Bye!"
Links
Dota 17173
- Original Article